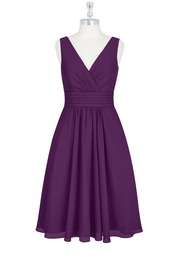 Azazie Kyla
Bridesmaid Dress
FABRIC: Chiffon
$119
product info

The attractive knee-length bridesmaid dress by Azazie has an A-line/princess cut in an elegant chiffon. Style Kyla features a v-neck neckline, and comes in a full size range (A0-A30). A pleated detail at the front and back of the flowing skirt makes it perfect for the reception or a city hall wedding. Ask a question
Refine Reviews By:
Sort By:
Ratings (Show High to Low)
Helpfulness (Show High to Low)
Seth
Reviewed On:
September 14, 2018
Hi there, We had our groomsmaids pick out any dress they wanted as long as it was black, knee length, and chiffon. We loved how they all were able to express their individual styles and wear something that flattered this body types while not breaking the bank. Several of them mentioned loving the "try on" at home sample program and it helped them even more in their decision making process. Thank you for being a hidden gem we are so glad we found -Seth and Craig We don't have our professional pictures yet, but you get the idea.
Was this review helpful to you?
skerry223
Reviewed On:
September 20, 2017
I loved this dress! It's worth every penny! First, let me say, I was very impressed with the quality of the dress. It's so well made. Right out the bag it was a perfect fit. I'm petit size and usually need to hem everything, but this dress did not need to be hemmed. I liked that we could order color swatches before to pick the color. It was such a pretty color! All of the bridesmaids ordered at the same time and the dresses matched perfectly. The V neck was also well stitched so I didn't have to worry about adjusting my dress. I would highly recommend this company. Thank you for making the experience so easy!
Was this review helpful to you?
glendaeichman
Reviewed On:
January 12, 2019
Body Type:
Hourglass
Size Ordered:
Custom Size
Ordered this in a custom sizing and it fit my daughter beautifully. We did opt to have an alteration at the shoulders just to make it a bit more fitted on the V neck. The dress came very quickly and I am very impressed with the quality of fabric and the quality of make. I will recommend Azazie to others!
Was this review helpful to you?
Mskristinaljacobs
Reviewed On:
August 21, 2018
Body Type:
Hourglass
Size Ordered:
A10
Overall the experience with Azazie was very good. We all ordered different styles and got them all around the same time. I chose this one to hide my tummy and it does. The fabric is a little more stiff than some of the other styles I had looked at so it hold its shape well. The waist sits where I would expect it to but like most bridesmaids dresses the shoulder straps are way to big and will need to be taken in. I am normally a size ten and it fits as I would expect everywhere else. The dress was inexpensive enough that I don't feel bad about having to pay for a tailor to fix the straps.
Was this review helpful to you?
kjahartung
Reviewed On:
May 07, 2018
Size Ordered:
A6
I'm 5'3" and 135lbs. I ordered a size 6. The good news is that the waist fits me. The bad news is that the shoulders were not designed for a human being. There is about 3 extra inches in the shoulders and the fabric is so thick and stiff that the shoulders and bust sit away from my body a couple inches. Even if the straps weren't too long, they are sewn uneven and wouldn't lay flat on my shoulders. The cups of the bust are also very large. I'm a 32C and would need double the boobs to fill out this dress. I've talked to two other bridesmaids in the same wedding as me and they both have similar problems with this dress. I would not ever recommend this dress, unless you want to buy something that you know will need to be altered.
Was this review helpful to you?
Brigit Locke
Reviewed On:
May 05, 2018
Body Type:
Hourglass
Size Ordered:
Custom Size
I have an unusual body type, so I did run into some difficulty even with the custom sizing. I'm thin, of average height, and rather flat chested. In retrospect, I should have looked into junior bridesmaid dresses, though as maid of honor, I wanted a dress with pockets. While I marked that the overall fit was slightly large, it was actually large in the shoulders but tight around my diaphram making breathing difficult while seated. I seemed to have trouble finding the spot where the dress was supposed to sit. The straps on my shoulder refused to stay up, and being that I did not intend to wear a bra, that was quite a problem. The bust was definitely too large for my tiny chest, but as I noted before, sitting was uncomfortable. Quite the predicament! Knowing my unique size might be an issue, I had my mom measure me twice and even suggested she loosen the waist measurement by a 1/2 inch as the tightness when sitting had been a problem with dresses in the past. We did so, but it wasn't enough. I'm having the dress altered and hoping that the sizing will be better. I appreciate Azazie paying $50 towards the cost of the alterations, though they are costing a bit more than that. In the future, I would prefer to go to a bridal shop to find a dress and have it sized on the spot with free alterations.
Was this review helpful to you?
Stacy
Reviewed On:
March 13, 2018
Size Ordered:
Custom Size
I liked this dress. I got it custom made. The only problem with the custom made on this site is that they can't do anything about the fact that athletic body types might have bigger "bust" size because of their broad shoulders and back and not their breasts. They couldn't give me a smaller cup size. I had to get it tailored a bit and hemmed but it wasn't that bad. I don't think most people would have a problem. Here are some pictures!
Was this review helpful to you?
Katie Walsh
Reviewed On:
February 20, 2018
Body Type:
Straight
This fit very oddly. I wanted this one originally but it had about an extra 4 inches of shoulder space on each shoulder. I'm fairly busty so this was extra odd to me. I'm a 32DD so I have small frame, maybe that's why? Too bad. I went with the Amani instead.
Was this review helpful to you?
ingram.erin
Reviewed On:
October 10, 2017
I ordered this dress in size A4 - in inches according to their size chart, it should have fit me. In reality, the bust is HUGE. The cups are incredibly large for this size, and padded and with boning that made it basically impossible to tailor. I will resort to body tape to keep it down against my chest and resign myself to looking oddly disproportionate - the cups sit a solid 2 inches away from my body, which is ridiculous given their own sizing charts. Frustrating for a dress that costs this much, is a basic shape and should be easy to fit most people, and also takes 7 weeks to arrive, making it very difficult to exchange or make adjustments.
Was this review helpful to you?
nlcrwedding
Reviewed On:
September 20, 2017
Yesssssss this looks so great! I am so pleased with this dress and no longer dread being part of a bridal party when I know Azazie can deliver dresses that look great and can be used again! The cut is so flattering and the fit is perfection. Thank you Azazie!!
Was this review helpful to you?
cnw22
Reviewed On:
September 11, 2017
This dress would not be possible without help from Kia of Azazie!!! She provided excellent customer service and went over and beyond to make sure that I was satisfied with my purchase. She helped changed my opinion about this company. Now that I understand the how the dress sizes actually work, I would be willing to purchase from Azazie in the future for my special occasion needs.
Was this review helpful to you?
Ashley
Reviewed On:
August 28, 2017
I am 140 lbs, 5'6" with an athletic build. The shoulders are on this dress are very long and would need to be taken in. Also, the cups were already halfway up my chest so shortening the straps would have made it even worse. The back on this dress is very low, which might be appropriate for some weddings and not for others. For the most part, the quality of the dress was good (for the price) as well as the sizing. The standard 6 fit perfectly with the chart measurements.
Was this review helpful to you?