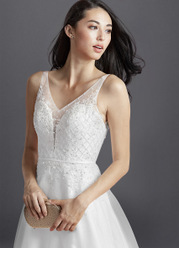 Azazie Krystal BG
Wedding Dress
FABRIC: Organza and Tulle
$299
product info

Dress Krystal BG by Azazie is an elegant organza and tulle bridal gown featuring a v-neck neckline on a sweep train ball-gown skirt. The back of the gown is finished with back zip back style. Available in sizes WD0-WD30 at Azazie. Accented by glittering rows of sequins, the dress has a polished ladylike appeal that's entirely elegant. Ask a question
Azazie Stylist Review
Reviewed On:
2017-10-09 17:07:41
Height: 5'6" Bust: 37" Waist: 31" Hips: 39" Body Type: Average Size worn: 12 Usual Size worn: 8 I like the beading, and illusion bodice that is sexy not slutty. I feel this very tasteful, because I can see my cleavage but you can't which is great. I really enjoy the mix of fabrics, this is one of my favorites.
Azazie Stylist Review
Reviewed On:
2017-10-09 14:35:42
Height: 5'1" Bust: 34" Waist: 25" Hips: 36" Body Type: Petite Size worn: 2 Usual Size worn: 2/4 This is technically one size too big, so it is a bit loose. I love the Illusion neckline detail and beading. I like the quality, definitely works for body type. I love a line and princess type gowns, and the button back. Although I would prefer the skirt to be more flowy, it is a bit too stiff for my taste.
Azazie Team Review
Reviewed On:
2017-10-05 14:44:31
Height: 5'1" Body Type: Curvy Size worn: 16 Usual size worn: 16 I feel pretty in this dress, I really like this. I like the illusion neckline and the beading. i feel the bust is pointy, i think the quality is good, I think alterations would be necessary but this is better than a strapless dress for me and my body type.
Azazie Stylist Review
Reviewed On:
2017-10-05 13:49:33
Bust: 37.5" " Waist: 32" Hips: 42.5" Body Type: Hourglass, more hips Size worn: 12 Usual Size worn: 10/12 I love this dress and the back is beautiful, I feel that i am not supported in this dress, I may need to go down a size or have it altered, I feel slightly more conscious about the illusion bodice, not as heavy and I feel a bit more free, great for women that are more figure conscious because it accentuates all the right parts! The low cut illusion makes me a little self conscious, I think the quality is great it looks great and I love the detail and you can tell it's well made!
Ashnute12
Reviewed On:
2017-11-07 11:50:57
This dress is beautiful and was very well made. I love the detail, the shape of the dress, and the straps. I was torn between this dress and Azucena.