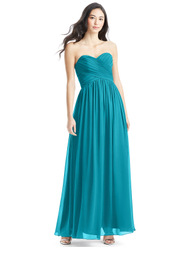 Azazie Kristen
Bridesmaid Dresses
FABRIC: Chiffon
$119
product info

Fun and flirty, this simple Chiffon, Chiffon bridesmaid dress is appropriate for any wedding from the beach to the church. Your bridal party will love this charming Floor-Length, Floor-Length A-line/Princess dress with a Sweetheart neckline. A pleated detail at the front and back of the flowing skirt makes it perfect for the reception or a city hall wedding. 
AnnieBoo
Reviewed On:
July 03, 2019
Color:
Dark Navy
I am absolutely in love with this dress. I didn't go according to my size. I went with the chart sizing because with reading the reviews helped me determine which I should go with. You have to know your size. This dress fits me like a glove. I'm having it alternated because I'm short and want slits in front. Thank yuh for making me feel amazing in this dress.
Was this review helpful to you?
karastewart
Reviewed On:
January 02, 2018
I chose Azazie for my wedding because I loved that I could select a color and put together a showroom with a variety of different styles for my bridesmaids to select from. I wanted them each to choose a dress that fit their style & body and all of them ended up looking beautiful! I had 5 bridesmaids all dressed in pearl pink, but different style dresses which included Haleigh, Maren, Felecity, Kristen, and Kailyn. On top of the dresses looking great, they were all budget friendly. I would definitely recommend Azazie to any bride looking for a great retailer for their bridesmaids.
Was this review helpful to you?
NM
Reviewed On:
September 25, 2017
Color:
Pearl Pink
I loved the way this dress looked on me! For reference, I'm a 34B and felt comfortable not wearing a bra (there's boning and padding) and didn't need to constantly lift up the top of the dress while dancing. I opted for the free custom-sized dress and unfortunately still needed to go through two rounds of alterations to get the dress to fit perfectly. The dress arrived with the front hem much longer than the back, and even though I took my measurements 3 times, the dress was falling off of me... Azazie's customer service helped remedy the issue with a small extra alterations credit, plus the $75 credit helped too. Anyway, the material is so pretty and flowy and the dress is super flattering! Even with the fit issues before alterations, I'm really happy with my purchase and how pretty I felt in this dress.
Was this review helpful to you?
Kylie B
Reviewed On:
February 27, 2017
My bridesmaid wore different styles from Azazie in the dark green long dresses and they ALL loved them!! The color was perfect and they said nothing but great things on the buying process as well as the comfort/look of the dresses.
Was this review helpful to you?
Joell.l.martin
Reviewed On:
April 07, 2016
I absolutely love the website and this dress! I was just in a wedding this week and love my dress. I am a tall girl and bigger and it looked great was long enough! it was perfect! Love this website so much I ordered another on for a wedding I am in this summer! highly recommend them!
Was this review helpful to you?
abigail.moore.2012
Reviewed On:
August 08, 2015
This dress is wonderful! Just wore it as my maid of honor dress yesterday and I cannot be more thrilled. There were 10 bridesmaids in the wedding, we all wore this dress and it looked good on all the different body types! We got so many compliments on the classic silhouette! I would recommend Azazie to anyone and especially this dress! I had it custom made and it was worth it! Only needed slight adjustment to the bust and their $50 reimbursement program was more than enough to cover the tailoring cost! Thank you for a great first wedding party experience!
Was this review helpful to you?
Jessiep43
Reviewed On:
March 04, 2015
Color:
Black
I was a little afraid of ordering my bridesmaid dress online, but I am happy with the outcome! The dress is beautiful, it's a little long about 5 inches (I'm 5'4") but a tall pair of heels or alterations could fix that. I had to go up in size (size 8) because of the measurement that were listed according to each size, you need to get a measuring tape or get yourself measured. Another thing I really liked was the delivery was quick. The only thing I didn't like about the dress is the zipper, it feels super fragile, you need someone to help you zipped it up slowly. I love the dress and I would use Azazie for my wedding party!
Was this review helpful to you?
MrsMorales
Reviewed On:
January 15, 2015
The quality of the seams and zipper were perfect. The chiffon was soft and elegant. The satin was rich and flowy. I was overall very impressed. The strapless dress even had a built in cup/bra latch on the inside as well.
Was this review helpful to you?
Denise Divine Fenton
Reviewed On:
August 11, 2019
Color:
Frost
body type:
Hourglass
Size Ordered:
Custom Size
Ordered a custom fit dress for my teenage daughter. It fit perfectfly. The quality was excellent and it was delivered quickly.
Was this review helpful to you?
kstukey
Reviewed On:
March 07, 2019
Color:
Ink Blue
body type:
Hourglass
Size Ordered:
A4
It fit great! It's like it was made for me!
Was this review helpful to you?
Sarah Skelly
Reviewed On:
November 06, 2018
body type:
Hourglass
Size Ordered:
A20
I did not order this exact dress but one extremely similar in the stretch form which has since retired. It was the exactly same style and color. The Cabernet is exactly what I was looking for and fit perfectly. I ordered several different dresses to try so I did not order a custom fit. I wanted to be able to return the ones that I didn't like. The size fit perfectly. I will definitely order from Azazie's again!
Was this review helpful to you?
kirstyn.michael2016
Reviewed On:
September 14, 2018
Color:
Cabernet
body type:
Straight
Size Ordered:
Custom Size
I was nervous about ordering a bridesmaid's dress for my sister's wedding- I'm 4'7" and nothing ever fits. I tried on the size 0s offered and knew I needed custom sizing, but was still worried it wouldn't come out right. I was completely wrong! The experience was great and I now have a beautiful, perfectly fitting dress! For someone who HATES shopping because everything is either kids size (and makes me look like I'm 12) or always too big, this was a wonderful experience and I will be shopping Azazie for all my formal occasions! This means a lot for me. Pros: -Custom ordering was EASY. Step by step guide walks you through taking measurements, and you're done. I especially love that I can order extra length to accommodate my 5" heels :) -Customer service is VERY proactive and considerate. I am tiny, I know. After putting in my custom measurements and ordering, a customer service rep contacted me to confirm my 'extra petite' sizing was correct. I LOVE that they checked with me (especially since I actually did record the height off by an inch). They were proactive in making sure they had everything correct and gave me a quality product, and that means a ton! -Dress fits out of the box. Yes, it's custom sized, but even still I expected to have to do some alterations. I tried on the dress, and it's absolutely perfect! -Dress is good quality. Material looks good, seams are secure. Zipper is tough to zip on my own, but that's just a fitting formal dress. Cons (very few): -Order time was a little over the estimate. Part of that was because I was on my sister's Bachelorette Party trip when the initial size confirmation email was sent, so my response was delayed by a few days. I'm sure getting the custom size down right took some extra time for my dress as well. I am absolutely fine with the delay because the dress is wonderful. (Just be sure to order well ahead of your event if you're custom sizing). I was sent an email when the dress shipped, so I wasn't worried. -Dress material is a little thick. Not an issue for a December wedding, but could be slightly warm for a summer wedding. Overall, I'm over the moon about this dress, and Azazie in general. What could have been a very painful, depressing experience for me was made easy! I wish I had used Azazie for my wedding dress a few years ago! I highly recommend the custom sizing and am excited to wear the dress for my sister's wedding!
Was this review helpful to you?
Carol Jean Hartman
Reviewed On:
May 03, 2018
Size Ordered:
Custom size
Your company has been amazing. The dress my daughter-in-law had ordered did not fit(too small). I took her measurements and paid for express. Got here last week and it fits perfectly. Thanks so much
Was this review helpful to you?
Laur.d.marr
Reviewed On:
April 11, 2018
Color:
Coral
body type:
Pear
Size Ordered:
A4
Loved this dress! The fabric is super high quality and the cut is beautiful.
Was this review helpful to you?
Nweber6
Reviewed On:
April 11, 2018
Color:
Stormy
Size Ordered:
A4
This dress fit perfectly right out of the box and needed no alterations! It looked as lovely as it did in the picture and feels durable. So excited to wear it for the wedding :)
Was this review helpful to you?
cassidywimberly
Reviewed On:
February 21, 2018
Color:
Champagne
Size Ordered:
Custom Size
My bridesmaids loved this dress! it paired so well with the Cherish and Ginger and the champagne color was just what I was looking for! It looked so nice next to the black groomsmen suits. Every bridesmaid that bought the Kristen did custom sizing and it ended up fitting perfectly, minus being a little long. It looked so good on my girls of all different shapes!
Was this review helpful to you?
SP
Reviewed On:
November 27, 2017
My bridesmaids all wore this dress in royal blue! The process seemed very easy and the custom sizing is a wonderful touch. The only complaint I really heard was that the white lining around the shape of the sweetheart neckline would sometime be showing and would need adjusting. Other than that, it seemed to work out well!
Was this review helpful to you?
eharkey13
Reviewed On:
November 08, 2017
Color:
Burgundy
This fits great. Azazie has great customer service. The wedding date changed due to hurricane damage and they were able to get the bridesmaids dresses to us in time for the new wedding date.
Was this review helpful to you?
Elisabethkaitlin01
Reviewed On:
October 17, 2017
I loved this gorgeous gown ! It was so elegant and true to its style! I was so comfortable through the night and felt like a princess . This amazing dress made my first from a one hundred percent success. I will be buying all my prom dresses/formal dresses from azazie! My number one favorite place to buy any type of dress for any occasion.
Was this review helpful to you?
Mhartman0824
Reviewed On:
September 20, 2017
Beautiful Dress! The color and fit was just want I was expecting! The length was extremely long and needed a lot taken off, but other than that super comfortable and perfect!
Was this review helpful to you?