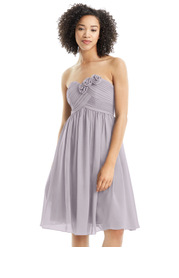 Azazie Kelsey
Bridesmaid Dress
FABRIC: Chiffon
$109
product info

Fun and flirty, this comfortable chiffon bridesmaid dress is appropriate for any wedding from the beach to the church. Your bridal party will love this attractive knee-length A-line/princess dress with a sweetheart neckline. A pleated detail at the front and back of the flowing skirt makes it perfect for the reception or a city hall wedding. Ask a question
Carolina
Reviewed On:
2017-09-20 14:42:21
I used the size measurements chart an it was very accurate. Loved the dress, it fit well and was well made. The color was gorgeous! (The other bridesmaids dresses are also from Azazie!)
Kori.smith66
Reviewed On:
2017-09-04 13:28:20
It fits perfectly and it even got to me quicker than expected.. they truly go by the measurements you give them..
Kylie2017
Reviewed On:
2017-02-12 16:41:57
I ordered this as part of the sample program. I am 5'3" 135 lbs and ordered a size A8, which is one or two sizes up from what I normally buy in a department store. The dress was at least 1-2 sizes too big and very long for a knee-length. The quality is good and the flowers are sewn on securely. The skirt is pretty full which I thought made it a bit young looking. I liked the top and I'm sure I would like it better if the fit was correct.
BlairB
Reviewed On:
2017-03-21 13:13:35
Color:
Ink Blue
It's seriously so beautiful but the zipper is hard as all get out to get up! I even made sure it wasn't just my body being a chubbers and it's hard to get up off as well. Everything else is perfect though
danica
Reviewed On:
2017-03-16 08:54:54
First off I want to say all of these dresses are made well from the azazie company! They are pretty and come in a wide variety of colors and have something for everybody. However, I have 7 bridesmaids...and of the seven...everybody's was too big! They all chose diffeeent dresses in the same color and material. We measured all seven girls and the measurements to those dresses aren't accurate. I would have been extremely upset if I had ordered custom sizing and they turned out inaccurate and azazie had of told me I couldn't return them. Their regular sizes don't measure right so I assume their custome sizes don't either. This is my only complaint. Aside from that they are a great company.
lydiarexroth
Reviewed On:
2017-01-05 10:27:15
I absolutely love this dress! I am 7 months pregnant and it was really scary trying to find a dress that would fit my big and growing belly. I took the measurements and added a little growing room & I couldn't be more thankful with the way it turned out. I will always recommend Azazie to any future brides! So simple and I love that we could each buy a dress that suited our style.
Melanie McCaff5
Reviewed On:
2016-10-16 15:54:17
Love the dress I had made custom to fit. It looks great feels great and the bride is happy
kimberleyhoover
Reviewed On:
2016-05-19 14:53:43
Color:
Steel Grey
This dress fit very well and only needed hemmed a little. It was perfect
cleone27
Reviewed On:
2015-11-13 18:01:18
Color:
Turquoise
I followed the directions and measured accordingly and received my dress quicker than expected. However, the dress is at least 2 inches too big. Even with wearing a padded bra, it's still falling down. So much for a custom dress... I still need to get it altered :(
sarah_6_08
Reviewed On:
2015-07-29 15:52:48
Color:
Champagne
I love this dress. It shipped extremely quickly!
brittey_2008
Reviewed On:
2015-06-06 07:03:52
Dress is very cute! Fit true to size also. Would definitely recommend it.
andrealynnwood
Reviewed On:
2015-05-26 14:20:40
Color:
Watermelon
The dress arrived very quickly and is exactly as pictured. It is quite a bit longer than I expected - probably falls a good 2" below the bottom of my knee (I'm 5'4") so it just needs to be hemmed a bit but fits perfectly otherwise. I absolutely love the elasticized bra type strap that allows you to cinch the top to the level of tightness and support that you need or prefer. I had to contact the support team several times while making my purchase and they were all exceptionally friendly and helpful. I will definitely be recommending this site for bridesmaids dresses in the future!
Bfricks
Reviewed On:
2015-04-07 04:17:26
Color:
Pearl Pink
My order came a little over a week of ordering. It came in a nice travel bag and hanger, which makes it that much easier for my bridesmaids to travel with. The dress is the exact color I ordered and such good quality. The fact that it ships from California gave me a piece of mind. I could not be happier with the dress! Also, one of my bridesmaids had to return a dress and order a different size, the return and turn-a-round time is quick and hassle free. Thank you so much Azazie!! One happy Bride
Leandria10
Reviewed On:
2015-04-03 20:24:43
Color:
Burgundy
They dress is awesome !! I also love the bag and box it was delivered and and the speedy service. The reason why I didn't give it 5 stars is because The zipper is hard to zip and I`m scared it i try it on to many time I will not be able to wear it because it will rip. I`m just really not liking the zipper. It needs a thicker zipper, but other than that I love the dress. Right color and right on time.