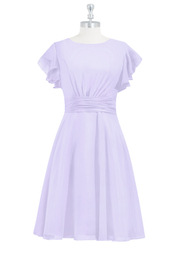 Azazie Kaylen
Bridesmaid Dress
FABRIC: Chiffon
$109
product info

Fun and flirty, this concise chiffon bridesmaid dress is appropriate for any wedding from the beach to the church. Your bridal party will love this charming knee-length A-line/princess dress with a scoop neckline. A pleated detail at the front and back of the flowing skirt makes it perfect for the reception or a city hall wedding. Ask a question
mmmuder2016
Reviewed On:
2018-06-01 12:39:38
Color:
Turquoise
Body Type:
Hourglass
Size Ordered:
Custom Size
I am so impressed and happy with this purchase! When I saw this, all I knew was that I needed to have a turquoise dress for my friends wedding. Azazie had the right shade and had a bunch of dresses that covered all my parts, and the custom size option made it super easy to get the size I needed. Especially since I'm 4'11.5" and a bit on the pudgy size....I totally recommend the custom size option. I think it costed like...an extra $5, and its totally worth it! All I gotta do now is find the right accessories. Thank you Azazie!!!! I'm coming to you for life!
April Mench
Reviewed On:
2018-04-12 13:50:24
Body Type:
Pear
Size Ordered:
A12
I really took some time to consider the size when ordering this dress as I have recently gone down a dress size. I went with the 12 according to the bust and waist measurements. When the dress arrived it came no where close to zipping up. The issue is that while the bust measurement is correct the fabric across the back is mush narrower than the front because the dress because of the way the dress is constructed. At this point I was disappointed, but as it zipped to just above the waist thinking of ways to alter it so I would usable. That was when I noticed that one of the flutter sleeves, the defining characteristic of the dress was incorrectly sewn. The sleeve is comprised of ruffled layers each shorter than the last giving it the "Flutter" effect. On one of the sleeves though the top layer was longer than all the other layers effectively hiding the rest of the sleeve underneath and making the side of the dress unmatched. Totally unacceptable. DO yourself a favor and let your bridesmaids get their dresses somewhere they can actually try them on, or better yet don't have any and let them spend their money on your gift.
Mrslaurencella
Reviewed On:
2018-03-22 11:09:31
This dress is beautiful! I picked it for my bridesmaids but I like it so much, I've thought about getting one for myself too. They were very well made and pretty and the color was exactly what I was hoping for. It came just under the knee and was very modest which was what I was hoping for.
petersfam1221
Reviewed On:
2018-03-16 10:40:59
Body Type:
Hourglass
Size Ordered:
A14
I had read this dress ran small, so I ordered a size up and then had to get it altered to fit because it was too big. It's a very feminine and flowy dress, but looks wide around the shoulders, making a kind of triangle affect on those of us in sizes larger than a 12. Would be very flattering on smaller sizes girls, but not as flattering for plus sizes. Comes right to the knee.
katwilkins63
Reviewed On:
2018-06-07 08:02:39
Color:
Dark Navy
Body Type:
Pear
Size Ordered:
A18
My daughter really liked the dress and it fit her just right. :-) The shipping is a little slow, but the wedding isn't until Aug so I guess we are fine. Thanks :-) KW
samantharose670
Reviewed On:
2018-05-08 06:30:32
Color:
Sky Blue
Body Type:
Pear
Size Ordered:
A6
Very pleased with this dress! It's gorgeous and fit my body type perfectly! Once it was shipped I received it very quickly too! Thank you for such a lovely, modest dress, Azazie!
Erica Smithee Loewe
Reviewed On:
2017-08-18 09:08:20
This was much more modest than I thought it was going to be. Great for someone who likes a very, very basic look.
Julie.bug_89
Reviewed On:
2017-04-20 05:46:57
I am 5'3" and 150lb. I order this dress with custom sizing, as I was between sizes. I love it, itfits beautiful and is very well made. I was concerned the sleeves would be too fluttery, but they were just right. I really appreciated the modest selection on this sight. I love having a beautiful modest bridesmaid dress. I am part of a bridal party of five and we all ordered dresses from azazi. They all came earlier than estimated and fit great!
futureofdesign96
Reviewed On:
2016-12-12 08:56:47
Color:
Sage
I'm not very impressed overall. The quality of the dress is great, and the lining is also great. However, the fit isn't great. It appeared to be a scoop neck, but the neckline is all the way up to the top of my neck almost. Nice quality, terrible fit.
Dagmar Berry
Reviewed On:
2016-10-04 12:50:56
The dress is beautiful and it also has a really good fit.
rkwell
Reviewed On:
2015-12-01 12:06:02
Color:
Mist
Beautiful dress and nice quality. We ordered a sample dress to check the sizing. The medium fit my daughter well in the sample dress so we ordered the dress in medium. When her dress arrived and was tried on - it was very tight through the body so we had to return it.
pinkjacketgirl16
Reviewed On:
2015-07-20 08:03:54
Color:
Lavender
I don't like the cap sleeve, does not work for my broad shoulders. Fits nicely. Get custom fitting, if time allows.
Tbell.brat
Reviewed On:
2015-03-30 12:05:09
Color:
Jade
Very pretty dress. Definitely glad I got this dress for my Matron of Honor. Only issue is, even though I had all my girls measured, and followed the sizing chart, all the dresses run small. I would definitely order one size up.