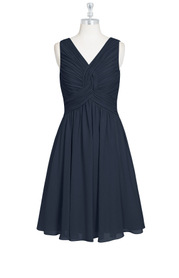 Azazie Kayden
Bridesmaid Dress
FABRIC: Chiffon
$119
product info

Style Kayden by Azazie is a knee-length A-line/princess bridesmaid dress in a faddish chiffon. The chic dress features a v-neck neckline and back zip back style. Whether you dress it up with statement jewelry or down with flats and a cardigan, it epitomizes timeless beauty. Azazie's Kayden style comes in sizes A0-A30. Ask a question
Hlgustafson20
Reviewed On:
2018-06-21 09:07:48
Color:
Jade
Size Ordered:
A16
I had my sizes done professionally and checked the measurements on here on the website. I was actually nervous that the dress would be to big. Boy. Was. I. Wrong! the dress was an inch small in every area. At first I thought that I could lose a little weight and it would fit fine because my husband said the dress was so close to fitting but i ended up taking it to get altered because I don't have time send it back to Azazie. Specifically, in the chest where I have myself measured to make sure my bust is well supported in the bras I wear, I expected it to at least fit in that area but the seamstress said that it the dress just didn't measure out. Buying online is tricky because you can't just keep bouncing the dress back and forth in the mail when you have a deadline. I learned my lesson. NEVER Again. 2 stars because the dress is very pretty and the color is lovely.
LizBaltaro
Reviewed On:
2018-06-09 18:54:54
Body Type:
Pear
Size Ordered:
A2
Very well made dress— however top was large and stiff, the straps lifted off my shoulders not forming to my body. Agree with comments that the skirt has too much fabric, seems bulky.
ceomom33
Reviewed On:
2018-04-29 19:24:48
Body Type:
Pear
Love, love, love this dress! It has enough coverage to be able to wear a proper bra or shape wear but also show's some femininity
Cathy
Reviewed On:
2018-04-24 11:55:08
Love this dress, tried on with the $10 sample system, I am torn as to order the dress in the same size which fit everywhere, except the bust was huge... Or do custom sizing (just afraid I will do custom and won't be happy with the fit, and still have to pay to have alterations) Overall the dress was beautifully made, and a very flattering style.
Hadley
Reviewed On:
2018-04-16 22:25:20
Color:
Burgundy
Body Type:
Pear
Size Ordered:
Custom Size
I ordered a custom dress so spent a ton of time making sure measurements were correct. The dress came in huge - probably 4 sizes too big and is costing a fortune to tailor. There is also so much fabric on the skirt that I feel like I am drowning in it. Very unflattering and bulky.
kjcompton88
Reviewed On:
2017-09-22 15:50:00
Color:
Rust
The dress was perfect. It arrived a month early and was well made and fit great. I would recommend Azazie to anybody looking for dresses for weddings or special occasions.
marlimalk
Reviewed On:
2017-06-27 11:03:46
Color:
Dusk
This is a very well made dress, and would probably be flattering to a variety of body types. It is nothing fancy, simple and nice. It was a second choice for me after I became pregnant and had to return the more form fitting dress I had previously purchased.