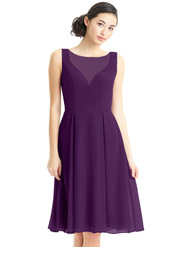 Azazie Kaya
Bridesmaid Dresses
FABRIC: Chiffon
$109
product info

The lovely Knee-Length bridesmaid dress by azazie has an A-line/Princess cut in a concise Chiffon, Chiffon. Style Azazie Kaya features a boat, Illusion neckline, and comes in a full size range (A0-A30).  
Miriam
Reviewed On:
June 25, 2019
Size Ordered:
A12
An elegant and understated option! In the attached group photo, two of us went for the Kaya (third from left and far right). I went for standard size instead of custom - I'm 5'4" around 165 lbs and size A12 had a solid fit. Just a little roomy in the back, but it felt good to have a little room (this never happens for me!) Length was perfect. As for shape, it kind of hid my hourglass figure but also toned down my wide shoulders. Overall, a flattering design. With that said, my boobs were kind of confused in this dress. There's a lot of structure in the bodice, but I found that it didn't provide much lift. I considered wearing a bra, but the straps could be seen if I moved so I opted for silicone cups instead for a bit more lift. Didn't feel squeezed in though, which is nice. I typically wear 36D for reference. For those looking for a more modest dress, beware that the mesh panel in front does show some cleavage! (Shows up more in person than in pictures.)
Was this review helpful to you?
stoptheparty
Reviewed On:
February 16, 2018
Color:
Blushing Pink
body type:
Hourglass
Size Ordered:
A16
The dress is so much nicer than anticipated. The blush is a little lighter than the photo online and a little darker than it looks in my photo. The material is really nice and very opaque. Length is perfect even though I'm 5'8.5". So pleased!
Was this review helpful to you?
Nik
Reviewed On:
December 20, 2017
Pros: Loved the color - azalea Great material - good quality Cons: Too long - I'm 5'2 (had to have it altered) Too big - I'm 119 and ordered a size 4, should have gotten the 2 Front cut gave the illusion of "sexy" meanwhile it was rather matronly, and boxy. I had NO waistline or curves in this dress. I would still recommend this site despite the cons outweighing the pros, as its really the person that makes the dress, right? And I'm ALWAYS fly! :)
Was this review helpful to you?
Brooke Nemchak
Reviewed On:
October 08, 2017
I LOVE this dress and so did everyone else. I was the only on in the bridal party to order off of Azazie and the others wished they had to. The custom size was perfect, only had to shorten the straps!
Was this review helpful to you?
ARS1027
Reviewed On:
September 20, 2017
The dress was beautiful and I was beyond happy with how I looked in the dress! I got a ton of complements and Azazie was fast and easy to work with. I ordered mine with custom measurements to be on the safe side and it worked out perfectly! :)
Was this review helpful to you?
Flo
Reviewed On:
March 20, 2017
Ordered dress for my Sister and it looked beautiful on her. Everything fit perfectly. She didn't have any issues with the dress. She looked amazing in it and she said it was really comfortable.
Was this review helpful to you?
vandresser
Reviewed On:
February 24, 2017
I didn't have the dress custom made because I'm particular and prefer to go to my tailor for that sort of thing. So I can't attest to the custom sizing. In that same vein, I ordered a size up - an 8 - with these measurements: 34, 28, 39. The 8 was huge and definitely had to be taken in all around. Moving on, I can tell you this dress is incredibly well made. The lining was great - seriously you won't have problems there. And the placement of the seams along the bust and torso hugged my body shape and me feel confident, secure, and sexy. The visibility of the illusion necklace changes depending on the lighting. It's visible enough to add a smidge of sexiness to the garment, but not too see through to not be able to wear a normal bra with the dress if you wanted to.
Was this review helpful to you?
lkdl100
Reviewed On:
October 12, 2016
I cannot say enough amazing things about this website. All of my bridesmaids ordered different styles of dresses, and they all came out perfect. Prices are SO reasonable, quality is actually really good, and shipping/delivery times were faster than expected. The only negative I heard was that my girls are on the shorter side, and the hems were a teeny bit long. But with heels it was no issue at all. I would recommend anyone getting married to get their dresses from Azazie. One of the easiest parts of planning my wedding by far
Was this review helpful to you?
Jessica Clark
Reviewed On:
November 09, 2015
My dress size wasn't as custom as I thought it would be. It looks beautiful but it was really too tight around my bottom rib area. Like I'm worried about it fitting correctly cause I can't send it in and back again within time. :(
Was this review helpful to you?
Anna Mac
Reviewed On:
September 21, 2015
Color:
Regency
The dress is beautiful and I love it. The neck line was a little more plunging than I expected but the illusion neckline covers tastefully the extra cleavage I don't normally show off. My only real complaint is that the arms holes are a little tight but other then that no complaints!
Was this review helpful to you?
Katie
Reviewed On:
June 06, 2020
Color:
Raspberry
Size Ordered:
A2
Ordered this dress for my sister's wedding, and it is very tasteful! I love the neckline and sheer overlay. I found that it ran a bit large, especially the bust. I measured to be A4, but ordered in A2 and it fit perfectly, especially the waist.
Was this review helpful to you?
rockinrobin542000
Reviewed On:
June 06, 2019
Color:
Dusty Rose
I bought this dress in size 12 and 14, not sure which one would fit. The 12 fits but the top in a little too big. AS I said in the prio review. I love the dress.
Was this review helpful to you?
meganannsanders
Reviewed On:
July 16, 2018
Color:
Flamingo
body type:
Straight
Size Ordered:
A10
Dress was pretty large, even though I took measurements of myself before ordering to ensure a good fit. Not sure if they sent me the wrong size or what happened, but the top.bust part of the dress was extremely large and ill fitting. This dress will need to be tailored, so be sure to budget that into your cost accordingly.
Was this review helpful to you?
lilpippin60
Reviewed On:
June 20, 2018
Color:
Burgundy
body type:
Apple
I just ordered this dress and a little chiffon shrug to go with it from Azazie. I am going to be the mother of the bride in October. I tried numerous sample dresses from Azazie and this fits the best. I am short, under 5 feet and the knee length is tea length on me, so no hemming. I ordered it in Peacock which is a beautiful color, and the princess lines elongate.
Was this review helpful to you?
ashleysears402
Reviewed On:
August 05, 2017
Color:
Dark Navy
Everything fit except the arms are extremely too tight so I have to pay to get it altered.
Was this review helpful to you?
Kylie Pecarina
Reviewed On:
July 09, 2017
Color:
Fuchsia
The sample fit well & came on time. It was nice being able to try on the actual dress before ordering. That being said, the dress that I subsequently ordered was a mess and didn't fit like the sample at all.
Was this review helpful to you?
Kylie Pecarina
Reviewed On:
July 09, 2017
Color:
Jade
I rented this dress first and was happy with the fit. I then decided to order a custom size so I could get a slightly larger bust and not have to have the entire dress taken in. The dress that arrived was a mess! The bust was larger but the back was wider than the front which pushed the armholes forward. I had to squeeze my arms in and the back was baggy.. Azazie didn't post my first review , won't take a return, and there wasn't enough time to order a new dress before the wedding. I've outspent the cost of the dress having it fixed by a seamstress, shortening it for material and adding panels in the sides to move the armholes back where they should be.
Was this review helpful to you?
erinmurphy168
Reviewed On:
June 29, 2017
Color:
Dusty Blue
I do like the dress, but I tried on the size 4 which is 34 in the bust. It fit me perfectly but was a little tight in the chest and shoulders. When I ordered my dress I went custom size and did the exact measurements for a 4 but went up an inch (35") in the bust. It felt as tight or tighter than the size 4 I tried on. I also provided my height because the regular 4 was too long but they did not shorten the length. It would be nice if the custom sizing offered more flexibility (like a comments section) in what you want so they could better customize.
Was this review helpful to you?
debprice
Reviewed On:
June 28, 2017
Color:
Dusty Blue
the dress is beautiful and arrived in a timely manner
Was this review helpful to you?
mecoley
Reviewed On:
June 02, 2017
Color:
Jade
I thought about doing the personal sizing, but found my measurements were exactly the same as the size 4, so I ordered the size 4 instead. It ended up being quite loose, and now I don't have the money they offer for alterations for personal sizing.
Was this review helpful to you?