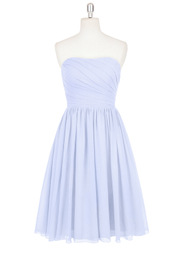 Azazie Katie
Bridesmaid Dress
FABRIC: Chiffon
$99
product info

Style Katie by Azazie is a knee-length A-line/princess bridesmaid dress in a concise chiffon. The chic dress features a sweetheart neckline and side zip back style. A pleated detail at the front and back of the flowing skirt makes it perfect for the reception or a city hall wedding. Azazie's Katie style comes in sizes A0-A30. Ask a question
kellysweetphoto
Reviewed On:
2015-08-12 03:12:00
I love the way these azazie bridesmaiddresses  photographed...not to mention the pretty ladies. ;)
Brianna Wadsworth
Reviewed On:
2017-01-13 14:01:49
oh my gosh. so cute on! Is, in my opinion, cuter than the picture and the color is so flattering, even on paler toned skin!
taylor.baird7
Reviewed On:
2016-11-09 10:22:36
The dress was longer than I was hoping. It went past my knees.
chandy703
Reviewed On:
2016-06-10 16:27:13
I was asked to be in a wedding two weeks beforehand. All the other bridesmaids had ordered daffodil dresses from Azazie. I was worried I wouldn't be able to find a dress in time that was a similar color but then I found Azazie's clearance section. The dress was about two sizes too big for me but it arrived in 2 days which gave me plenty of time to get it altered. Only damage I saw was a missing eyelet at the top of the zipper. The bride and I are both very happy that this dress worked out on such short notice.
rosechard1422
Color:
Dark Navy
Reviewed On:
2016-04-27 06:55:32
I love this dress! It fits very well! The fabric is very nice and the back of the dress is gorgeous. The dress came packaged beautifully! It arrived in fabric garment bag on a hanger. Overall this dress is beautiful especially for the price!
Meg
Color:
Mulberry
Reviewed On:
2016-04-11 11:46:25
I liked this dress. It is the second dress I have ordered from Azazie. I will be ordering another for a different wedding in August! Its a great option for bridesmaids that live all across the country! What I have noticed that the quality of the dress is wonderful. The zippers are all a little hard to use. They get stuck randomly. I think these dresses are all really reasonable priced and a great option for online ordering. The colors match what they look like on the website. So far, I have ordered one in Jade and this one in Mulberry. Minor alterations for the bust and length are necessary, but I think that is only because I did not order it customized. The construction of the dress was well executed, and for the price and style I have no complaints!
livingwater4all
Reviewed On:
2016-03-08 10:10:45
Again, for sizing purposes, it was fine. When we purchased a similar dress, it was sized completely different.
JayM0ney
Color:
Wisteria
Reviewed On:
2015-11-09 00:26:07
I ordered my dress with my measurements and even received a phone call to confirm measurements, but dress is too loose and I have a big 2 inch gap between the dress and my boobs. I have to have a seamstress take the dress in at the sides and the chest just so it will fit correctly for the wedding this weekend.
Mb14
Reviewed On:
2015-10-12 16:39:05
This dress looks super good on. However, The zipper could not get over the ruched part even with enough room for it to zip. We took it to a seamstress and she is fixing it. She said that if we zipped it to much that it would have ruined the zipper. She also had to take in the top of the dress almost 2 inches. The sizing of these dresses are crazy, all of the bridesmaid for this wedding are having to order at least 2 sizes up from their normal dress size.
meganschladetsch
Color:
Burgundy
Reviewed On:
2015-08-10 20:59:19
Customizing this dress was the best thing I could have done. I was able to adjust it properly to fit my body which made it look that much better when I wore it. The only hiccup I had was that I have a fairly big rib cage (I was a gymnast and a singer, so lots of lung capacity) so I needed a bigger bust size, but my chest is not quite as busty as the measurement suggests. Unfortunately, I had to do a little taking in for it to fit exactly right, otherwise this dress was awesome for the wedding. It was long enough that I was comfortable dancing the night away, but not too long to feel at an awkward length. I would definitely recommend this dress, it is very flattering and quite comfortable.
meganschladetsch
Color:
Burgundy
Reviewed On:
2015-08-10 20:50:25
This dress would have been great for someone who fit well into general sizes, unfortunately my waist is a little smaller while my rib cage is a little bigger than the typical sizing of this dress. The fabric is great though. I was able to return this dress and built a custom sized one to make sure it fit properly. On a side note, the return process was very easy and hassle-free, which I greatly appreciated.
emmamvanderzee
Color:
Watermelon
Reviewed On:
2015-06-03 18:22:19
I love the color and it fit great, exactly like the measurements! It's a little long, so I might have it hemmed and it took a few weeks to arrive. It comes in a very nice bag that you can keep the dress in.
treasuryofwords
Color:
Dark Green
Reviewed On:
2015-05-23 15:40:36
Dress arrived in a very timely manner, far before expected. They got the size specifications very accurate and the dress seems exactly as looks in the image. Bottom falls below the knee on me. This particular dress looks great with a belt. Overall pleased with my experience and the cost.