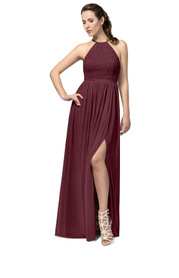 Azazie Kartini
Bridesmaid Dress
FABRIC: Mesh
$119
product info

Style Kartini by Azazie is a floor-length A-line/princess bridesmaid dress in an elegant mesh. The charming dress features a halter neckline and back zip back style. A pleated detail at the front and back of the flowing skirt makes it perfect for the reception or a city hall wedding. Azazie's Kartini style comes in sizes A0-A30. Ask a question
Refine Reviews By:
Sort By:
Ratings (Show High to Low)
Helpfulness (Show High to Low)
MIwaskiw
Reviewed On:
August 29, 2018
Body Type:
Hourglass
Size Ordered:
Custom size
I love this dress! I did the custom measurements, and it fits perfect. It has a built in bra, and I'm a D cup and I won't need anymore support! The lace is beautiful, the slit isnt too drastic, and it's so comfortable. Definitely suggest!
Was this review helpful to you?
allysonallan93
Reviewed On:
February 04, 2019
Body Type:
Straight
Size Ordered:
A2
Great quality, arrived in a timely fashion, just a little long as expected because I am 5'1" There is a built in bra which is really nice
Was this review helpful to you?
sam.speciale
Reviewed On:
January 29, 2019
Body Type:
Hourglass
I ordered this dress in a size 4 to compare with another dress of a smaller size. I found this dress super cute on, however the neck was very tight whereas the rest of the dress seemed to fit well. Overall, this dress is great, the style itself just didn't work for my build. I do recommend trying this on if you like it just to make sure it will fit you properly everywhere!
Was this review helpful to you?
malenamagnolia1
Reviewed On:
November 09, 2018
Body Type:
Hourglass
Size Ordered:
A18
This dress is beautiful and I really do love it. It is as pictured. However, it says in the description that it is stretchy, when it has no stretch at all and it was one of the reasons I bought this dress in particular. The waist has no stretch and the material itself is not stretchy. It seems kind of odd that it was listed as stretchy at all. Additionally, I'm 5 ft 5 inches and it is super long. I took a risk and ordered the size A18 instead of getting it custom made. All the dress measurements for this size matched mine except my bust measured an inch and a half larger than the bust size listed in the sizing details. The dress fits very snug in all areas. Overall, I wish I would have done the custom sizing for the perfect fit, but the dress will work and still fits for the wedding I'm in. However, I basically had to perform surgery on the bust lining to remove the breast padding and wire structure. With where these things were placed inside, it had my nipples on the top of my chest way higher than where my nipples would actually be. I had no choice but to remove them, otherwise my body would have looked anatomically incorrect and when it was made it didn't seem to take a plus size person's anatomy into account although the measurements are plus size. Overall, I would still recommend this dress and Azazie to friends. Besides the nipple issue, I think this dress would be a perfect fit if I had done the custom measurements and added at least an inch in my waist since it wasn't stretchy. The ordering process was easy and the dress was surprisingly well made.
Was this review helpful to you?
mackpuravida
Reviewed On:
November 05, 2018
Body Type:
Hourglass
Size Ordered:
A10
I am 5'8" and about 170lbs (athletic build). I followed the size chart closely and ordered an A10 (measured bust, waist, and hips fairly tightly with twine string). My measurements were in between an A10 and A12 but I went with the smaller and hoped for the best. It fits perfectly; it is a little long but with heels, it should be perfect! I will say that the top half of the dress (lace part) is a slightly different shade than the lower half but that is hardly noticeable.
Was this review helpful to you?
Theriault.aly2
Reviewed On:
October 21, 2018
Size Ordered:
Custom Size
Great fit! I will definitely be ordering again.
Was this review helpful to you?