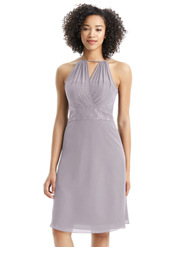 Azazie Karen
Bridesmaid Dress
FABRIC: Chiffon and Lace
$109
product info

Fun and flirty, this gorgeous chiffon and lace bridesmaid dress is appropriate for any wedding from the beach to the church. Your bridal party will love this brilliant knee-length A-line/princess dress with a halter neckline. A pleated detail at the front and back of the flowing skirt makes it perfect for the reception or a city hall wedding. Ask a question
kellymsmith01
Reviewed On:
2017-11-20 13:32:21
I loved this dress. Got it for a Florida wedding and he bride let us pick our own dress as long as it was some shade of yellow. It was light and comfortable for the Florida heat but still felt delicate and feminine. My kids were in the wedding too and sat on my lap in the 30 minute limo ride to the venue. I was disappointed when I got out of the car to find the dress wrinkly. BUT... it actually dewrinkeld on its own in a few minutes so I was beyond thrilled with the fabric. After having 2 kids, I was nervous about finding dresses that shaped me well but weren't frumpy or plain. This was a great choice for me. Hid my tummy pretty well and was comfortable. Looking for excuses to wear it again!
Hilton531
Reviewed On:
2016-03-22 13:13:29
Color:
Fuchsia
I fell in love with this dress as soon as I saw it online and I'm happy to report it was just as lovely in person. I did custom sizing since I'm about 2 sizes larger on my bottom half and couldn't be more pleased with the results. I recommend getting professionally measured (I went to the same shop my sister bought her wedding dress from). The place I went to charged $10 to take the measurements, but I was confident my measurements were correct. I was slightly worried when I noted my measurements against the standard size measurements though. The sample size I'd tried on was gaping at my bust despite being the same measurement I got at the dress shop. Customer service was AWESOME to speak with regarding my concerns. They informed me that the sample sizes are tried on so much that they often get stretched out. The rep I spoke with was confident that the measurements I provided would make a dress that fit properly and if not, also informed me that part of the custom sizing included a refund up to $50 if any alterations had to be made.
jennakyle.12
Reviewed On:
2015-11-14 06:19:11
The quality of the dress feels nice. It's soft and feels well made. The fit is clearly quite comical on my body type. I am 5'1", 110lbs, and Bust - 34, Waist - 26.5, Hips - 34. I am wearing the size two in the pictures. I actually ordered the dress more for the color than the style, but figured I would see what the sizes were like too. Tge color was pretty but more of a baby blue than I was looking for. The dress is obviously too large in the bust area and made for someone at least 6 or 7 inches taller. I'm not sure if Azazie makes theirs dresses based on their customer's height, but if not, you'll definitely want to plan on alterations unless you are almost 6'0" tall.
stacijt
Reviewed On:
2018-06-08 06:31:50
Color:
Royal Blue
Body Type:
Straight
Size Ordered:
A4
The dress is pretty and well made but it is made for extremely large busted people. The measurements for the bust are not accurate. The dress fits perfectly in the waist & the length, but if you measure your bust to fit the size, it will be too big. My daughter measured exactly for the A4 size and we will have to have it altered in the top.
Jenniferr
Reviewed On:
2017-11-21 09:25:58
I had all 7 of my bridesmaids order dresses from Azazie for my wedding. Each girl chose a dark navy, chiffon, knee length dress - the Azazie Karen was one of them! We were so happy with the quality and turnaround time for the dresses. Some of my girls ordered multiple samples, while others just chose what they wanted and purchased; some did custom size orders and some did standard size orders, but either way it worked out well for every single bridesmaid! I recommend Azazie 100%!!
lbrooks1213
Reviewed On:
2017-10-22 13:14:48
Color:
Silver
Very comfortable, fit very well although slightly too big on the top, this was due to measurement, not production error. My only reason for not giving 5 stars is the amount of time it took to arrive. It took nearly 5 weeks for the dress to arrive. I'm happy I ordered so far out, but next time will look to order even earlier so I can get small adjustments done. Otherwise the dress was beautiful, comfortable, and I loved the style!
Heidi Thomson
Reviewed On:
2017-09-23 05:41:22
Beautiful dress! The neckline and peekaboo back make this dress standout. Built in support keeps the girls in place! Super easy to return items. Love the sample dresses. The ease of trying on dresses in your own home.....very clever. No awful lighting or the 3 way mirror to point out all your imperfections. Thanks Azazie
imqueenofshortness
Reviewed On:
2017-03-30 09:19:32
Color:
Royal Blue
This dress is lovely. I was very happy to be able to give my exact measurements so that it could be made specifically for me. I'm a smaller build so I'm very used to purchasing items that then have to be altered. I happily won't have to have much at all done for it to be perfect. The looser material in the front bunches out a little on the sides but a simply tack will fix that. Anyone else looking at the dress probably wouldn't even noticed the little bunch but I'm planning to fix it so that I'm not conscious of it the whole day in my female mind. I would definitely recommend this dress to anyone.
angelica.kiesling
Reviewed On:
2016-10-12 12:16:54
We did the try on service. And the dress is beautiful. The quality is great. I am picking this for my bridesmaid dresses and I will be purchasing one for myself for the dancing part of my reception.
sierra.greene
Reviewed On:
2016-03-09 13:32:59
Color:
Grape
Fits perfectly in my bodice and waist and looks amazing!
geli626
Reviewed On:
2015-10-05 18:57:10
The dress fit perfectly. Order a dress size to big because it can always be altered. Got here in less than a month!
flutterbye78
Reviewed On:
2015-10-02 19:39:30
This dress is very beautiful. Get yourself measured first before you order. I am normally a size 6/7, however my measurements came out to a size 10. This is a beautiful color for a fall wedding. It fit very well, their dresses run on the small side. Nice flow to it and material. Give yourself some time to order the dress it did come to me within 3 & a half weeks, it stated the shipping time was 3 to 4
trishaarment
Reviewed On:
2015-08-11 12:07:33
Color:
Dark Navy
I thought it is great. It would be better to see it on a person...