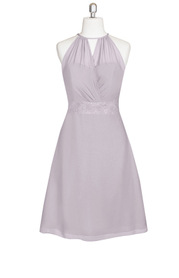 Azazie Karen
Bridesmaid Dress
FABRIC: Chiffon
$109
product info

Fun and flirty, this gorgeous chiffon bridesmaid dress is appropriate for any wedding from the beach to the church. Your bridal party will love this brilliant knee-length A-line/princess dress with a halter neckline. A pleated detail at the front and back of the flowing skirt makes it perfect for the reception or a city hall wedding. Ask a question
Hilton531
Color:
Fuchsia
Reviewed On:
2016-03-22 13:13:29
I fell in love with this dress as soon as I saw it online and I'm happy to report it was just as lovely in person. I did custom sizing since I'm about 2 sizes larger on my bottom half and couldn't be more pleased with the results. I recommend getting professionally measured (I went to the same shop my sister bought her wedding dress from). The place I went to charged $10 to take the measurements, but I was confident my measurements were correct. I was slightly worried when I noted my measurements against the standard size measurements though. The sample size I'd tried on was gaping at my bust despite being the same measurement I got at the dress shop. Customer service was AWESOME to speak with regarding my concerns. They informed me that the sample sizes are tried on so much that they often get stretched out. The rep I spoke with was confident that the measurements I provided would make a dress that fit properly and if not, also informed me that part of the custom sizing included a refund up to $50 if any alterations had to be made.
jennakyle.12
Reviewed On:
2015-11-14 06:19:11
The quality of the dress feels nice. It's soft and feels well made. The fit is clearly quite comical on my body type. I am 5'1", 110lbs, and Bust - 34, Waist - 26.5, Hips - 34. I am wearing the size two in the pictures. I actually ordered the dress more for the color than the style, but figured I would see what the sizes were like too. Tge color was pretty but more of a baby blue than I was looking for. The dress is obviously too large in the bust area and made for someone at least 6 or 7 inches taller. I'm not sure if Azazie makes theirs dresses based on their customer's height, but if not, you'll definitely want to plan on alterations unless you are almost 6'0" tall.
angelica.kiesling
Reviewed On:
2016-10-12 12:16:54
We did the try on service. And the dress is beautiful. The quality is great. I am picking this for my bridesmaid dresses and I will be purchasing one for myself for the dancing part of my reception.
sierra.greene
Color:
Grape
Reviewed On:
2016-03-09 13:32:59
Fits perfectly in my bodice and waist and looks amazing!
geli626
Reviewed On:
2015-10-05 18:57:10
The dress fit perfectly. Order a dress size to big because it can always be altered. Got here in less than a month!
flutterbye78
Reviewed On:
2015-10-02 19:39:30
This dress is very beautiful. Get yourself measured first before you order. I am normally a size 6/7, however my measurements came out to a size 10. This is a beautiful color for a fall wedding. It fit very well, their dresses run on the small side. Nice flow to it and material. Give yourself some time to order the dress it did come to me within 3 & a half weeks, it stated the shipping time was 3 to 4
trishaarment
Color:
Dark Navy
Reviewed On:
2015-08-11 12:07:33
I thought it is great. It would be better to see it on a person...