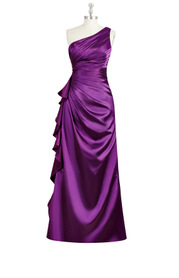 Azazie Kamila
Bridesmaid Dress
FABRIC: Charmeuse
$139
product info

The sweet floor-length bridesmaid dress by Azazie has a trumpet/mermaid cut in a gorgeous charmeuse. Style Kamila features an one neckline, and comes in a full size range (A0-A30). A pleated detail at the front and back of the flowing skirt makes it perfect for the reception or a city hall wedding. Ask a question
zachandkayla2016
Reviewed On:
2016-06-15 13:30:26
We purchased 7 of these in Fuschia and 1 in the dark grey and they were amazing!!! Loved them so much for my May wedding!! We did custom sizes and there were some alterations needed because of mixed of measurements and losing weight and such, but we had those done for about $10/girl so it was not bad! Loved it!
Kelsey Marie
Reviewed On:
2017-01-02 11:50:19
The dress is gorgeous & it fits perfectly. It arrived a lot earlier then expected which is great, I don't have anything negative to say about the dress !!
OWed
Reviewed On:
2016-12-27 21:44:02
This dress is beautiful and the material is of quality. I ordered the dress 1 size up and it fits perfectly!
Erin
Reviewed On:
2016-10-03 14:58:38
This was the first time that I have purchased a bridesmaid dress offline and I'm so happy with my purchase! It's a great quality dress and fits great. I did the custom option and I don't have to have anything changed on the dress it fits perfect! I would recommend this site to anyone and will use it for future purchases.
Krista Roles
Reviewed On:
2016-09-29 12:20:26
The dress itself is gorgeous and appears to be well-made. However, I had to get a custom size due to my petite size and unfortunately it did not fit. Knowing that I would be unable to try on the dress until it arrived, I ordered all dimensions an inch or so bigger than what I usually wear, figuring that would give me some wiggle room. Unfortunately, the dress runs small and now I am scrambling to figure out a solution to my problem. Since I ordered custom, I am unable to return/exchange the dress for another size. The dress fits perfectly except for the bust region, so I am unable to zip the dress completely closed. I am usually a 33 inch bust and i ordered a 35 inch bust, figuring I would wear a strapless bra. Even without a bra, the dress won't close up top. #thestruggleisreal
jennapajak
Reviewed On:
2016-06-10 12:41:13
Love this!! It fits perfectly and looks exactly like the picture.
chefzsa19335
Reviewed On:
2016-05-23 22:12:27
This is a bridesmaid dress for my friends wedding that she picked out. So not my personal color choice of the dress (silver), but the dress fits well. I did the custom size, and had the person who was doing my alterations measure me.
marvellahrn
Color:
Jade
Reviewed On:
2015-10-12 09:49:54
The color of this dress is beautiful. The detail on the side is stunning in person. Please be sure to measure yourself for proper fit! All of my daughter's bridemaids had to swap around and one had to reorder because the sizes were too small. For example one girl ordered a 10 she had to switch and wear the 14 and the girl who ordered a 4 ended up with a 10! Stressful!