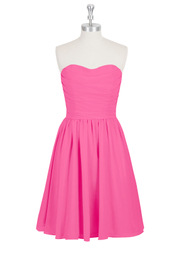 Azazie Kaiya
Bridesmaid Dress
FABRIC: Chiffon
$99
product info

Fun and flirty, this fabulous chiffon bridesmaid dress is appropriate for any wedding from the beach to the church. Your bridal party will love this attractive knee-length A-line/princess dress with a sweetheart neckline. A pleated detail at the front and back of the flowing skirt makes it perfect for the reception or a city hall wedding. Ask a question
Beth Secress
Reviewed On:
2015-12-27 19:03:47
I love all of my bridesmaids. They looked gorgeous on my wedding day!
MOB
Color:
Ivory
Reviewed On:
2016-10-12 19:13:40
Great fabric, great dress, but the size 4 was too small for a very standard size 4. We returned it and ordered a slightly different style in a size 6. Very easy to return a standard size dress, thankfully! We will be ordering ten different dresses in ivory chiffon, and are very happy with the quality and the price.
kuhnemilyr
Color:
Dusty Rose
Reviewed On:
2016-04-21 09:07:09
Did not keep this dress. The waist falls at a really awkward place - i'ts not Empire, not at the natural waist. Because of this, the dress then poofs out at the point where it is supposed to hug the waist. Very unflattering.
anonymous
Color:
Dark Navy
Reviewed On:
2016-02-03 18:20:05
I ordered a standard sized dress according to the size guides provided and it fits perfectly, aside from extra room in the bust. I ordered a 10 and I am a C cup with wide shoulders, so I wasn't expecting quite so much room. I would definitely recommend ordering a custom size if you are smaller on top than in the waist. However, the structure of the top is such that it stays up on its own and I'm not sure I will even need a strapless bra. It feels very secure and looks fine. The length is also good, which on the longer dresses is not the case (I ordered a sample to try on for the bridesmaids at my own wedding). The floor length dresses seem to be way too long, even with heels. I am short, granted, but the sample was at least 10 inches long even when wearing 3 inch heels.
Sarah Hufferd
Reviewed On:
2015-07-28 07:07:16
This is a very lovely dress and I am impressed with the quality. My one complaint is that the dress was significantly too big and I was extremely careful to order the size based on the measurements on the size chart. I am overall happy with the dress, but disappointed that the sizing was so off.
lbilling89
Color:
Spa
Reviewed On:
2015-07-13 13:41:45
I used the custom sizing, but it's a little longer than I'd like. I recommend making yourself shorter than you really are. Also, the skirt is a little fuller on the sides than I'd like. Makes me look a little bit hipper than I am. Otherwise, the fit is good. The color is as promised and the quality is good. I'd recommend it, just be aware for calculating a bit more to get the right length.
Alyssa B
Color:
Mint Green
Reviewed On:
2015-04-03 11:22:49
After trying on 2 different sample dresses, I ended up ordering a custom size. I am 5'10, 32B and 130 lbs. The dress fit everywhere except for the bust. If I had much larger breasts, the fit would have been perfect, but for me, there was a large amount of phantom space in the top of the dress. The dress I was sent had elastic bands sewn into the sides that secured like a bra strap, which did help keep the dress up, but at the same time it created unsightly bunching on the sides of the dress. Other than the poor fit, the dress was of excellent quality and had a good weight to it. I'm sure once I get it back from the tailor it will be perfect.
Jennifer Greinke
Color:
Dusty Rose
Reviewed On:
2015-03-17 14:03:17
I used my measurements to figure out which size to get. I got a size 4, this dress fit like a size 6. The bust and waist were so loose on me, the back slouched down below the bra strap inset, exposing it. I guess I should have gotten a size 2 but there is NO way I'm a size 2! The ruching was not as pictured either. As soon as I put it on, the ruching in the bodice warped and was no longer straight across (it was a mess). Super disappointing as this dress is so cute in the pictures... just didn't look like that in person. Hopefully my tailor can work a miracle!
Jessica S.
Color:
Red
Reviewed On:
2015-03-01 12:53:12
This dress arrived quicker than expected and was a perfect fit! I'm 5' 4" and size 2 and the waist and length were exactly what I hoped for :) Would definitely recommend to a friend!