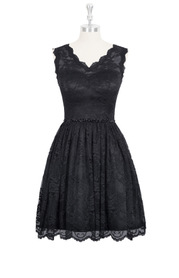 Azazie Julianne
Bridesmaid Dress
FABRIC: Lace
$139
product info

The lovely knee-length bridesmaid dress by Azazie has an A-line/princess cut in a lux lace. Style Julianne features a v neckline, and comes in a full size range (A0-A30). Whether you dress it up with statement jewelry or down with flats and a cardigan, it epitomizes timeless beauty. Ask a question
curvygirlontherun
Reviewed On:
2016-05-23 13:25:21
I loved this dress the moment I saw it! The dress was custom made for me and I loved the color, the beading and the lace. The style was very flattering for my shape and I was glad it was custom made as it was the appropriate length that I needed! The service was fantastic and anytime I had questions, I was able to ask them and get the assistance that I needed. I would definitely recommend using Azazie for all of your wedding needs! Curvy Girl on the Run Blog: www.curvygirlontherun.blogspot.com IG: @curvygirlontherun
codeyellow
Reviewed On:
2015-07-28 22:30:15
I ordered this dress in gold for my parents' 50th wedding anniversary. It arrived within 3 weeks. For reference, I'm 5'2 110 lbs., the dress is long, so I paid 30 bucks for the hemming. The lace design at the bottom was gone as the tailor had no choice than to cut it. The shoulders are a liitle bit tight. It's a cute dress but the sizing iis off, I should have ordered a custom size, but I did't have enough time to do so. The gold looks more of a yellow in person, but it looks nic in the picture. I paired this dress with a big yellow facsinator and gold platform shoes. Overall, It all worked out and I got lots of compliments.
itskamy
Reviewed On:
2015-07-07 23:56:32
Firstly, sometimes Azazie has amazing customer service. Sometimes you get someone who is less helpful, but if you try again, you might get someone more willing to help. I ordered this dress with custom measurements several months in advance of my friend's summer wedding. I was nervous about it because when I first saw it on the website, it said it had a hollow to hem length of 32" (which is what I wanted). By the time we ordered, the website had changed it to 38". After a few emails with customer support, I decided to order custom and specified my absurdly short height to ensure the length would be cut correctly. The dress arrived in a few weeks (and a bit quicker than the estimated arrival date), but it did not fit right. Strangely enough, the website listing had changed to a hollow to hem measurement of 35.5", but it measured more like 37" and hung well past my knees (1st photo). Additionally, the torso was a smidgen too large and the bust cups were about 2 inches too high. Also, what the website description doesn't tell you is that the torso has boning, so you need to be precise with your measurements, because you can't count on stretchy fabric to be forgiving. And there is no hook at the top to make zipping easier. Azazie was quick to apologize about the fit and remade my custom dress at no extra charge, this time asking for additional measurements to ensure the sizing. The second dress was a much better fit, although the cups were still 2 inches too high (but still wearable). The skirt was better, but I noticed they cut the slip at the length I specified and left the outer lace hanging about two inches past the bottom of the slip (2nd photo). They should've made the lace at the specified hollow to hem and made the slip shorter. Azazie offered to reimburse me up to $50 if I wanted to have it fixed at a local tailor, but I decided it's wearable enough and have left the dress as is. Azazie also paid for the shipment of the first dress back to them and I never incurred any extra costs. All in all, the dress is cute, but it would be much cuter if it were made to proportionally look like the dress featured online. I think they should've kept the standard 32" hem (although one customer service rep tried to convince me it never changed, even though several of the other bridesmaid saw the changes as well, and I had screenshots).
reginavisco
Color:
Tangerine
Reviewed On:
2017-01-17 17:09:50
This dress fit me perfectly. When I tried on the sample, the shoulders were a bit big, so I knew I'd have to have those taken in. That's not a big deal, though. I tried the dress on tonight and holy cow! It fits exactly how I want it to! The color is so amazing on my olive skin, too. I just can't get over how pleased I am with my purchase. I'd buy another dress from you in a heartbeat. This is my wedding dress for our April wedding. I'm so excited about it! Thank you ever so much!
smidgeofpepp
Reviewed On:
2016-11-15 08:10:54
Absolutely loved this dress, style was flattering for my fuller figure.
sgatica0511
Color:
Tangerine
Reviewed On:
2016-07-06 19:38:39
I ordered a custom dress because my body is oddly shaped. I ended up having to get alterations. My tip when ordering a custom size is to take measurements close to your body, meaning don't give yourself extra wiggle room. It will be huge! Other than that, I thought it was a well-made beautiful dress!
mhvinson
Color:
Chocolate
Reviewed On:
2016-06-17 20:14:59
all the bridesmaids for my daughter's wedding ordered these dresses in different colors. they are beautiful dresses, but all are too long. A couple of them were too big in waist. Other alterations will have to be done. the colors and material are beautiful! Just specify to Azazie if you want them shorter, because they hit below the knee, not at the knee or above.
haathipur
Color:
Gold
Reviewed On:
2015-04-30 08:38:59
I ordered this dress for my fifteen year-old cousin, who is a bridesmaid in my wedding. It's gorgeous! Really well made, and all the little details are just perfect. It is, however, a bit different than pictured. For one, the color is much lighter than in the photo. It's still very definitely gold, but it's more a buttery yellow-gold than what you see here. For what it's worth, I thought it would turn out that way because I'd ordered the swatch ahead of time. So even though the swatch doesn't come in lace, you can overlay the satin swatch with the chiffon swatch to get a good idea of what the color will be. The other big difference we noticed is that, even though this dress is listed as "short", it wound up falling just below my cousin's knee. I think this has more to do with the fact that my aunt insisted we order up a size despite having taken my cousin's measurements. (If you take measurements, just order the custom size! My other bridesmaids did that and the dresses fit them perfectly!) My cousin is only about 5 feet tall, so we should have stuck to the custom. Anyway, the good news is, it looks nice at that length and with some heels, it'll be very fashionable. And lastly: The belt in the photo appears to be made of sequins, which I just loved. But the dress we got had an even prettier gold beaded belt I love it even more, so no complaints there.