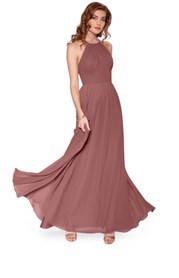 Azazie Joy
Bridesmaid Dresses
FABRIC: Chiffon
$99
product info

Fun and flirty, this gorgeous Chiffon bridesmaid dress is appropriate for any wedding from the beach to the church. Your bridal party will love this lovely Floor-Length A-line/Princess dress with a Halter neckline. A pleated detail at the front and back of the flowing skirt makes it perfect for the reception or a city hall wedding. 
Ashlynne
Reviewed On:
September 19, 2020
Color:
Raspberry
I had this dress custom-sized for my sister, after I measured her. I added just an inch, or two, to each measurement, just in case the dress ran small. And her dress fits her so well! The only thing is the material on the upper torso is kind of puffy, and it can look odd if you don't adjust yourself just right. But, other than that, I am so pleased with the way her dress turned out! And I love that there's padding in the dress, so she won't have to worry about bra straps showing.
Was this review helpful to you?
Ele
Reviewed On:
July 18, 2020
Color:
Mint Green
The dress was expected to arrive no later than July 14th and actually showed up July 7th! I am 5'3" about 115 lbs and ordered a size 2. I have a very small bust so I am always concerned about "filling out" dresses in that area but the fit is absolutely perfect. It is long as expected based on the length listed online and since this is for a beach wedding I won't be wearing shoes and was able to easily have the dress altered to be floor length. I ordered in Mint and am really pleased with the color in person. The only thing I dislike about this dress is the lining under the top piece has a seam on each side of the chest that at a certain angle look like nipples when worn. Nothing really to be done about it since it is the inner piece of fabric!
Was this review helpful to you?
Heather
Reviewed On:
March 21, 2021
Color:
Sky Blue
body type:
Hourglass
Size Ordered:
A8
Dress quality was excellent and measurements were true to size chart. This style was not flattering as it puffed out right at the top of my hips enlarging them. The fit doesn't accentuate your waist, instead your hips. The top also wasn't flattering for arms/chest.
Was this review helpful to you?
M
Reviewed On:
February 15, 2021
Color:
Champagne Rose
Size Ordered:
A6
I ordered a try on in two different sizes in order to determine which to order in the final product. The size 6 fit perfectly without any issues so I ordered this dress in a size 6. When the dress arrived, it wouldn't even zip and was too small, even though my weight has not changed at all. Ended up having to rush order another dress in the same color since this dress was not available in rush production, and spent $50 more dollars in order to get a dress for the wedding I am a bridesmaid in.
Was this review helpful to you?
joycee.hernandez11
Reviewed On:
January 24, 2021
Color:
Dark Green
quedó hermoso. gracias
Was this review helpful to you?
Caitlin V
Reviewed On:
December 21, 2020
Color:
Rose Petal
Do not order this dress!!! Really glad I did home try on for this dress because it was awful. The material was okay, but the pleated material on the bodice is sewn or glued to the boob pads underneath causing really weird bunching in the fabric making everything look super lumpy. The sizing was spot on, but the construction of the dress is very poorly done. It was so bad, the bride and I were ruling this company out completely for bridesmaid dresses. Unless you want to feel fat and discouraged, don't try this dress on. I decided to give this company another shot and ordered 3 more try ons. They were gorgeous and so glad I did. Recommended dresses: Davis, Haden, Mariel, Mandy. I have tried these on and they would be lovely for any body type. I ordered a size 6 in all of them and I'm 5'4, 137lbs for reference.
Was this review helpful to you?
Emma
Reviewed On:
December 20, 2020
Color:
Twilight
body type:
Hourglass
Size Ordered:
A2
I tried this bridesmaid dress through the dress try-on program. It did not fit me well (especially the top) and I would not recommend it. The torso was too long for me and the material is not forgiving or flexible, so it was not flattering at all. Also note that the material was pretty heavy with all the layers and folds on the top. This cut and dress might fit you, but you definitely need to try it first!
Was this review helpful to you?
KP
Reviewed On:
October 31, 2020
Color:
Dusty Blue
Pretty dress. However, I had to return this dress. I am 5'11 and the chest/top of the dress did not fit correctly and the breast area fell in the wrong location. As pointed out in another review, there is a bit of fabric that bunches in this area which made it look even more off. Dress was perfect in length and otherwise beautiful. I was thankful that I could easily return the dress and go with another option (which I love). Custom sizing may have prevented this issue. Great experience with quick shipment and easy return.
Was this review helpful to you?