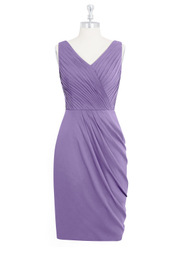 Azazie Jordyn
Bridesmaid Dress
FABRIC: Chiffon
$109
product info

Fun and flirty, this faddish chiffon bridesmaid dress is appropriate for any wedding from the beach to the church. Your bridal party will love this charming knee-length sheath/column dress with a v neckline. Whether you dress it up with statement jewelry or down with flats and a cardigan, it epitomizes timeless beauty. Ask a question
Elissa Andre
Reviewed On:
2016-01-08 01:35:13
Everyone was so impressed with the quality of their dresses!
Ariel Ann
Reviewed On:
2015-09-01 12:12:00
I loved how the mix matched Azazie dresses turned out on my bridesmaids this weekend. A friend snapped this photo on his phone, and it couldn't have captured the look any better!
dpspears
Reviewed On:
2016-06-17 04:32:21
Purchased to ensure I was ordering the correct size for my other two dresses. It was worth the cost! I was allowed me to order the correct size in my reception dress. Purchasing a clearance items is a good idea if you are able to afford it or if they have it in the dress you are looking for because, it will allow you to see what the dress looks like on you before you actually purchase it. You will only be out the clearance price if you don't like it. Good option!
cfirefly
Color:
Daffodil
Reviewed On:
2016-03-10 04:40:03
The dress is beautiful, but I still needed to pay for further customization. The shoulder straps needed to be taken up an additional 2" or so, and this was a custom sized dress. When ordering Azazie was told that this was going to be a Jr Bridesmaid dress for a 13 year old. I was told that they would take that into account when making the dress. The rest of the dress fits her beautifully and I am pleased. On a side note, Azazie needs more options for Jr Bridesmaid dresses. The dresses that are set aside for Jr Bridesmaid are not very youthful, and none are ones that any teenager I know would want to wear.
MC
Reviewed On:
2016-02-05 10:49:41
Super cute. Needs to be taken up but otherwise fits great. Very fast delivery!
Roxannemach
Reviewed On:
2015-06-29 12:58:10
The dress drapes beautifully and is well made...however it did not fit me at all (& it was custom made so I also can't return it
hflower7
Color:
Royal Blue
Reviewed On:
2015-06-28 18:31:51
Unlike in the picture, the dress in-person is very heavily pleated on the bodice, which kind of took away from the "Greek goddess" look of the dress. Loved the idea of the dress though.
eluv333
Reviewed On:
2015-05-20 10:41:43
Pros: This dress is beautifully made, very high quality. Cons: The ruching part on the bottom doesn't lay like the picture, kind of puffs out. Also the dress is really short, not knee length. It's at least 2 inches above my knee and when I bend over..... I had the dress custom made with my measurements so I was out of luck with a return. I am the only bridesmaid so I had to just find another dress.