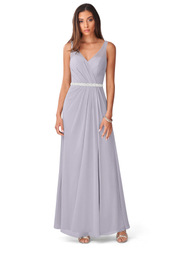 Azazie Jocelyn
Bridesmaid Dresses
FABRIC: Chiffon
$129
product info

The chic Floor-Length bridesmaid dress by azazie has a Sheath/Column cut in a faddish Chiffon. Style Azazie Jocelyn features a V-Neck neckline, and comes in a full size range (A0-A30). A pleated detail at the front and back of the flowing skirt makes it perfect for the reception or a city hall wedding. 
kamyewatson1
Reviewed On:
September 08, 2018
LOVE MY LILAC BRIDESMAIDS DRESSES. THEY WERE PERFECT.
Was this review helpful to you?
Megan Landreth
Reviewed On:
March 22, 2018
body type:
Hourglass
Size Ordered:
A12
I ordered this as a sample size try on dress and was shocked. It actually fits to my normal dress size as opposed to being smaller its spot on . I LOVE the shay and fit to this dress. Very flattering to a curvy figure or a heavy bust. This is one size smaller than what I will order, but you can get the picture.
Was this review helpful to you?
Cristy.carlson
Reviewed On:
November 12, 2017
Love the fit of these dresses! I ordered one to trial for my bridesmaids... Fits true to size and just the colour I wanted! The girls all love it too. Will be ordering it for all of them!
Was this review helpful to you?
Aly
Reviewed On:
October 20, 2017
Ordered a sample to see if I would like it for my bridesmaids. I love the fit!! Mind you this was over 2 sizes too big for me, but it's still so flattering...and has a little bling! The slit was not "too much" at all, which is what I was worried about. Definitely not the boring bridesmaid look!! I plan on ordering for all my girls, but in lilac.
Was this review helpful to you?
Annieneff1
Reviewed On:
February 22, 2021
Color:
Dusty Rose
This was my favorite of all the try on dresses! LOVE the rhinestone belt with it- adds a touch of glamour and elegance. Would definitely need a custom size, however great quality and felt great in it.
Was this review helpful to you?
effiethompson87
Reviewed On:
October 15, 2020
Color:
Mulberry
Ordered a custom size and the dress fit perfectly! No alternations needed!
Was this review helpful to you?
ellen
Reviewed On:
August 20, 2020
Color:
Mulberry
body type:
Straight
Size Ordered:
A2
I was between sizes and ordered up, and it was definitely too large. Returned it with no problems . Beautiful, quality dress though
Was this review helpful to you?
anneke.lujan
Reviewed On:
May 09, 2020
Color:
Dark Navy
Size Ordered:
A4
When I did my measurements, I was in-between sizes (a 6 and a 4) and so I decided to order my normal dress size (a 4). I was worried that the dress would be too small, and was really surprised to find it's actually quite big. The waist and bust are much larger than in a normal size 4 dress, it looks like a 6 or an 8. I'm planning to get it tailored, but am afraid the belt and the structure of the chest will make that quite difficult. I'm not sure what to think because all the other reviews say the dress runs small - perhaps I was accidentally given a larger size with a size 4 label? It's a pretty dress, but I'm frustrated that the sizing was so far off and because the wedding is in early July, there's not sufficient time to exchange it.
Was this review helpful to you?
kendylsmith09
Reviewed On:
July 29, 2018
This dress was beautiful and flattering on all of my bridesmaids. The quality was also fantastic compared to a lot of other companies. I am so happy with this dress! The only trouble was that 3 of my 5 girls received sizes that were way too big or small and re-ordering takes a long time - but we managed.
Was this review helpful to you?
Caitlin Carter
Reviewed On:
June 14, 2018
Color:
Dark Green
body type:
Hourglass
Size Ordered:
A12
LOVED this dress, but had to return it. The back was a little low for me and I was having trouble finding something to wear underneath. Great fit though.
Was this review helpful to you?
Bride
Reviewed On:
April 05, 2018
ORDER A SIZE LARGER! Loved these dresses in the sample, so had my bridesmaids order them. All of the dresses whether they were custom or a standard size are running a little too small where they can't zip up all the way. When you order the dress, you input the chest and waist measurements. These areas fit fine and appropriately!! It's actually that area that is below the bust and above the waist that is too tight, making it very difficult to zip. This has been the case for every bridesmaid, all different body types. I LOVE the dress. It's beautiful. But I don't want anyone to end up with the same situation that my girls did. Order a size up for sure !! A few girls are ordering new dresses and the others are getting them altered. I have ordered from azazie before and have never had this problem, it must just be this style.
Was this review helpful to you?
faith.tesoriero
Reviewed On:
January 22, 2018
Color:
Dark Navy
Size Ordered:
A0
Beautiful classic dress, with lovely sparkling waistline detail. My only complaint that, even with being a nursing mother the lined bra inserted cups were much bigger than my chest. I'm naturally small, and I got the smallest size and I still felt like there were inches between my skin and the cup, so it doesn't do much to really support as it does just to define the figure. The material flows and the slip adds a hint of sexy. They should add pockets though, that would really take it up another notch!
Was this review helpful to you?