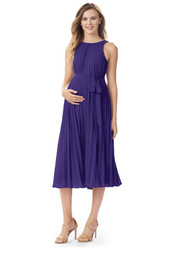 Azazie Joanna
Maternity Bridesmaid Dresses
FABRIC: Chiffon
$109
product info

The stunning Tea-Length bridesmaid dress by azazie has an Empire cut in a gorgeous Chiffon. Style Azazie Joanna features a Scoop neckline, and comes in a full size range (A0-A30). A pleated detail at the front and back of the flowing skirt makes it perfect for the reception or a city hall wedding. 
Elvishgirl89
Reviewed On:
September 23, 2017
This. Dress. The reviews below aren't wrong, it's pretty horrible. The worst if it wasn't for that little sash. But I did enjoy the look of pure awkward horror on people's faces when I first tried it on (without the sash). Being pregnant and finding a nice bridesmaid dress is hard, and I doubt I would feel like a goddess in anything, but this really didn't help in the prenatal self-esteem department. Nevertheless, as you can see in the picture it's not the worst thing in the world. Sometimes you just have to accept you look pregnant when you are...especially when you've already paid for the dress. Tip: Wear a good bra, keep your shoulders back and confidence high, and if all else fails, accessorize with adorable children
Was this review helpful to you?
Abby Johnson
Reviewed On:
February 14, 2020
Color:
Daffodil
body type:
Hourglass
Not a huge fan of this dress. A lot of reviews called it shapeless, but you never know until you try something on. It really does not have a shape and was very VERY large. I ordered 2 dresses for a wedding in a few weeks hoping one or the other would fit and I will definitely be returning this style.
Was this review helpful to you?
olivia.morse17
Reviewed On:
June 27, 2019
Color:
Dark Navy
Size Ordered:
A10
This dress was comfortable and looked great for a June wedding! I was 30 weeks pregnant at the time. This dress gave me the room I needed. Originally, I tried to order a regular dress in a bigger size, but it didn't fit! I needed the extra room that this maternity dress offered. I ended up hemming the dress myself to shorten it a bit. I would recommend this dress for a modest maternity option! :)
Was this review helpful to you?
rosejm09
Reviewed On:
June 06, 2017
Please read the first review. It is spot-on except regarding their customer service. If you are unhappy with the dress, they do nothing to help remedy the situation. The dress was shapeless and resembled a pleated pillowcase, and it was WAY too long. It cost almost $100 extra in alterations in order to make the dress look semi-ok, and maternity dresses don't count for the alterations reimbursement. Unfortunately, this dress was the only one offered in approximately the length the bride desired in the correct material and color. If you have any other option, do not choose this dress. Actually, don't go with Azazie - ordering was easy, but they don't try to help you at all.
Was this review helpful to you?
Anonymous
Reviewed On:
April 03, 2017
Color:
Grape
Azazie was, in general, a pleasure to deal with as far as ordering and customer service. However, unfortunately, this dress is a major disappointment. It is essentially a long shapeless mass of pleats from head to toe. The form-fitting slip underneath the pleats seems to fit according to my measurements but the chiffon pleated overlay is huge, too long, and shapeless. The pleats start at the neckline and bunch up above the belt (giving my chest a lumpy and frumpy appearance -- totally unlike the neat and firm shape the dress seems to have in the picture on the website - perhaps because the dress could be pulled sufficiently taut over the mannequin, unlike when placed over an actual human body). From the belly down this dress just hangs, far from my body, giving my profile an even larger and very unflattering impression. As this was the only maternity dress option in grape/chiffon (the specifications set by my sister-in-law), I chose to order this dress - but now I will have to visit a local seamstress to see if anything can be done to make this dress a bit more flattering. Preparing myself to be majorly embarrassed at this wedding! :-( Stay far away from this dress!
Was this review helpful to you?