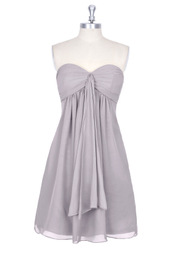 Azazie Jessica
Bridesmaid Dress
FABRIC: Chiffon
$99
product info

The fantastic mini bridesmaid dress by Azazie has an empire cut in a comfortable chiffon. Style Jessica features a sweetheart neckline, and comes in a full size range (A0-A30). A pleated detail at the front and back of the flowing skirt makes it perfect for the reception or a city hall wedding. Ask a question
mestes4
Reviewed On:
2016-02-04 18:12:57
This dress was so pretty. I ordered the shawl as well as the wedding is in a church. I ordered the size A2 but my bust is closer to 36 inches (32 DDD) I will admit that it was really snug around the bust for that reason but I am also five month pregnant here so I'm hoping it's just due to the pregnancy boobs. I'll be close to seven months for the wedding so I'm praying it still fits! But as far as the dress is considered it's gorgeous.
amysue212
Reviewed On:
2015-08-26 22:32:18
I ordered this Jessica dress as a sample. The Jessica dress is sooooo beautiful! I am 5'2, and had to order a size 16 because of my bust size (DD). This dress is listed as a mini and other reviews stated it was longer than expected. For me, it was a perfect fit. If I was much taller, it would be pretty short on me, but considering my height, the length sits perfectly. I will more than likely return this sample and order a custom size since (for me) the waist needs to be taken in just a little to get the hourglass shape that the picture shows. The top fits really well, it has great structure built in to the dress, so while I will still need to wear a strapless bra with it (DD's remember?), the dress has no problem sitting where it needs to be up top. It also has small clear sticky piping all around the inside of the top to help keep it in place. NICE! It's very flowy and perfect for the outside, summer, Texas wedding - and looks great with my boots! For me, this dress is flattering and helps conceal some of my not-so-lovely-post-baby rolls on my tummy without feeling completely constricted - or feeling like I cant sit down all night.
Bjclay123
Reviewed On:
2015-09-24 16:04:33
I am so happy with this company and my purchase. The dress was bought for my sister's wedding next year. I did not get to try it on within the 14 days and unfortunately it did not fit. The customer service was great and took back the small size and exchanged for the bigger size. It fits great! Thank you so much for being understanding. I am very happy
sjustic1804
Color:
Dusk
Reviewed On:
2015-09-18 17:13:30
The color is totally different than in the photo. In the photo it is "dusk" grey in person it is a dusty plum. Very misleading. I am so close to my wedding now that suddenly purple is now one of my colors. Buyer beware.
trahantm
Color:
Royal Blue
Reviewed On:
2015-05-11 13:02:33
The delivery of the dress was great but we went and had a seamstress (@David's Bridal) measure my daughter for this dress. Based on the measurements I ordered a size 10 (which I was concerned that it would be too small), the dress falls off of her. Now I have to get it altered and spend more money that I do not have. There needs to be a better way of doing this.
Stacie
Reviewed On:
2015-04-22 20:34:32
This dress was ordered as custom, my sizes were sent in and the dress came oversized in length and width. I contacted customer service and provided them with a photo of me in the dress. The customer service response was, ''wow that isn't a mini on you, I apologize for the oversight, take it to the cleaners and let us know how much it is to take up the length. The total cost was $71 dollars, I am only getting 35 of Azazie. When shortened the dress looked like a bell so the inner layer and the sash also needed to be taken in. The dress is not a mini and custom is not custom.