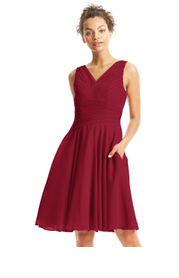 Azazie Jenna
Bridesmaid Dress
FABRIC: Chiffon
$129
product info

Fun and flirty, this lux chiffon bridesmaid dress is appropriate for any wedding from the beach to the church. Your bridal party will love this attractive knee-length A-line/princess dress with a v-neck neckline. A pleated detail at the front and back of the flowing skirt makes it perfect for the reception or a city hall wedding. Ask a question
myinsidejoe
Reviewed On:
2018-06-18 18:19:42
Color:
Dusty Sage
Body Type:
Hourglass
Size Ordered:
Custom Size
I got professionally measured by a tailor to give the most accurate measurements as possible. It didn't make one lick of a difference. My custom order dress is huge and still requires a large amount of tailoring. Also, from multiple experiences with Azazie, I've come to understand that they don't understand a single thing about cup size. Despite my measurements, they clearly think I have E's somewhere about my stomach. And that kind of thing, due to the boning of the dress, can't be re-altered. I'll have to find a way to stuff my dress. Which is, I'm sure, what every bridesmaid wants to deal with on the day of the wedding. I knew going in that the custom fits were non-returnable, but I didn't realize they would be this bad. My recommendation for Azazie purchasers...buy a fixed size dress one size smaller than you'd anticipate (so that the bodice fits properly) and then expect to get it altered. Ignore the custom sizing all-together...since evidently that's what they do....ignore your measurements all together.
avjelenc
Reviewed On:
2017-08-04 12:15:52
I used my measurements to custom order! It arrived much sooner then we expected and was a little tight in the armpit area, a local alterations place helped me fix that. The dress is beautiful and the process was very easy and the quality seems great! Will be wearing to another event this fall!
j.barder
Reviewed On:
2017-07-29 17:28:10
Color:
Burgundy
Ordered based on measurements and was pleased how spot on they were (I'm a knitter, so I'm familiar with all my body measurements and know they are accurate). I did need to have the shoulders taken up a wee bit but that was it and the tailor was impressed with how great the overall quality of the design and make was. Color was great and loved the pockets. 5 stars!
Michelle
Reviewed On:
2017-07-19 08:57:45
This sample dress came very quick and it was so nice to try it on before I bought it. I did try on a size 18 but ended up ordering the custom size since the 18 was quite big on me in certain areas. It was super easy to send back too. I would totally recommend trying on the dress before buying it. It was worth the little extra money.
micstenz
Reviewed On:
2017-07-19 08:55:30
Color:
Ink Blue
I am in love with this dress! I ordered the custom size and it fits like a glove. Super excited that I don't need any alterations done. I would totally recommend doing the custom size. I did try on a sample dress and was a little nervous about some of the alteration I would have needed to do. Decided to try the custom size and it worked out perfect! The color is fantastic! I will definitely order a dress from here again.