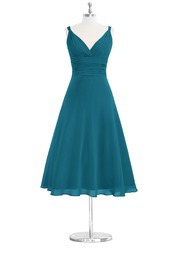 Azazie Jayla
Bridesmaid Dress
FABRIC: Chiffon
$109
product info

The graceful tea-length bridesmaid dress by Azazie has an A-line/princess cut in a gorgeous chiffon. Style Jayla features a v neckline, and comes in a full size range (A0-A30). Whether you dress it up with statement jewelry or down with flats and a cardigan, it epitomizes timeless beauty. Ask a question
Rebecca Ordon
Reviewed On:
2015-07-27 08:12:00
Here are my Matron and Maid of Honor in the sample Jayla dresses we ordered. I think initially they were skeptical ordering dresses online but we all loved these on them! I just wish the samples had been available in Royal Blue since that's the color they'll wear.
bostonhcky1
Reviewed On:
2017-01-03 12:09:16
Didn't fit exactly right but for a sample it was a great indicator of what to order! Great quality and excellent price!
laurabbyman
Reviewed On:
2016-11-21 04:14:24
I LOVED this dress... I got it as a sample dress, unfortunately I was looking for full length.... Very flattering if anyone orders it. And they're true to size, so make sure you take your measurements.
kdwa32
Color:
Steel Grey
Reviewed On:
2016-06-05 03:30:50
The dress was exactly how it was pictured. It was beautiful and comfortable. I wore this dress for my son's wedding; perfect mother of the groom dress.
Mrsmaggiecarr
Reviewed On:
2016-03-28 13:10:51
I order a custom size and anticipated a very long wait, but received my order within weeks. I even had someone contact me via email to tell me my order had been received and that it was being sent to processing. Automatic emails are common these days, but I was trilled to actually have contact with a human on the other end. My dress is great, now I just have to wait until the end of July to wear it as a bridesmaid. Thanks for the great service!
talia
Color:
Dusty Rose
Reviewed On:
2016-03-15 08:32:04
This is a beautiful dress that seems very well made. I did a custom size, and all came out perfectly except the boobs - they just fell wide open! It's a shame that for a company claiming to do custom dresses, I still had to have mine altered. I know that it will be perfect once the straps are taken up. Alternatively, I really love the padding in the bust, allowing me not to have to wear a bra, which is great with the deep-V back. I was surprised at how supportive it is, even for a larger chest (36D). I'd recommend this dress, but just be aware that you'll likely have to get additional alterations, so plan accordingly for your event.
jgattonshirer
Color:
Orchid
Reviewed On:
2016-01-12 11:43:52
The quality and color of the dress was excellent. I had a custom size made but had to have the straps shortened which cost me $25.00. That left the thin strap over the shoulders very small. We had this same problem with another style of dress that we bought.
rgrabhorn
Color:
Dark Navy
Reviewed On:
2015-11-11 11:25:18
This is a beautiful dress. I cannot wait to wear it to my daughters wedding in March. I did not do costume ordering so I will need to have it altered.
daniandrayswedding
Color:
Watermelon
Reviewed On:
2015-06-06 08:36:40
I love this dress, it looks great and the custom size fits me perfectly except for the top. The straps ended up being too long so the top does fit quite right, thankfully it came in with enough time to have that altered. Weirdly, the arm holes are a little tight. The parts that I sent a custom measurement for fit perfectly though, I would highly recommend this dress.
johnsoncatherine80
Color:
Royal Blue
Reviewed On:
2015-04-30 04:43:40
I purchased the dress for my daughter in law using the custom fit option. The dress fits her as well as the dress appears on the picture. The fabric and construction are of the highest quality. The dress was sent to us in a timely manner, actually it can a bit earlier than expected. Azazie is the go to place for dresses on our family.
Julia Kedward
Color:
Dark Green
Reviewed On:
2015-04-10 10:13:16
The dress is exactly what I ordered - color and size. Quality materials and design. It's a well made dress that should last me years.
Cynthia Lally
Color:
Gold
Reviewed On:
2015-03-12 17:56:36
I love the material and the built in cups give it a nice shape. The length is exactly what I was looking for. I ordered this using custom measurements but the area around my ribs is way too tight. I'm going to have to get it altered if I'm going to wear it. Be careful! If you order custom you own it and you can't send it back for alterations.
Jayne
Reviewed On:
2014-12-24 11:58:53
You went over and above to get my dress to me for my daughters wedding!! The quality of the garment is excellent. Mine fit perfect to my measurements. I highly recommend the custom made dress.