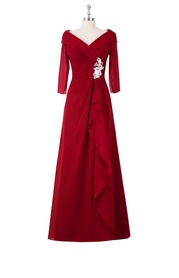 Azazie Jaycee MBD
Mother of the Bride Dress
FABRIC: Chiffon and Lace
$166
product info

This floor-length, A-line/princess dress by Azazie is constructed in a fabulous chiffon and lace. Jaycee MBD features a back zip back style and an off-the-shoulder neckline. Jaycee MBD by Azazie comes in sizes A0-A30. We love this wrap dress for its universally flattering shape and soft cascading ruffles. Ask a question
gina.daigrepont
Color:
Mulberry
Reviewed On:
2016-12-16 07:24:19
The dress didn't look like it thought it would on me! It is a beautiful dress and I love the color, I just wish I could have tried it on first.
Lisa Howell Griffin
Reviewed On:
2016-10-02 15:36:09
Absolutely gorgeous gown! The color (storm) was great! As the mother of the groom, I felt I represented my son and he was extremely proud. I did have to have the sleeves shortened and taken in. They came to a point and were very large and billowing and I wanted a more snug and fitted look. For the price, the alterations still made it under $200!
Lgriffin313
Reviewed On:
2016-09-25 15:48:03
Beautiful dresss! I got it in the color "storm". Fits great. I plan to wear it for my son's wedding. My only disappointment were the sleeves. I thought they would be more form fitting, but they were loose and flowing and much longer than expected. For $30 I had them shortened and taken in for a more tailored look. Pleased with the final product. Plan to send you pictures after the ceremony!
sdduren54
Color:
Grape
Reviewed On:
2016-09-17 09:07:53
The grape color in the picture is more intense than the color of the dress I received. I wish the color was darker but the actual color is still pretty and the dress is well made.
nancynicolay
Color:
Stormy
Reviewed On:
2016-04-27 07:56:58
I had four different people measure me so I felt good about my measurements but the dress is too small. Since it was a rush job I couldn't send it back to you. I''m going to a tailor tomorrow to see if they can help me. Not sure that is your fault at all. I was asked to be part of the wedding party too late so I had no say in the dress and that was part of the problem. I would still recommend your company. You've been very nice to work with.
rlt76buf
Color:
Ivory
Reviewed On:
2016-03-24 05:34:17
I was very happy with this order, it fit perfectly and was made very well. Yes I would recommend this site to anyone.
de_v_99
Reviewed On:
2016-03-08 15:14:06
Wow! Without even taking any measurements, this dress fit like a glove and the height was perfect. I'm ready to walk down the aisle.
wprice
Color:
Burgundy
Reviewed On:
2015-09-28 05:59:53
Absolutely beautiful! The dress was exactly like the picture, and is made extremely well. The only issue was the actual arm holes were cut extremely close and needed minor alterations. Overall a great experience. I will definitely recommend to others!
calico13cm
Color:
Moss
Reviewed On:
2015-07-14 12:59:35
I love the style of the dress and I love the color. I'm not sure that the color looks good on me.
mamaduke15
Color:
Dark Green
Reviewed On:
2015-03-03 17:11:16
I was so afraid to order a gown to wear at my daughter's wedding on-line but I fell in love with this gown so I took a chance. I absolutely LOVE it! It fits like a glove and is just as beautiful as it looks in the pictures. Thanks you Azazie! I will post a picture when we get the wedding photos. :)