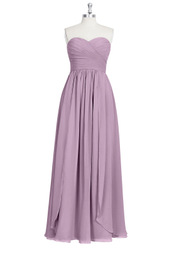 Azazie Jasmine
Bridesmaid Dress
FABRIC: Chiffon
$119
product info

The brilliant floor-length bridesmaid dress by Azazie has an A-line/princess cut in a gorgeous chiffon. Style Jasmine features a sweetheart neckline, and comes in a full size range (A0-A30). A pleated detail at the front and back of the flowing skirt makes it perfect for the reception or a city hall wedding. Ask a question
Jessica_Milwaukee
Reviewed On:
2016-09-20 06:50:01
I am SO happy with my dress! The wedding is in about a month and my dress came about a week early. I was nervous that it was going to be lacking in the fullness of the skirt but its wonderful. If I have to pick the skirt up to walk, its with handfuls of fabric in my hands. I love the pleating in the bust - its very beautifully worked. I did custom measurements but unfortunately have lost weight since taking those measurements. The bust is where it no longer fits well. In these pictures I am wearing two bras to fill the space. This is a fine solution if I am standing perfectly straight with my shoulders back. It could stand to be taken in a couple inches in the bust. I'm not convinced this is ONLY due to my weight lost - my boobs havent gotten THAT much smaller.
Brittanydesormeaux
Color:
Dusty Rose
Reviewed On:
2017-01-16 09:47:19
Absolutely perfect. Color is so much prettier in person.
branchesfloral
Color:
Dusty Rose
Reviewed On:
2016-11-09 12:16:27
Received the dress before the estimated arrival time. Tried it one and it fit like a glove! Material is quality, color is amazing and measurements were perfect!!! Highly recommend!
blitz0825
Reviewed On:
2016-09-20 07:20:19
I ordered this dress for a bridesmaid. I took the measurements for her and added about a half inch for comfort. My first impression was that the dress was absolutely perfect. The color was as expected, and the material moved beautifully. Since I ordered it in the custom size, it fit her perfectly. The only complaint she had was that the boning in the bust was a little insufficient. It absolutely cannot be worn without a strapless bra. There's also a lining around the top that's meant to help hold the dress up, but since it doesn't go all the way around, it doesn't help much (nothing fashion tape can't fix). Overall, I was extremely satisfied!
Carolily86
Reviewed On:
2016-08-17 18:08:43
I had financial problems and had to order my brides maid dress very last minute. I paid for the rush and the delivery date was a week interval and the wedding I was to attend was still in the middle of the estimated arrival date. I made 3 phone calls and got my dress pushed forward and received it a week and a half before the estimated arrival date. GREAT CUSTOMER SERVICE. I HIGHLY RECOMMEND THIS SITE. Measurments are precise dress fits perfect in all the right places. Will definitely be considering this company if I ever get married. THAN YOU TO ALL THE AZAZI TEAM FROM MANUFACTERERS IN CHINA TO THE WHAREHOUSE WORKERS AND CUSTOMER SUPPORT CALL CENTER HERE IN THE STATES.
melissajfox93
Reviewed On:
2016-07-14 16:40:52
I was a little nervous to buy my bridesmaid dress online, but it was so worth it! The measurements that they provide next to the sizes are true to size and made it easy to make the decision of which size to buy. It does take about a month for them to make the dress and send it out, but that is pretty normal for bridesmaid dresses. They send you an email when they put it in the mail, and it actually even arrived 6 days before they said it should arrive! The dress fit perfectly, the material is comfortable, and my sister (the bride) loved it! The only thing was that the actual color is slightly darker than the picture (I ordered my dress in dusty rose). It's not too much darker and isn't a problem at all, I would just suggest ordering a free swatch first so you can make sure it's the exact color you want if you're unsure! Overall a wonderful experience with Azazie.com and a beautiful dress!
christidavis.music
Color:
Blushing Pink
Reviewed On:
2016-05-23 15:38:16
This dress is beautiful! It arrived in a timely manner and was carefully packed. The color is true to website and the fit is good. My daughter will be a beautiful bridesmaid!
arios025
Color:
Dusty Rose
Reviewed On:
2016-04-27 12:09:32
The dress is gorgeous and great price! However, it didn't fit well in the bust area.
Mayra Baca
Color:
Pearl Pink
Reviewed On:
2016-04-21 15:25:58
This is a beautifully made dress. I got the custom size and the length was perfect. The bust is a little big. I am 5'2 and weigh 110 lbs. I think this dress looks great on petite girls because it accentuates the waist very well. The dress arrived faster than expected and the quality is amazing!
alexandria.cavalieri
Color:
Watermelon
Reviewed On:
2016-04-21 05:16:03
The dress is long enough, which is nice; no one likes a slightly short formal dress that sits at the ankles... this one goes to the floor even with a 3-4" heel, and im 5'7". I am not busty, but the bust part of the dress is rather 'thick' and makes me look heavy. I could get it altered, but the dress being $130, it's just not worth the extra money that id have to spend. the dress is nice and flowy at the bottom, but again, the top bodice is quite 'thick.' For a dress ordered online, I suppose its not so bad!
s.b.hemmert
Color:
Mulberry
Reviewed On:
2016-03-16 19:47:05
I ordered the Azazie dress with custom measurements. When I received it, the material is beautiful and thick. It flows beautifully and the color is exactly what it looks like online (which is hard to do). However, it is too big in the bust region so I will have to get it tailored to fit better.
ddigiacomo11
Color:
Dusty Rose
Reviewed On:
2015-08-17 15:09:48
The dress is very nice! Good quality and love the style. I ordered the custom size, and it is a bit snug. I also had some issues getting the zipper to go up and down.