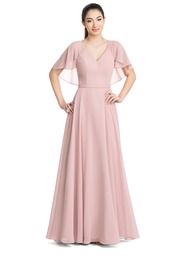 Azazie Jamie
Bridesmaid Dress
FABRIC: Chiffon
$109
product info

The sweet floor-length bridesmaid dress by Azazie has an A-line/princess cut in an elegant chiffon. Style Jamie features a v-neck neckline, and comes in a full size range (A0-A30). Ask a question
dawn6755
Reviewed On:
2018-07-18 07:17:33
Color:
Tahiti
Size Ordered:
Custom Size
The top of the dress was still a little big but over all the dress was beautiful, got lots of compliments. I am going to shorten the dress so that I can wear for other occasions.
Tammy Randy
Reviewed On:
2018-06-20 09:07:15
Body Type:
Hourglass
Gorgeous dress. Well made. Great fabric. The color was true to the picture. Excellent fit. I'm an hourglass, size 20 and 5'7" and this dress fit me like a glove with the exception of length. We are ordering this for a bridesmaid dress for a wedding I am in. Very pleased.
janebch
Reviewed On:
2018-06-01 12:26:51
Color:
Candy Pink
Size Ordered:
Custom Size
My daughter has Turner Syndrome, which makes it very difficult to find clothes for her. She does not have the typical hour-glass figure, but a very broad chest with a short stature. When it came time to find a wedding dress for her, this is the place that we came to. After sending in her measurements, the dress came and fit her perfectly! She looked beautiful in it. Thank you for making her dream wedding come true!
fuld_theprowl
Reviewed On:
2018-05-18 09:31:24
Color:
Papaya
Body Type:
Hourglass
Size Ordered:
A10
I received the dress and was amazed that it fit super well, but was upset when I realized there was a large stain straight down the front of the dress and the sleeve (similar to a grease or oil stain). Thankfully, they let me ship the dress back to them to have the dress cleaned, but the stain on the sleeve is still slightly visible and they did not return the garment bag that came with the dress so I am now sans garment bag. The actual dress is beautiful, but make sure to order early just in case there are any issues!
harpforGod
Reviewed On:
2018-05-09 10:05:14
Color:
Dusty Blue
Body Type:
Hourglass
Size Ordered:
Custom Size
I LOVE the dress! It fits just right and feels amazing! Just a little bit wrinkled in transport.
shellstravis
Reviewed On:
2018-04-19 15:35:14
Color:
Royal Blue
Size Ordered:
Custom Size
It's a nice dress.. but it looks boxy on a shorter person. You need to be taller to pull it off in my opinion but the quality was very very good!