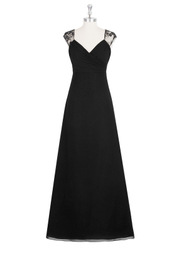 Azazie Jaidyn
Bridesmaid Dress
FABRIC: Chiffon and Lace
$149
product info

The graceful floor-length bridesmaid dress by Azazie has an empire cut in an exquisite chiffon and lace. Style Jaidyn features a v neckline, and comes in a full size range (A0-A30). A pleated detail at the front and back of the flowing skirt makes it perfect for the reception or a city hall wedding. Ask a question
jazzyam
Reviewed On:
2016-09-09 20:06:24
I bought this dress in royal blue and loved it. The fabric was of high quality. I am 5'2 so had to have it hemmed. Once the alterations were done it fit perfectly!
Katie Christophersen
Reviewed On:
2015-08-30 04:12:00
Hey Ladies! My bridesmaids wore the Jaidyn dress in Silver for my wedding last weekend and everyone looked a-mazing!! Thank you AZAZIE!
Amy
Color:
Dark Navy
Reviewed On:
2017-01-04 14:27:14
Azazie did a fairly decent job with the sizing. I still need to get minor alterations to the dress since the back lace bulged out. Overall it is a good fit and a nice color. Image is true to what is delivered.
Stephanie
Reviewed On:
2016-06-23 14:37:27
Very happy with the dress! I'm only 5ft 2 so getting a custom dress was the only way to go. Got this dress in Watermelon (after examining swatches) and found it to be very flattering, comfortable and good quality. I'm conscious of my larger, muscular arms and the little cap sleep was perfectly flattering. There was plenty hem left on the chiffon layer making it easy to choose heels of any height and get it taken up to match. I ordered this just before moving to NYC and the dress shipped about 3 weeks after order, much earlier than the estimation at order. Was a bit tricky getting the dress re-routed to a friend in NYC but thankfully, Azazie persevered and saved the day. Have recommended Azazie to friends despite international shipping not being available, just no service to match in Europe yet. Great job!
sfloyd0219
Color:
Mint Green
Reviewed On:
2016-04-16 19:57:28
Extremely happy. Customer service was very helpful in helping me choose a dress that I could custom order. I will be 7 months pregnant at the time I will be wearing the dress in a wedding. CSR gave great recommendations for adding inches in all the right places! Dress will need very little alteration!
Alisa.eden
Reviewed On:
2015-10-07 22:03:52
Just got this dress in the mail and absolutely love it! Very pretty and super well made I will have to do some very minor alterations but the fit is very accurate to what it says online. The only thing negative I could say at all is that the material they use on the inside is kinda rough and scratchy
Robin Campbell
Reviewed On:
2015-08-26 23:44:22
This was lovely & Great Quality! But Could not get the Zipper all the way up below the back below the bust area so it runs a tad small in the upper torso, but the bust area was fine I could tell by holding it together, It may be made for a younger person as I am 60. But It will be lovely and figure flattering if you have a Little bit thinner frame. I am usually an average 8-10 and this was a 12. All in all great for a younger person.