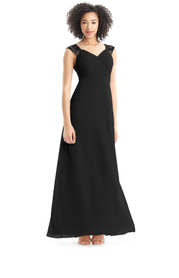 Azazie Jaidyn
Bridesmaid Dresses
FABRIC: Chiffon
$149
product info

The graceful Floor-Length bridesmaid dress by azazie has an Empire cut in an exquisite Chiffon, Lace, Chiffon, Lace. Style Azazie Jaidyn features a V-Neck, Illusion neckline, and comes in a full size range (A0-A30). A pleated detail at the front and back of the flowing skirt makes it perfect for the reception or a city hall wedding. 
cnwilkins612
Reviewed On:
January 29, 2019
Color:
Burgundy
body type:
Pear
Size Ordered:
A6
Loved it :)
Was this review helpful to you?
Laura Grow
Reviewed On:
November 22, 2017
Color:
Champagne
I was extremely disappointed that I ordered a custom-size dress that was too big. I paid $149 for a dress and expected it to be perfect...and it was not. Ordering online is always risky business and this website definitely did not help how I felt. I know that Azazie.com will reimburse up to $50 for alterations, but how does that help me when I have already dished out $149 (not including tax and shipping) for a dress and then had to pay $85 for alterations for a dress that was supposed to already come in my custom-size? I would've added more pictures to show all of the alterations, but was only allowed to add 2 total. I was pretty disappointed with the overall experience.
Was this review helpful to you?
jazzyam
Reviewed On:
September 09, 2016
I bought this dress in royal blue and loved it. The fabric was of high quality. I am 5'2 so had to have it hemmed. Once the alterations were done it fit perfectly!
Was this review helpful to you?
Katie Christophersen
Reviewed On:
August 30, 2015
Hey Ladies! My bridesmaids wore the Jaidyn dress in Silver for my wedding last weekend and everyone looked a-mazing!! Thank you AZAZIE!
Was this review helpful to you?
Stacy Leedy
Reviewed On:
September 20, 2018
Color:
Ocean Blue
Size Ordered:
Custom size
I struggled with choosing the custom option as there are no returns, but was extremely pleased that the dress was made perfectly! No alterations needed and the fabric is so comfortable! Thank you!
Was this review helpful to you?
ccduggan2016
Reviewed On:
July 23, 2018
Color:
Dusty Rose
very pretty!
Was this review helpful to you?
sio.deblasio
Reviewed On:
December 01, 2017
Color:
Mist
I used azazie's custom sizing option when ordering this dress and it came earlier than estimated. It fit me perfectly and I didn't need to alter it. I had it steamed the night before the wedding and I got compliments all day. I would recommend this site for anyone looking for a bridesmaid dress.
Was this review helpful to you?
rwoolbright13
Reviewed On:
September 19, 2017
First of customer service is great, but was not 100% satisfied with this dress fits great everywhere, but the chest area , it's too small way too much cleavage! Wish I would've went with a different dress! The dress itself is pretty and maybe if there was more coverage I'd be happy with it, but will be very uncomfortable!
Was this review helpful to you?
kctinsley13
Reviewed On:
August 30, 2017
Color:
Lavender
I was nervous about ordering a dress custom-fit online, but I shouldn't have been. I liked the sample version I tried, but this one made to my measurements fits me perfectly and even caught me by surprise when I saw myself in it! The only issue is that the rhinestone jewel for buttoning the dress popped off as soon as I touched it, so I needed to glue it back on. Good as new!
Was this review helpful to you?
rtouhill
Reviewed On:
August 17, 2017
Color:
Dark Navy
I was very skeptical, and your company pleasantly surprised me. From the ease of getting samples, to the help in organizing the orders to be from the same dye lot, and the custom sizing, I can't rave enough about you. I plan to sing your praises to anyone looking for a dress for an occasion. You're the only company that I know to be in this game fully on-line, and you're rocking it! Keep up the good work!
Was this review helpful to you?
amber.taratuta
Reviewed On:
August 04, 2017
Color:
Mint Green
It was well made but there was 2 of us that had the same dress and there was a major difference in them. The chest area of mine was VERY revealing! The other girl had a larger chest than me and seemed perfectly covered. There was nothing I could do as there was just not enough material. I was uncomfortable all night but wore it anyways. We both ordered with specific measurements so I'm not sure what went wrong with mine. The mint green was beautiful though.
Was this review helpful to you?
Rebecca Salcedo-Orndorf
Reviewed On:
July 14, 2017
I ordered this dress for my daughter for a vow renewal ceremony. We chose to submit her measurements to be sure it would fit with no problems, and what we received was EXACTLY what we had hoped for. The dress is absolutely beautiful and fits her spot on. She's very happy with the fit, the length, and the quality of the dress. I would recommend the site to anyone who is looking for a quality dress that will not break your budget.
Was this review helpful to you?
katarine55nj
Reviewed On:
June 26, 2017
Color:
Dark Navy
OK dress
Was this review helpful to you?
southworthm247
Reviewed On:
June 02, 2017
Was honestly hestitant buying our bridesmaids dresses online but after being able to sample order dresses I was confident my dress would arrive in perfect condition and it did. It comes in a very nice garmet bag, no wrinkles or anything. The material is great quality, not see through or anything and It fits like a glove! I love that it's not an extra fee for getting a custom size. It's so comfortable, affordable, beautiful! Can't wait to wear it for my brother and future sister in laws wedding! If ever the day comes for me to get married, I am definitely going to get my dresses through here.
Was this review helpful to you?
katielyohn
Reviewed On:
May 04, 2017
Color:
Sky Blue
Dress was very true to the featured photo and style. Ordered custom measurements but the dress was quite a bit larger than the measurements I provided. The cups within the dress were massive (I am a size A and the cups were a D or above). I would recommend asking for significantly smaller chest and waste measurements than your actual size. Dress was expected to take a month longer than it actually came so that was a nice surprise! Quality fabric and sewed together wonderfully.
Was this review helpful to you?
starfish_0023
Reviewed On:
March 30, 2017
Color:
Mint Green
More gorgeous in person looks just like it does online and beautiful! So glad I made this purchase, so elegant!
Was this review helpful to you?
Amy
Reviewed On:
January 04, 2017
Color:
Dark Navy
Azazie did a fairly decent job with the sizing. I still need to get minor alterations to the dress since the back lace bulged out. Overall it is a good fit and a nice color. Image is true to what is delivered.
Was this review helpful to you?
Stephanie
Reviewed On:
June 23, 2016
Very happy with the dress! I'm only 5ft 2 so getting a custom dress was the only way to go. Got this dress in Watermelon (after examining swatches) and found it to be very flattering, comfortable and good quality. I'm conscious of my larger, muscular arms and the little cap sleep was perfectly flattering. There was plenty hem left on the chiffon layer making it easy to choose heels of any height and get it taken up to match. I ordered this just before moving to NYC and the dress shipped about 3 weeks after order, much earlier than the estimation at order. Was a bit tricky getting the dress re-routed to a friend in NYC but thankfully, Azazie persevered and saved the day. Have recommended Azazie to friends despite international shipping not being available, just no service to match in Europe yet. Great job!
Was this review helpful to you?
sfloyd0219
Reviewed On:
April 16, 2016
Color:
Mint Green
Extremely happy. Customer service was very helpful in helping me choose a dress that I could custom order. I will be 7 months pregnant at the time I will be wearing the dress in a wedding. CSR gave great recommendations for adding inches in all the right places! Dress will need very little alteration!
Was this review helpful to you?
rreimann
Reviewed On:
February 13, 2016
Color:
Grape
The original dress we tried to order would not arrive in time for the planned event. We "chatted" with your representative and ended up with a different dress in the same color we were trying to order. She helped us find the dress, color, size, etc. The dress arrived in perfect condition and timely. Yes, despite not getting the original dress this one is even better and we could not be more pleased! Without your representative helping us we would not have had such a great experience. Thank you Azazie!
Was this review helpful to you?