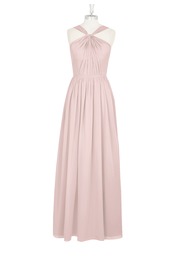 Azazie Jacey
Bridesmaid Dress
FABRIC: Chiffon
$129
product info

Fun and flirty, this gorgeous chiffon bridesmaid dress is appropriate for any wedding from the beach to the church. Your bridal party will love this charming floor-length A-line/princess dress with a v neckline. A pleated detail at the front and back of the flowing skirt makes it perfect for the reception or a city hall wedding. Ask a question
shauna.minor
Reviewed On:
2016-10-25 12:52:19
The tangerine color was perfect! Definitely a lighter orange than what the pictures shows (which is what I wanted). This dress fit perfectly and looked great on my bridesmaid!
kjzapko
Color:
Wisteria
Reviewed On:
2016-10-11 11:35:56
I ordered 5 different dresses for my bridesmaids and this was one of them. The girls all ordered a sample size to try at home which helped them make their decision on size. Due to a review that some dresses ordered for a group came in with color variation, I decided to order all 5 dresses on one order to ensure they came from the same dye lot. They came in with color and styles all looking great and I will be distributing them to my bridesmaids when I see them. WARNING: If you order multiple dresses at once, they only give you 1 garment bag per 2 dresses. I was very disappointed that each girl will not have a garment bag to keep her dress covered for the next couple months and to and from the tailor. Make sure you order extra bags at time of purchase OR have each girl order her own dress to ensure they each get a bag. It doesn't seem fair that if each girl orders separately, they'd get a bag, but the way I ordered, I do not. True, they are only $5 each, but you then have to pay shipping again and I wasn't willing to do that. After all, I'm sure I am not the only bride on a budget! I found cheaper ones at Walmart.
michellewhite118
Color:
Tahiti
Reviewed On:
2016-04-30 15:41:40
I'm thrilled at how well this dress fits from my custom measurements. I assumed I'd have to get it tailored in some way, but not necessary at all! The one thing I do wish is that it came a little longer--the reason I'm giving 4 stars instead of 5. When you order the dress, it says they add an extra 2 inches for heels, but I wish maybe there was a picture of what a '2 inch heel' actually looks like, or that there was more allowance there. Because I didn't have extra fabric to work with, I had to get a smaller 'mid-size' heel rather than what I would have normally gone with. It's much easier to read 'room for heels' and think you'll be all set to wear any heel you want, rather than the shorter heels that actually allows for.
lana.gorbacheva
Reviewed On:
2016-04-26 13:03:15
The dress is really pretty and very high quality. However, its smaller than regular size 6 that i wear ( in some brands im a 4)... so i would advise to buy one size up if you are hesitant. Hope this helps.
namquyen
Color:
Silver
Reviewed On:
2015-08-06 14:24:17
Dress is beautiful, but the dress still needs a little bit altering. Even though I provided custom measurements.
blmduncan
Color:
Emerald
Reviewed On:
2015-05-08 16:48:43
This dress is okay. The good: It fits brilliantly and I am very pleased with the custom size not costing any more than a standard size. I am 5'0" so the standard length is always WAY too long on me. The bad: The material wasn't what I expected it to be.. It felt a little cheap. It also bunches at the waist line and then flairs out which I don't really like.