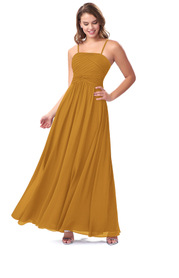 Azazie Imogene
Bridesmaid Dresses
FABRIC: Chiffon
$129
product info

Fun and flirty, this gorgeous Chiffon bridesmaid dress is appropriate for any wedding from the beach to the church. Your bridal party will love this attractive Floor-Length A-line/Princess dress with a Straight neckline. A pleated detail at the front and back of the flowing skirt makes it perfect for the reception or a city hall wedding. 
brynashoe
Reviewed On:
May 04, 2019
Color:
Sky Blue
The material is durable, breathable, and high quality!! I did a custom size because I have a unique hip to waist ratio and it fit my body PERFECTLY and modestly. I am so excited for my sister's wedding!!
Was this review helpful to you?
kfell5136
Reviewed On:
May 03, 2019
Get the sample dresses! I didn't like my first choice and loved my 3rd pick.
Was this review helpful to you?
RachelE
Reviewed On:
September 26, 2020
Color:
Desert Rose
This dress was beautiful on. I loved the little crossover detail under the bust. I got the sample A16 size which fit well. I had two main issues with the dress. First of all, the straps where to loose and wouldn't stay on my shoulder so it did not hold the dress up in any way. Straps are normally too long on me I would like to note and I'm sure it could be altered. My second issue was that the dress was cut too low for me on the side under the armpits. This might not be an issue for everyone but as I am a 36GG, I felt like this created an unflattering shape as it ended up exposing them a bit too much on the sides. When I hiked up the dress higher then it was supposed to sit, this problem went away but I'm sure the dress would eventually go back down to where it is supposed to sit. Beautiful dress but if you have large breasts, these things are something to be aware of.
Was this review helpful to you?
Courtneyb
Reviewed On:
August 15, 2018
Color:
Peacock
Pretty dress. Custom size is a little big but some altering will fix it. Great customer service! Thanks!
Was this review helpful to you?
sdeerkos
Reviewed On:
April 09, 2018
Color:
Dark Navy
Very satisfied. Great quality, Al dresses ordered were way too long, so if you are tall good thing.
Was this review helpful to you?
Becky Stonestreet
Reviewed On:
March 15, 2018
Color:
Lilac
body type:
Straight
Really impressed by how quickly the dress was delivered. My goddaughter loves the color and the fabrics are lovely to move in. Very well-made. Thank you for a quality product.
Was this review helpful to you?
Alice L.
Reviewed On:
September 20, 2017
Custom sizing was a perfect fit. Color and material was top notch. I love Azazie. I just had my 5 Bridesmaids order dresses from Azazie for my November 2017 wedding. Not to mention the best customer service they provide. Rachel you are the best. Thank you for everything!
Was this review helpful to you?
yelenysedwards
Reviewed On:
April 06, 2017
Color:
Stormy
I did the custom size and the dress overall fit just like I ordered it. The front was about 1 inch longer than the rest so I had to adjust it before the event.
Was this review helpful to you?