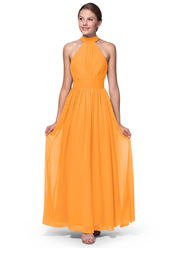 Azazie Iman JBD
Junior Bridesmaid Dresses
FABRIC: Chiffon
$59
product info

The lovely Floor-Length bridesmaid dress by azazie has an A-line/Princess cut in a simple Chiffon. Style Azazie Iman JBD features a Halter neckline, and comes in a full size range (J6-J16). A pleated detail at the front and back of the flowing skirt makes it perfect for the reception or a city hall wedding. 
singtomel
Reviewed On:
July 23, 2019
Color:
Stormy
body type:
Hourglass
Size Ordered:
J14
You guys, can I just tell you how beautiful this dress made me feel... AND LOOK?!?!? I have to be honest, I was so scared to order my wedding dress online. I had this voice in the back of my head saying "it's too good to be true." As soon as my dress was delivered, I opened the package and it took my breath away. Then, I put the dress on. O.M.G. Ladies... I ugly cried. Isn't that the tell tale that you should "say yes to the dress?!" It fit SO well and I didn't even send in my exact measurements. **This is what I suggest doing. Go to a bridal store, try a dresses on that are near your size. The dress you like the most (style, fit, size, etc) is the one you need to go home and research. Make sure you find out the designer so you can go their website and find the exact measurements for their size guide. This way, you can cross / compare their size to Azazie's size guide and order a more true fit. The ONLY thing I had to alter on my dress was the hook at the top of the zipper in the back. The shoulders fit a little loose and the easiest way to fix it was moving the hook in further. I had numerous seamstresses look at the dress but they were afraid to touch it because they didn't want to cut into the details on the sleeves. This is how we came to the resolve of moving the hook in. It was cheap, easy, and quick to fix!** My bridesmaids and my mom also ordered their dresses from Azazie. We chose the color "Stormy" for the wedding party and have received SO MANY compliments on how beautiful and complimentary this particular color is. I will tell you that the we chose floor length dresses (each bridesmaid chose the dress she wanted, just had to be floor length and the stormy color) and they came very long. This is nice, especially if you have tall bridesmaids as I did, but be forewarned that those dresses will likely need to be altered. All in all, the ladies in my party loved their dresses and had a good and easy experience purchasing from Azazie's website (even my mom). I will also say that I was blown away by the wide variety of bridesmaids dresses offered on the website. Truly, something for everyone! Every bride deserves to feel beautiful on her wedding day, no matter their budget, shape/size, or style. With all sincerity, Azazie made that possible for me! I truly feel like Azazie hits every marker on the head and highly recommend them to anyone and EVERYONE! *Wide selection of styles and sizes. *Great quality. *Fits well. *Competitively priced. THANK YOU AZAZIE!!!!
Was this review helpful to you?
Audrey
Reviewed On:
May 13, 2019
body type:
Straight
Size Ordered:
Custom Size
Do not order this dress. We had to send back our custom size Iman (refunded) and had to order a completely new style. We are one month away from the wedding and this is now becoming very stressful. Azazie immediate agreed to refund upon seeing pictures. They informed me that the pattern of this dress is causing issues for many people. So why is it still being sold?? Our issues were: 1. Not enough fabric covering bust (does not look like sample photo). 2. Could not zip the back all the way up without choking. The neck was absolutely too tight. 3. Because of the above issues, the dress did not fall at her true waist, and therefore was uncomfortable and tight. My daughter was extremely uncomfortable. I could barely keep her in it long enough to take photos.
Was this review helpful to you?
caballeroreyna
Reviewed On:
September 04, 2019
Color:
Cabernet
Size Ordered:
J16
The dress is WAY to long. There's not enough material covering the side of the chest. Waist is not 27inches
Was this review helpful to you?
Heyes007
Reviewed On:
July 01, 2019
Color:
Silver
Size Ordered:
J16
Just a really pretty well made dress.Great value .. a shade long . Terrific service.
Was this review helpful to you?
Julie
Reviewed On:
February 17, 2019
body type:
Straight
Size Ordered:
J8
I promised pics after my daughter's prom and here they are! The dress fit perfectly (custom made) and is exceptional quality! I would most definitely order from here again!
Was this review helpful to you?
Cynthia
Reviewed On:
February 08, 2019
Size Ordered:
Custom Size
We ordered this dress in two colors both size 10 and the dark navy was too small but the peacock fit perfectly. My daughter is very happy with the peacock.
Was this review helpful to you?
Momo1123
Reviewed On:
December 01, 2018
The dresses all fit perfect made well great quality and my Jr bridesmaids love them.
Was this review helpful to you?
Gracie
Reviewed On:
September 03, 2018
body type:
Straight
Size Ordered:
Custom Size
WOW -- THANK YOU for the quick turnaround time. The dress was perfect and fit my daughter beautifully. The bride is thrilled it turned out well and just as she envisioned her little flower girl to look. Thank you again. You are so talented.
Was this review helpful to you?