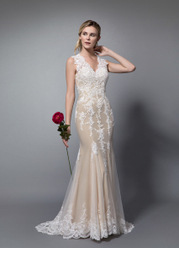 Azazie Honey BG
Wedding Dress
FABRIC: Tulle and Lace
$399
product info

This chapel train, sheath/column dress by Azazie is constructed in a faddish tulle and lace. Honey BG features an illusion back style and a v-neck neckline. Honey BG by Azazie comes in sizes WD0-WD30. Ask a question
Refine Reviews By:
Diamond White/Champagne
(6)
Sort By:
Ratings (Show High to Low)
Helpfulness (Show High to Low)
Robinson.j825
Reviewed On:
October 27, 2018
Body Type:
Hourglass
Size Ordered:
WD14
I was a little worried about what the Quality of the dress with the be, but it's beautiful! Fits like a glove, super flattering, and I doubt you would need much alterations. There is one more dress I'd like to try from here, but I think this maybe the one!
Was this review helpful to you?
abigails
Reviewed On:
October 10, 2018
Body Type:
Hourglass
Size Ordered:
WD4
LOVE. THIS. DRESS. This is an incredibly priced, wonderfully luxurious, and absolutely beautiful dress. Of course, ordering a dress for basically one of the most important days of your life online can be scary, but, rest assured, this dress is GORGEOUS. I ordered it with the diamond white lace and champagne underlayer. BE WARNED that the champagne underlayer looks much darker in indoor lighting than in the online picture, more like a nude. I was thrown off at first, but then grew to love it. Then, on my actual wedding day, which was outdoors, with 90% of the photos taken outdoors, it DID actually look much lighter, truly like a champagne (so very much like in the model photo -- which I'm fairly certain is supposed to demonstrate the champagne). Photos are attached! All of the measurements were PERFECT -- fit like a glove -- except for the length. That was probably my fault -- must have added an inch or two for heels, but I think they make it long, in the first place for that purpose. So keep that in mind as you are sending in your measurements. In the end, I had to wear five inch heels so that the dress could lay nicely without bunching at the bottom. All that said, I would not have changed anything, and I'm SO glad I ordered from Azazie! Fit, comfort (it's really soft inside!), colors, and price were wonderful. If you are to get something in store, unless it is off the rack, you probably won't spend less that $1,000. As to Azazie and not just this dress, they basically outfitted my whole wedding -- bridesmaid dresses, wedding dress, and guys' ties. Everything came in time and fitting well. Let your ladies know that they might want their bust to be a little larger than they measure -- they all come with built in pads, which squished some of my bridesmaids' in their top quarters. Sorry to be long winded, but I know reviews can help so much while online shopping for your wedding! Best of luck to everyone looking. :) (PC: Love Stories Co. out of Athens, GA)
Was this review helpful to you?
feather90
Reviewed On:
July 19, 2018
Body Type:
Hourglass
I have been eyeing this dress since it has come out, and was waiting for it to be added to the sample program so I can make sure I love it just as much in person as I loved how it looked online. I must say the dress did not disappoint! It fit so comfortably and it blew away all the dresses I was considering from David's Bridal that were in the same price range. The fit was almost perfect, but I think when I do order it I will custom size it so it better flatters my body. I did order it a size up ( 10, I was an 8 at David's Bridal) so I knew it would be a little big on me. I would say their measurements are true to size. Great customer service experience from Azazie while I was in the process of sample ordering. Would definitely recommend Azazie to others!
Was this review helpful to you?
Brooke.wallace937
Reviewed On:
June 22, 2018
Body Type:
Straight
Size Ordered:
WD6
I absolutely love this dress. After searching for months to find a dress that isn't extremely expensive like the thousand dollar ones some boutiques carry I finally found the perfect one. This dress looks and has the quality of a thousand dollar dress. I am 5'4 and 140pounds and I ordered a size 6 and it fits absolutely perfect. A little long but with heels or a little altering it will be just right. I will be recommending azazie to any new brides.
Was this review helpful to you?
chmurray
Reviewed On:
November 04, 2018
Body Type:
Straight
I love this dress!!! As soon as I put this dress on I knew I would be walking down the isle in it. So beautiful. The size 12 fit me a little loose up top and very large through the hips. I plan to order the size 10 to see how that fits too.
Was this review helpful to you?
mbridgetsmith
Reviewed On:
October 25, 2018
Body Type:
Pear
Lovely dress! Found that it did run a bit small but not too much!
Was this review helpful to you?
brynne
Reviewed On:
October 19, 2018
Body Type:
Straight
I ordered the sample dress when it was two sizes too large because I didn't want to lose the opportunity to see it in person. It is a stunning dress! The fabric flows nicely, not too heavy. I absolutely love the scalloped lace edging of the dress. I am not a huge train person, and this dress has just enough to make it interesting, but not so much I felt I was going to trip over my feet. My body type is in between straight and hourglass and I believe this dress will highlight the curves I do have...just need to order the appropriate size. My face lit up when I tried it on!
Was this review helpful to you?
Susan
Reviewed On:
October 13, 2018
The sample dress came quickly and everything was as expected based on the pictures and measurements. The illusion back is gorgeous and the material is comfortable. I just wished they included swatches of the other colors for this dress. I'm most interested in the champagne color but they didn't have a sample in my size.
Was this review helpful to you?
Hlmorgan
Reviewed On:
October 11, 2018
Body Type:
Hourglass
Size Ordered:
WD8
I loved this dress! They finally had my size available for a sample size and it was great. The only issue I had was that around my hips was a bit big but that can be fixed. Also, the whole sample process was super easy to deal with and mail back.
Was this review helpful to you?
Callie Haag
Reviewed On:
September 30, 2018
Loved it! Good fit. Will be ordering in my custom size for the big day.
Was this review helpful to you?
alyssaachz
Reviewed On:
September 11, 2018
Size Ordered:
Custom Size
This dress is so pretty and the material is so nice, there wasn't many sample sizes so I ordered one that was way too big for me, even pinned still swallowed me. I thought I could go up a couple sizes since this is a fitted gown but it was true to size. Went with another option but really beautiful gown
Was this review helpful to you?
Rachel
Reviewed On:
September 08, 2018
This dress is gorgeous and so comfortable! I'm 5'2", 135 pounds and the size 8 sample was a great fit for trying on. I will be ordering a custom size in the diamond white color. The sample came in nude with white lace and the nude color is darker than I had expected, certainly much darker than the photo online. It's beautiful in the nude and makes the lace detail really pop. Had it been a shade lighter, I would have loved it. My friend who was a bridal consultant suggested getting white fabric (dress came with fabcric swatches, so I matched to that), and stuffing it under the lace wihich was very easy to do to get an idea of how it would look in white. I fell in love with it! Highly recommend! The two photos show the contrast of the nude and the dress with the white fabric laid under the lace to see how it would look.
Was this review helpful to you?
npo
Reviewed On:
August 09, 2018
Body Type:
Hourglass
Size Ordered:
Custom size
This dress is so gorgeous! I ordered a custom size and it fits great. I will have the cups changed out for my size, but no other adjustments are needed. Highly recommend.
Was this review helpful to you?
ash10_12
Reviewed On:
July 19, 2018
So glad this sample became available for me to try on. It fit like a glove (4). The length was too long but this was expected and when I order I will be ordering a custom size to help fix the length. The quality of the lace is comparable to dresses in bridal shops. The dress feels comfortable and moved with my body. I also appreciated that they sent the color swatches that the dress can be ordered in. Glad I finally found the one! I was sad when I had to put such a beautiful dress back in a box when I mailed it back :)
Was this review helpful to you?