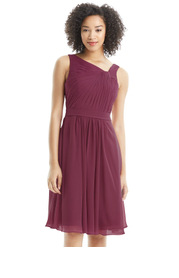 Azazie Hermosa
Bridesmaid Dress
FABRIC: Chiffon
$119
product info

Style Hermosa by Azazie is a knee-length A-line/princess bridesmaid dress in a beautiful chiffon. The stunning dress features a v-neck neckline and back zip back style. A pleated detail at the front and back of the flowing skirt makes it perfect for the reception or a city hall wedding. Azazie's Hermosa style comes in sizes A0-A30. Ask a question
foxxyday
Reviewed On:
2018-06-17 10:03:34
Color:
Dusty Blue
Size Ordered:
A14
Beautiful dress!!!! Very pleased with product. I had my daughter measured before ordering, and the fit was great. Only needed to have shoulder straps adjusted approximately 1/2" for a perfect fit. Would highly recommend, and I will order from site again if needed.
alicia.brennan22
Reviewed On:
2017-06-01 12:28:10
Color:
Jungle Green
The color is beautiful. The bust is huge. I had to go a size up because one of my measurements didn't fit in the size I normally wear and unfortunately because of that there is major gapping in the bust area. I am hoping to get it taken in along the seam on the side of the dress so it is more comfortable and more flattering. Because of all of the ribbing in the dress it is very stiff and feels like i'm wearing a plate of armor. I wished I had gone with the smaller size.
slfreed
Reviewed On:
2017-03-19 11:48:01
Color:
Steel Grey
Nice color and fit. It looks great when standing still, but I wish Azazie would make some options without the "boob armor" which they all seem to have. Depending on your build and shape, it's unnecessarily cumbersome to have so much padding and boning. In this particular style, I love the cut of the neckline, but because of all the structure in the bodice, the top gaps out when you bring your arms forward. I'm perfectly happy with it to wear to my friend's wedding, but I can't say it will be a favorite to wear again and again.
anna.seeman
Reviewed On:
2017-03-18 10:02:02
Color:
Grape
The color and fabric are nice, but even with the custom size, the dress is way too long in the torso and overall length. I wish they had asked for collarbone to waist and/or collarbone to hem, so as to get the proportions correct. I know I can submit alteration receipts, but really wish I didn't have to go through the hassle! Plus, it's hard to tell if the tailor will even be able to make the necessary changes.
Jenn
Reviewed On:
2017-01-30 13:42:52
This dress fits GREAT! True to standard dress sizing. Comes with cups inside, so no need to wear a bra if you're small-to-medium chest. I really liked how different the neckline is to many bridesmaid dresses and it's something I ACTUALLY might wear again, not even joking. Great quality for the price, just as nice if not nicer than a dress I just paid double for and came much quicker!
sarahmcelhaney
Reviewed On:
2016-12-07 18:38:33
Color:
Black
A dear bridesmaid selected this style as her winner, and we were overjoyed to find it to be a perfect fit right out of the box! We love the unique and modest cut, and the twirly flare cut is extremely flattering. Do know, though, that it is a middie length, not a knee length. I am also very happy with the material: I am having to be a bridesmaid myself, and I can say that the (*cough* more expensive *cough*) David's Bridal chiffon dresses do not feel nearly as lush.
smnthwalton
Reviewed On:
2016-11-07 05:41:46
This dress is perfect for anyone who wants to have a more conservative look. The top half design also gives a great look and you could do away with a necklace if you wanted too.
midnite015
Reviewed On:
2016-06-29 04:55:53
The dress was beautiful! It seemed to fit a bit small--I expected it to be slightly big due to the measurements but it fits without alterations.
ecochica
Reviewed On:
2016-05-15 14:36:08
Color:
Ink Blue
The sizing is definitely true to what they say. I'll be ordering a custom one now. The one I got was WAY TOO BIG in the chest area...
Kaity Carraway
Reviewed On:
2016-04-21 07:20:46
I love my dress! The color is great and the design is just like the pictures. The skirt falls a little flat and would need an underskirt to maintain the shape in the picture, but that is probably true for any of the dresses. It fit true to size and worked out great.