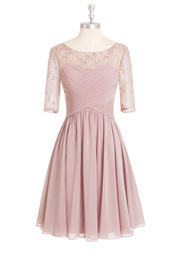 Azazie Hattie
Bridesmaid Dress
FABRIC: Chiffon and Lace
$139
product info

The lovely knee-length bridesmaid dress by Azazie has an A-line/princess cut in an exquisite chiffon and lace. Style Hattie features a boat neckline, and comes in a full size range (A0-A30). A pleated detail at the front and back of the flowing skirt makes it perfect for the reception or a city hall wedding. Ask a question
fjls.rhea
Reviewed On:
2016-08-19 15:45:13
This dress was not my first choice but it actually worked out very well. After a great mishap with a different full priced Azazie dress I was forced to make a quick decision on a clearance one. I am tall, 6'2" and plus size and this dress was kind to my shape and a great length. The dress was well made and looked very elegant, down to the stitching, everything was finished beautifully. The entire wedding party was in mint dresses from Azazie and though I would have also liked to be in mint, as the maid of honor it was fine to be in a different color and finish it off with mint accents. It wasn't the look neither the bride nor I had intended but it was better than no dress at all.
marax2002
Reviewed On:
2015-12-25 00:16:27
I ordered this dress in a size 16w and in the burgundy color. Very pretty color and true to the color shown on site. Everyone loved the sheer detail of the dress. It also gave me a hourglass figure. Since the top part of dress is sheer, a nude bra or strapless bra is the way to go. Since I'm a 38dd to get the support I needed, I used complete shape wear with straps. the straps of it showed very little. The only problem I had with the dress is the shoulder and back area was very loose so I had to get that part of the dress tailored. But I didn't order my dress custom made so maybe ordering custom to your size will take care of that problem. I also ordered it with regular shipping and it arrived sooner than the date I was giving, super happy about that. So I recommend this dress especially if you're a a little self conscious about your arms like I am. It will give you the cover up you need but the open back will give you the extra sexy you might be looking for.
dancingswan1407
Color:
Dark Green
Reviewed On:
2016-09-20 09:15:55
The majority of the dress fit very well, the lace section was too large. I will have to get it adjusted.
jookim85
Color:
Daffodil
Reviewed On:
2016-06-09 15:25:14
I was pretty skeptical about the dresses on Azazie because the costs were so cheap but they market themselves pretty well saying that they offer custom-fit dresses. It was all too good to be true! The lace on this dress is SO CHEAP. I'm really embarrassed to wear this dress! The way the pleating is done on the dress is so unflattering. So disappointing.
slkasulke
Color:
Ivory
Reviewed On:
2016-06-09 10:47:06
The dress was fine. It smelled a bit like chemicals when it arrived. The dress was clearly made for large busted women. It did not fit very well and was cut at the waist right under the bust instead of lower on my waist than the picture.
Melinda
Reviewed On:
2016-04-27 16:41:24
Was a beautiful dress! I used it as my wedding dress!!! Fit great and couldn't have asked for better dress! Thank you so much. Will be ordering from here for again soon!
sandrapl
Color:
Burgundy
Reviewed On:
2015-12-07 04:52:54
The dress was beautiful!! Exactly what we ordered and expected. Azazie is a great place for dresses of any occasion.
hannahsaagman
Color:
Steel Grey
Reviewed On:
2015-11-17 17:44:07
I ordered this dress for my maid of honor and it was really cute, except her arms wouldn't fit in it! The rest of the dress fit well, but the arms were VERY disproportionately small.