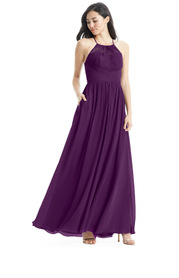 Azazie Harmony
Bridesmaid Dress
FABRIC: Chiffon and Lace
$149
product info

The stunning floor-length bridesmaid dress by Azazie has an A-line/princess cut in an exquisite chiffon and lace. Style Harmony features a halter neckline, and comes in a full size range (A0-A30). A pleated detail at the front and back of the flowing skirt makes it perfect for the reception or a city hall wedding. Ask a question
Refine Reviews By:
Sort By:
Ratings (Show High to Low)
Helpfulness (Show High to Low)
Bridesmaid
Reviewed On:
September 24, 2017
I tried the sample of this dress in Dusty Rose. The dress design is pretty, Love the pockets and the fit. It is comfortable and you don't need to wear a bra. The sample is size 2 and seems a bit bigger than the measurements listed for the size and insanely long. I will be custom ordering my size.
Was this review helpful to you?
cgoveia42
Reviewed On:
March 16, 2018
Body Type:
Straight
Azazie is the BEST! I am getting married in Sept. and wanted to use them for my bridesmaids dresses, we ordered a few samples each and all got together for a try on party. The shipping time was exactly as expected, the quality of the dress was perfect. The color matched the swatches we previously ordered perfectly and the design was beautiful. All the girls involved in the bridal party loved each one of the styles we tried. The customer service is great as well, we contacted them to communicate about shipping all our samples to one address. We wanted to be sure we wouldn't have any issues and they were kind enough to make a note on each order that we placed so we wouldn't run into any complications. I would highly recommend this company for anyone looking for an alternate option for gown shopping!! I would also highly recommend this gown for anyone interested in this style, so unique and so gorgeous!
Was this review helpful to you?
Liz
Reviewed On:
November 16, 2017
OMG!!! This is the cutest dress for preteens!!!! I'm getting marry and my young PRETEEN sister is my train bearer. As you know most preteens have not mature and this dress does great in the chest area. Doesn't make her look flat. The dress doesn't give her that look of a young girl in a woman's dress. It's just perfect for her!!! And the color is AMAZING!! We are southern gals that have sun kiss skin! And DUSTY ROSE is our color!! We of course did the custom size!
Was this review helpful to you?
latfranklin87
Reviewed On:
October 09, 2017
Quality and make of the dress was good. The color was a bit darker than pictured. I decided not to purchase as i was not a fan of the fit on me but this was no reflection on the dress itself. I just need more structure!
Was this review helpful to you?
Jillian Leake
Reviewed On:
September 21, 2017
LOVE LOVE LOVE all of these dresses! I ordered this one for my sisters wedding in June, I loved it so much I have been telling everyone to get their dresses from azazie. The custom sizing is the best part and you don't have to pay extra for it. I will definitely be ordering from this site again!
Was this review helpful to you?
sbr3761
Reviewed On:
July 03, 2017
The lace on the top has a yellow hue to it making the top of the dress look dirty. The sizes are pretty true . Very long
Was this review helpful to you?
Lthewson
Reviewed On:
June 25, 2017
Awkward style and fit on an type of body shape. Beautiful back though. Just doesn't work.
Was this review helpful to you?
R21556
Reviewed On:
June 05, 2017
Nicole from Customer Service was amazing. This dress fit my daughter perfectly and only required hemming. The color was just what my other daughter (the bride) wanted. The order for 5 dresses came early and I cannot thank Nicole and the Azazie team enough for making this happen for us! I cannot review the other sizes ordered as I have not seen them on the other bridesmaids yet! I would definitely use Azazie again. There is a great value for the price!
Was this review helpful to you?
SweetbriarCPA
Reviewed On:
January 30, 2017
Loved the sample dress program you have going! Being able to check out the quality of the dress before buying it was perfect. Your dresses are high quality and we will be ordering about six in the near future! Thanks!!!
Was this review helpful to you?
SweetbriarCPA
Reviewed On:
January 26, 2017
Thank you so much! This is an awesome program. I was hesitant to buy a dress online but having the ability to try it for only $10 -- with the return shipping and everything -- well, that was perfect! Thanks so much! Our six bridesmaids are in the process of choosing their dresses now and we will be placing our order soon!
Was this review helpful to you?