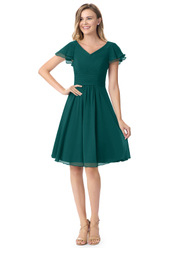 Azazie Hadley
Modest Bridesmaid Dresses
FABRIC: Chiffon
$99
product info

The fashionable Knee-Length bridesmaid dress by azazie has an A-line/Princess cut in an exquisite Chiffon. Style Azazie Hadley features a V-Neck neckline, and comes in a full size range (A0-A30). A pleated detail at the front and back of the flowing skirt makes it perfect for the reception or a city hall wedding. 
12345
Reviewed On:
September 27, 2020
Color:
Papaya
body type:
straight
Size Ordered:
A6
These dresses were wonderful! I was very impressed. The color Papaya was more orange than it looks like in the picture, and the dress's torso was a little bit long for me since I am not that tall. That was easily adjusted though! Overall I think all of the bridesmaids enjoyed our dresses (we got different ones all from azazie) and felt pretty in them!
Was this review helpful to you?
LaPace2
Reviewed On:
December 23, 2017
Follow up to my original review with photos now! Thanks again Azazie!
Was this review helpful to you?
Patty Palumbo Bonghi
Reviewed On:
September 09, 2020
Color:
Sunset
Size Ordered:
A12
This is a beautiful dress, very well made inside and out. The fit is perfect and I love how I look in it!
Was this review helpful to you?
Stephanie
Reviewed On:
June 14, 2020
Color:
Dusty Sage
body type:
Straight
Size Ordered:
A14
Dress is way too small. even ordered up size and was still too small. dress was pretty and was what was advertised.
Was this review helpful to you?
carter.fudge.wedding
Reviewed On:
February 24, 2020
Color:
Dark Green
body type:
Pear
I'm 5'1" and about 200lbs and the size 20 fit perfectly. That said, I just was not impressed with this dress. I did not find the fit flattering. Still good quality and pretty just not for me.
Was this review helpful to you?
lynnrsheridan
Reviewed On:
October 21, 2018
Color:
Royal Blue
body type:
Pear
I intended to order Azazie Jaycee MBD and wanted to be sure I was ordering the correct size. The dress arrived well packed with instructions on how and labels to return it. I ordered this sample dress because it was constructed similarly to Jaycee. My measurements indicated the size as A18 and the fit was perfect. I returned the sample in the same carton, packaged the way it was shipped and ordered Azazie Jaycee which fit exactly the same. I couldn't have expected more,
Was this review helpful to you?
kjdarknight
Reviewed On:
May 14, 2018
body type:
Hourglass
Size Ordered:
Custom size
Bottom line if you don't want to read all this: 1. DO NOT GET CUSTOM FITTING 2. It is well made! 3. Color was EXACTLY right and very nice quality fabric. 4. Delivered a day early 5. Customer service is great and prompt (called to change shipping address and they were super sweet and helpful) Don't get custom fitting if you've got any sort of curve . I learned later that the measurements they ask for are NOT adequate to get a proper fit. My mom is an amazing seamstress. I told her the measurements they asked for and she was shocked they would even try to do anything remotely fitted with just those measurements. The waist line ended up too big and too short, the entire dress was too short and just took away any curve I've got. The chest was too tight which caused it to ride up on the shoulders I think and had to readjust the dress every time I had put my arms up. The shoulders were too tight and kept pulling up. The other bridesmaids had the same issue with that and one had to get an emergency back up dress because it didn't fit at all. Sadly I had no time to get a different dress and had to wear the illfitted dress :( I just had to wear leggings so I wouldn't show off everything whenever the wind blew or I slightly bent over. I was extremely disappointed:( my mom is going to help me alter it so I can wear it again. I gave this dress 3 stars because yes I was extremely disappointed with the fit DO NOT GET CUSTOM FITTING! The fabric itself is quite nice and the color is exactly as shown (I got the jade) it really is a beautiful dress. I think that the only problem with mine was that I am a bit of a different weird size, they didn't get proper measurements so they just decided the sort of shape I am which wasn't right which made it illfitted. I think of they asked for more in depth measurements like my mom suggests (having done custom fit wedding dresses for a living mind you. Long distance some of them) it would have come out better. Despite the bad fit, for the measurements that they did take, it was well made. I hope they make improvements to their custom fitting in the future. One of the other bridesmaids who didnt get custom fitting, looked amazing on her. So like I said, the custom order was the issue.
Was this review helpful to you?
bbristow77
Reviewed On:
March 15, 2018
Color:
Royal Blue
body type:
Pear
Size Ordered:
A20
I really like my Azazie Hadley dress. I am looking forward to wearing it to my daughter's wedding in June. The color is great! There are many layers of fabric and it seems substantial. I was surprised that it had boning in the front, but it works even though I am not full busted. It fits according to the stated measurements and it is flattering. Ordering was very easy and it came in sooner than the estimated arrival time. I will recommend this company to others. I am pleased with my purchase!
Was this review helpful to you?
LaPace2
Reviewed On:
December 05, 2017
Color:
Black
I wore this dress as the Maid of Honor at my sister's December wedding. I liked that there was fabric covering the tops of my arms (not sleeves, mind you) for a little more coverage and warmth! This dress is super flattering and I was very impressed with how well it was made! This is a nice, structured dress with boning in the front and many many layers of fabric. However, it is not bulky. The dress was an incredible price for how nice it is! The only issue I had is that the shoulders drop kind of low. So I sewed in my own bra strap holders using snaps and my bra straps stayed hidden through 10 hours of wedding ceremony and reception. Thanks so much Azazie!!
Was this review helpful to you?