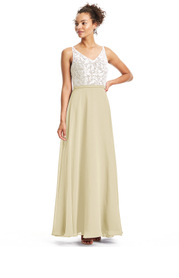 Azazie Gloria
Bridesmaid Dress
FABRIC: Chiffon and Lace
$119
product info

The charming floor-length bridesmaid dress by Azazie has an A-line/princess cut in a lux chiffon and lace. Style Gloria features a v-neck neckline, and comes in a full size range (A0-A30). Fine lace covers a fitted bodice above the skirt, this perfect maids frock has a dash of romance. Ask a question
Refine Reviews By:
Sort By:
Ratings (Show High to Low)
Helpfulness (Show High to Low)
Rose Monico
Reviewed On:
November 26, 2018
Body Type:
Hourglass
Size Ordered:
A6
The dress fit great all around. I usually wear a 6 and that's what I ordered. I love how structured the bust area was. The cut of the shoulder area looks very strange and didn't work with my body shape. I wore it for a wedding and will probably never wear it again.
Was this review helpful to you?
sedster08
Reviewed On:
September 13, 2018
Body Type:
Pear
Size Ordered:
Custom Size
I ordered the custom sizing and it was still way too big, and almost like the custom sizing wasn't considered at all. I first ordered a standard size to try on and see the sizing, and it fit better than the custom sizing. Also, I'm 5'10" and they have no idea a tall female's proportions, even with custom sizing. The waist was way to high and the bust way to low, even with fully adjustable straps.
Azazie:
Thank you for sharing honest review so that we can take care of you. I'm so sorry to hear the fit on your Gloria dress isn't quite right. Custom sizing is a basic customization of the pattern to your bust, waist, hips, and height, and it may require some additional alterations in to fit each person as they would like. We're happy to reimburse the cost of those alterations up to $50 for a custom-sized Gloria dress. Please get in touch with us via the Help button if you need, or you can simply submit the receipt through your account.
Was this review helpful to you?
mya-eissa
Reviewed On:
June 27, 2018
Body Type:
Hourglass
Size Ordered:
Custom Size
The dress strap broke BEFORE the wedding. It got dorn and i used a safety pin then 10 minutes later the same strap got torn at another place. I basically had to use 2 safety pins, couldn't take pictures because of how much it shows and I had to wear a jacket all of the wedding. I'm sorry but if that's the quality I get for 130$ then this is a rip off. A ross dress for 50$ wouldn't have torn this way before even the wedding started.
Azazie:
Oh no! We're so sorry to hear of this!! Thank you so much for taking the time to share your experience. I'm incredibly sorry to hear your order did not arrive to expectation, I do hope our Stylists were able to make it right for you! Thank you so much for your feedback and we hope to make future experiences better!
Was this review helpful to you?
charneygrone
Reviewed On:
February 28, 2018
Body Type:
Hourglass
Size Ordered:
A16
I like the dress itself but I don't believe the sizing chart is accurate. I went to a tailor and had myself measured against the sizing chart on the website (making sure to get all of the different measurements needed) and based on that ordered the A16. The dress was significantly too large! The tailor recommended I get a whole size down, possibly two sizes down!
Azazie:
Thanks for sharing your experience! Unfortunately we've found that many tailors take measurements differently, so we do highly recommend they measure according to our videos. If you ever have questions, please reach out to our team of stylists, whom are happy to help you find just the right size!
Was this review helpful to you?