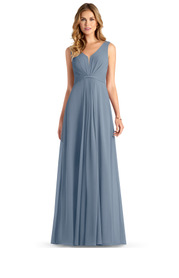 Azazie Gina
Bridesmaid Dresses
FABRIC: Chiffon
$99
product info

Fun and flirty, this exquisite Chiffon bridesmaid dress is appropriate for any wedding from the beach to the church. Your bridal party will love this attractive Floor-Length, Floor-Length A-line/Princess dress with a V-Neck neckline. A pleated detail at the front and back of the flowing skirt makes it perfect for the reception or a city hall wedding. 
mcgriess
Reviewed On:
November 29, 2020
Color:
Burgundy
body type:
straight
Size Ordered:
CUSTOM SIZE
Love this dress! Was a little worried because there were no reviews but it turned out perfectly. I did custom sizes and added about .5-1 inch extra to each measurement and it fit really well!
Was this review helpful to you?
bskinner375
Reviewed On:
July 08, 2020
Color:
Black
body type:
Straight
Size Ordered:
Custom size
Great fit. I've ordered here before and never had issues. I always do custom fit and it works great.
Was this review helpful to you?
courtneymuehl15
Reviewed On:
January 02, 2021
Color:
Spa
body type:
Hourglass
Size Ordered:
A18
This dress is beautiful, tropical, and still modest. The top feels like my chest is supported nicely and the fabric gathers in a flattering spot making me look like I have a skinny waist. I cannot wait to wear this in my sisters wedding!!!
Was this review helpful to you?
stephanie.waldref
Reviewed On:
August 02, 2020
Color:
Dusk
The dress is beautiful. The shape is super flattering and you can wear a bra with it which is great! One downside: the zippers on these dresses are awful quality. I measured myself and ordered the correct size, but couldn't zip it up because the zipper would not budge. I then ordered the size up because I assumed I had measured wrong. I did not measure wrong, because this dress is about an inch too big and would still barely zip up because of the poor zipper quality. I talked with another girl in the wedding party and she also had troubles with the zipper on her dress that was a different style so seems like it's across the board with this brand. I am keeping this size (the larger of the 2) and will just have to get a padded bra to add to the bust so it doesn't look too big. To the company: please consider replacing the zippers on these dresses as this seems to be a common problem.
Was this review helpful to you?
magcdg
Reviewed On:
July 18, 2020
Color:
Royal Blue
Unfortunately their version of royal blue does not have anything royal about it. It's quite sun faded looking and therefore didn't/doesn't match any of our mens royal blue pieces, not even remotely. Will be returning and shopping local. I got a size 16 so it would be slightly loose around my hips and bring in the top a little, but it's actually so much bigger the best is so big. The seamstress says we would end up bringing it in 3 sizes to fit. The waist area that looks to be smaller in the images is the exact same width as the rest of the dress and is unflettering.
Was this review helpful to you?
scheub1
Reviewed On:
June 09, 2020
Color:
Caribbean
I love this dress but the dress has no stretch and it was hard to zip up. So I will order a size bigger.
Was this review helpful to you?