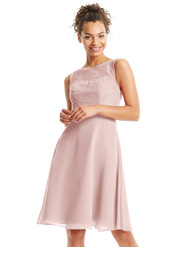 Azazie Giana
Bridesmaid Dresses
FABRIC: Chiffon
$119
product info

Style Azazie Giana by azazie is a Knee-Length, Knee-Length A-line/Princess bridesmaid dress in a simple Chiffon, Lace. The sweet dress features a Scoop, Illusion neckline and Button, Illusion back style. Fine lace covers a fitted bodice above the skirt, this perfect maids frock has a dash of romance. azazie's Azazie Giana style comes in sizes A0-A30. 
melsc16
Reviewed On:
September 06, 2020
Color:
Silver
body type:
Apple
Size Ordered:
Custom Size
Fit great! Wasn't too heavy for a Summer Wedding. I LOVED the back. I opted for a button back on this dress. I would suggest being professionally fitted prior to purchasing, so you know your correct sizes if you are doing a custom fit like I did. Totally worth it to do a custom fitted dress!
Was this review helpful to you?
Nicole B.
Reviewed On:
March 04, 2018
Color:
Tahiti
Size Ordered:
Custom Size
This dress was great! The custom sizing was great and they fit all of my girls well, despite them having very different body type. It's great to have a dress that flatters everyone! And of course they loved the pockets, turns out I was the only one without pockets in the whole bridal party! I ordered the dresses all together in one big order, along with ties for the groomsmen and the ring bearer, to save on shipping to Canada and everything worked out perfectly. A great option when you don't want your girls to have to spend a fortune.
Was this review helpful to you?
leahbeard27
Reviewed On:
September 20, 2017
Took a chance on this dress and ordered it without any reviews. Worth it! I bought it because of the buttons on the back which are so elegant. The lace looks nice and there are pockets. Fits true to size and the length is good and not too short. Can't wear a bra because of the back but the bust is lined well so it doesn't matter.
Was this review helpful to you?
jessica.dryden
Reviewed On:
July 24, 2017
Color:
Dusty Rose
Dress was as advertised and fit pretty close to the size chart. It was comfortable to wear all night and dance in and the pockets were a great added plus! If you are smaller chested, you really don't need a bra with the boning in the top. I am a D cup, so I used a self adhesive backless bra and that plus the boning felt pretty secure and supportive.
Was this review helpful to you?
Sarah Uhrig
Reviewed On:
February 25, 2017
I was very satisfied with the quality of the dress. It came in a convenient garment bag when I received it in the mail. The dress was exactly as it was portrayed in the picture without any distortions. The material was of high quality with very pretty designs. When i tried it on, the dress was custom sized to my body type, and was neither too tight or too big, it was just right. This dress made me feel confident and beautiful. I think everyone should have the experience of feeling like a princess, like these dresses make you feel. I"m very pleased with the shipment time and the dress overall.
Was this review helpful to you?
Sarah G
Reviewed On:
July 23, 2020
Color:
Emerald
Size Ordered:
Custom Size
A very flattering dress, elegant and comfortable. Accents the waist very nicely and I think it will be easy to wear again on other occasions.
Was this review helpful to you?
rachaelsmall85
Reviewed On:
February 22, 2020
Color:
Dusty Sage
body type:
Hourglass
Did not like the pockets in the dress they make the dress poof out in those areas and makes it lay funny on your hips
Was this review helpful to you?
margaret.cude
Reviewed On:
February 21, 2019
Color:
Dark Navy
body type:
Apple
This dress fit like a glove - I seriously didn't want to take it off. The chiffon shirt gave it a great feel. The lace top is gorgeous and really adds a level of "dressed up" and "classy" to the dress. I immediately got on FaceTime with the bride and we were both in love with it! I will definitely wear this again too, which is exciting!
Was this review helpful to you?
aubintierney
Reviewed On:
February 14, 2019
Color:
Mist
body type:
Pear
Sadly, the buttons did not close in the back. It was too small. I wear a 36C and it just wasn't even close. The bottom is a bit flowy. It would be great for a young bridesmaid. I ordered the 10. It seems to run small in the bust.
Was this review helpful to you?
So Sad - TERRIBLE QUALITY AND FIT
Reviewed On:
June 27, 2018
Color:
Dark Navy
body type:
Hourglass
Size Ordered:
Custom Size
I am completely dissatisfied with this purchase. In fact, I had to order rush to find another dress when this one arrived last week. The big event is this weekend and this dress is not going in the suitcase. Biggest disappointment I've had. I wish I had listened to other reviewers who said the lace is cheap looking. There is also a clear plastic-ish trim that lines the armholes that shines and shows like crazy. This dress is easily five inches too large for me through the waist and torso despite giving custom measurements. I measured just as directed and the off-the-rack dress from Banana Republic that I ordered as a replacement after giving their customer service agent my same measurements fits perfectly. Besides being so big that a seamstress I have used for years said she did not know of a way to fix it, there was a torn seam at the belt/middle trim and a piece of frayed fabric at the waist. In addition, the dress looks very washed out in color. The boning in the top is too stiff and goes way to low to allow any natural fit to occur. The overwhelming amount of fabric to the skirt, combined with the super high waistline cut made for an unfixable situation. Between the boning, cheap lace, cheap chiffon, clear plastic trim and the incredibly misfit gigantic size, I felt like I was putting on some kind of cheap halloween costume for a school play or something. Definitely not something I would wear in public, especially for an occasion as special as being in someone's wedding. I was so excited about this possibility but it is an incredible disappointment. I immediately put the dress back in the box and I am sending it back just so that I don't have to see it in my closet and realize how much money I wasted... Not to mention getting my hopes up about something that would be dressy, upscale, and unique.
Was this review helpful to you?
Lilliemiss
Reviewed On:
March 12, 2018
Color:
Dark Navy
body type:
Apple
Dress was pretty, but no where near the correct size.
Was this review helpful to you?
krisscag12
Reviewed On:
February 23, 2018
Color:
Dark Green
body type:
Straight
Love this dress and ended up ordering it in mist to wear as a bridesmaid at my brothers wedding. My only complaint would be the pockets. I actually love that there are pockets but they are way too big! The bigness of the pocket makes the dress slightly puffy. I plan to remove the pockets before I wear it.
Was this review helpful to you?
jwch
Reviewed On:
October 12, 2017
Color:
Grape
This is a beautiful dress and it looks fabulous on my daughter. The only draw back is a few of the button holes, on the back, are too small for the buttons and they do not stretch. We busted a button hole when she tried it on and could not get the button through... a fix we can handle but should not have to.
Was this review helpful to you?
irot95
Reviewed On:
September 20, 2017
Wonderful dress, very flattering and comfortable for a hot beautiful summer wedding. I'm excited to wear it to other events from here on out. The back is a gorgeous touch with the buttons.
Was this review helpful to you?
nlcrwedding
Reviewed On:
September 20, 2017
Color:
Grape
Oh how I wanted to love this but just could not - the lace did not lay right over my chest and back and felt a bit cheap to me. I would recommend sticking with a no lace dress.
Was this review helpful to you?
Lindsey1219
Reviewed On:
September 19, 2017
Color:
Dusk
I ordered a standard size 6- I am 5'1" 120 lbs so I knew it would be a little big. The waist was great, length long (of course) but the top was HUGE. There is so much structure/boning to the top part of this dress that I looked like I had large fake breasts. I should note that my cup size is 34 C. My seamstress said she couldn't fix it without taking the whole dress apart so I ended up having to wear a massively padded bra and still had gapping at the top where the sweetheart line meets the lace. I would recommend ordering a custom size since it's free and all dresses are custom made anyways. Also the color I ordered was dusk which looks mauve- not a great color on fair skin/hair. We paired it with wisteria and the two together did not look so great unfortunately. I would say the quality of these dresses were very good, very nicely made. I would order again but definitely in a custom size.
Was this review helpful to you?
Katie
Reviewed On:
September 11, 2017
Color:
Ink Blue
The ink blue color is a great color and the dress overall is nice. The reason I gave it a lower rating is the sizing for SHORTER women. According to the sizing chart this dress should fit perfect, but I have a hard time getting the zipper all the way up and the buttoning the bottom button. The chart states for size A8 Bust: 36" Waist: 29.5" Hips 39.5". My measurements are Bust: 35", Waist: 29.5", Hips :37". After seeing the other bridesmaids in this dress I realized the issue was the band across the middle. On the taller girls the band falls more at their natural waist, on me it is at my belly button because I have such a short torso (I'm 5'-2"). When I measured around my belly button (and those darn love handles) it is 31", so going up a size would have helped a lot.
Was this review helpful to you?
bethelshoff
Reviewed On:
August 15, 2017
Color:
Rust
Fits great and love the pockets. Easy website to use to get the right size and it came very quickly even when it was made to size. Have shared this website with others.
Was this review helpful to you?
Jessica Mitchell
Reviewed On:
August 11, 2017
I took my measurements for this dress the way the website instructed me to, i have not gained any weight, and dis not get any taller... but whwn the sress came in, ( 30 days from the oder date). It was a little snug. Im not sure if it is due to how tailored it was maid or if the size chart and measurement chart is comparable to European sized. Since the wedding is 30 days away from the date that i tried it on, i will be able to work on my body so the dress is not so snug. It is a lovely dress and the color was exactly what we hoped for.
Was this review helpful to you?
kmvoss
Reviewed On:
May 31, 2017
Color:
Burgundy
I love this dress! It arrived much more quickly than expected and looks exactly as beautiful as I would have hoped. It fits perfectly - I did a custom size because I fit a size 6 in every way but height, and they lengthened the dress beautifully. The material is good quality and I am very satisfied with my purchase.
Was this review helpful to you?