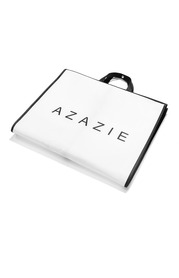 Azazie Garment Bag
Swatches & Fabric
$5
product info
kmartinelli28
Reviewed On:
2017-01-18 12:08:39
Had to purchase an extra for $5 because they only give you one per dress.
lesliecarollancaster
Reviewed On:
2016-12-16 07:26:40
great quality! my bridesmaids loved them! very handy for travel!
longilala84
Reviewed On:
2016-11-10 07:36:00
I bought the garment bag because when I read the website I thought I wouldnt get one with my dress. Turns out my dress came in one so now I have 2. It's a nice garment bag so I'm not too bummed about having 2. I like the way it folds up into a convenient carrying case. It will make travelling for my sister's wedding easier.
stagil3
Reviewed On:
2016-10-22 12:26:18
made it easier to transport dresses and keep them from getting dirty or wrinkled.
nyixie
Reviewed On:
2016-09-28 12:31:02
While mine was part of a promotion, it was well worth $5, although now I have 3 since both dresses I bought also came with their own garment bags.
Ashley Martinez
Reviewed On:
2016-09-22 09:00:20
These garment bags are THE BEST THING EVER!!! They're great quality and they fold up easy!!! That never happens with most garment bags. And they have a cool handle on it so it makes packing dresses so much easier. Highly recommend!
hattielmill
Reviewed On:
2016-09-20 14:33:33
The bag is fairly cheap stock but will certainly get the job done. No complaints.
lindseyjayy
Reviewed On:
2016-07-05 10:10:25
Such a nice bag to tote the dress around, as well as store.
clark_shipton_wedding
Reviewed On:
2016-05-16 09:07:04
Nice bags, was a bit disappointed every dress we ordered didn't come with its own bag (1 bag for every 2 dresses) but these were minimal additional cost so worth it to buy a few to make sure every girl has a bag to protect their dress.
whetzel2016
Reviewed On:
2016-04-13 12:15:21
The garment bags are such a nice and convenient addition!