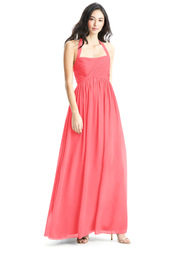 Azazie Francesca
Bridesmaid Dresses
FABRIC: Chiffon
$119
product info

Fun and flirty, this fabulous Chiffon bridesmaid dress is appropriate for any wedding from the beach to the church. Your bridal party will love this sweet Floor-Length Empire dress with a Halter neckline. A pleated detail at the front and back of the flowing skirt makes it perfect for the reception or a city hall wedding. 
rrthomas0612
Reviewed On:
November 19, 2018
Color:
Dark Navy
body type:
Hourglass
Size Ordered:
Custom Size
i did the custom dress since i was 6 months pregnant- fit the bust area, but feels like they just added extra fabric instead of actually adjusting for my measurements, had to have it taken in, and even then its too much material at the waist so you really does not end up look flattering. I even added a belt so that i could create a "waist". I personally would not not rec this dress, just dont believe its very flattering at the end of the day. Comfortable yes however.
Was this review helpful to you?
Teresa Betancourt
Reviewed On:
June 04, 2018
Size Ordered:
A14
Love how easy and so cheap it is to try on dresses all you have to do is pay shipping. So I tried on styles francesca and Kaitlynn. Did not love the Kaitlynn style and loved the Francesca. I only tried those two options because I needed a Taupe color dress that was Bump friendly. And the Francesca dress has enough material perfect for my growing belly. I tried on sizes 10, 12 and 14. Size 12 fit while 3months pregnant and was a bit snug on the chest area. Size 14 fit big in chest area but I am fine getting it fixed since the belly and rib cage area fit perfect its even a couple inches loose in rib cage in case my rib cage expands even more. These are my try on pictures size 14 at 5 months pregnant. In late July I'll be 7 months I'll update with more pictures after the event.
Was this review helpful to you?
alehmann3
Reviewed On:
November 08, 2017
Love, Love, Love the Francesca dress!
Was this review helpful to you?
Jessicayas
Reviewed On:
April 27, 2017
Color:
Grape
Very pretty dress, so glad this try-on service is available. I will be purchasing.
Was this review helpful to you?
Reviewed On:
April 17, 2020
Color:
Watermelon
body type:
Hourglass
Size Ordered:
A12
Great Fit for Maternity Option with larger chest!
Was this review helpful to you?
Lady
Reviewed On:
November 06, 2018
Color:
Dusty Blue
body type:
Pear
Size Ordered:
A4
I ordered size 4 since that's what the size chart said would work according to my measurements. If you don't have a large bust, DON'T buy this dress. The bust line is long---the distance from the top of the bust to the waist is huge, and makes your chest look saggy, while at the same time it fits snuggly. I don't know how that happened! If you are a larger cup-size, it's probably fine.
Was this review helpful to you?
krmiranda14
Reviewed On:
August 09, 2018
This dress was made so poorly. I had to give different measurements that were true to my size because they said that my measurements were incorrect. The dress is very poofy and hs many layers which does not show in the picture with the model. I am very upset, i don't advise anyone to order this dress. I am a 135lbs woman who looks pregnant in this dress.
Was this review helpful to you?
Kelsey
Reviewed On:
August 09, 2018
First of all i had to go through such a hassle to get my measurements in. I was told my measurements could not be what they are, basically telling me my body is dysfunctional. So i sent the measurements that they suggested. I got the dress today and it is majorly poofy, many layers to the dress. But it doesn't look poofy or extra layers in the picture with the model. So it's misleading. i'm absolutely disappointed in the dress. And because it was custom size i can't return it. Won't be shopping here again.
Was this review helpful to you?
Jackie
Reviewed On:
August 01, 2018
Size Ordered:
A2
I ordered this as a sample along with a sample of the Raquel. I'll be buying the Raquel instead over fit issues. I fell in love with the neckline if this dress, but the overall fit was odd on me. If you are not pregnant but have so much as a little tummy or a big meal, this dress may very well make you look pregnant with the high front empire waist (versus the lower waistline in the back) and ruching over the belly. The chest spacing extends to just above the waistline, too, and I could not fill that by far. Plus, the fabric overlay of the bodice puffed up a bit in places unnecessarily. The color and neckline were still beautiful, and this would probably make a very cute maternity dress.
Was this review helpful to you?
Jamie Kuzniar
Reviewed On:
July 25, 2018
Color:
Ocean Blue
Size Ordered:
Custom Size
I ordered his dress off the recommendations for a maternity dress since I will be 6 months pregnant at the wedding. I used the custom sizing as recommended and the dress is huge. It was about 4 inches or more too long (which is crazy since I am 5'11") and the dress was very unflattering. I look about 75 pounds heavier than I am even while being pregnant. I double checked my measurements again and they are spot on. This is a lot of dress and my seamstress basically told me there was nothing she can do without remaking the whole dress due to the excessive gathering. Also the bust is very long and unflattering. I really wish I would have went with a different dress and just sized up, this dress would look unflattering on anyone that is less than 8 months pregnant.
Was this review helpful to you?
fpducanes
Reviewed On:
March 15, 2018
Color:
Dusty Rose
body type:
Pear
Maybe it was the color that didn't make it becoming on me (the dusty rose color) , but it made me look pregnant. Just wasn't the best style for my body type but I bet it would look great on someone way taller!
Was this review helpful to you?
Alyssa M
Reviewed On:
January 03, 2018
body type:
Hourglass
Size Ordered:
A4
This dress was pretty awful... it was WAY too big. I am 5 foot 8 or so, 125 pounds and I ordered the size 4 according to the measurements that are provided, and the fact that I wear a size 4 in all other dresses made me confident in my purchase. Looking at the picture, the waist looks like it is more at your natural waist, to me, but it definitely fits more like an empire waist. This makes some sense since it can also be used as a maternity dress, but I thought that it was still a bit misleading. It also seemed like there was way too much extra fabric - it was like it was catered to a pregnant person rather than being diverse enough for both. This led me to purchase a whole different dress for the wedding rather than a smaller size in this one - I personally think it would make me look much larger even if it fit correctly.
Was this review helpful to you?
lirpa87
Reviewed On:
December 07, 2017
Color:
Grape
Super long, so it had to be hemmed, but I'd rather too long than too short! Great quality dress. Lovely color.
Was this review helpful to you?
belicherry
Reviewed On:
October 18, 2017
Color:
Lilac
such a pretty dress! fits the bridesmaid to a tee!
Was this review helpful to you?
Dlynch330
Reviewed On:
September 16, 2017
Color:
Mulberry
The dress is a good option for maternity (since maternity styles have limited color options). Everything below the empire waist is VERY loose and comfortable and flowy. Before I was pregnant, I tried on the Kaitlynn dress in a size 2 and it was a little snug (the liner is tighter than the outer layer) but fit me well. I decided to order a size 6 to give myself room to grow but wish I had gone to an 8. I am 5 months pregnant (will be about 7 for the wedding) and my bust measurement has gone up more than I was expecting. I forgot to take into consideration that your rib cage expands, not just that you have bigger boobs when pregnant. There is also some boning on the sides that I plan to take out because they poke me.
Was this review helpful to you?
shelbm18
Reviewed On:
July 28, 2017
Color:
Wisteria
This dress is very bulky and horrible. I am taking it to a seamstress to have remade because it is that terrible. I am petite and it makes me look pregnant. I have small boobs and the dress is made for someone with huge boobs. The bust measurement was taken in to fit me but they didnt take into account that someone with small boobs wouldnt need the top section as wide as someone with big boobs. So its tight enough but instead of being a nice empire waist the top of it comes down to the middle of my stomach so it just looks weird. I think if I was the same size but had big full boobs, the dress would look nice.
Was this review helpful to you?
elizabethleigh88
Reviewed On:
May 21, 2017
Color:
Pearl Pink
Very well made dress. I did the custom fit and sadly it still needed some altering, but that was my own fault because my measuring tape had unknowingly gotten stretched out and I was guessing at size since I'd just had a baby. Thankfully, it was constructed well, making the adjustments very simple. Could see where this would be a flattering and comfortable dress for someone who was still pregnant. The halter made it easy to adjust when the size of things changed before/after nursing the baby. Customer service was always prompt and ready to help when I had questions.
Was this review helpful to you?
jhojunk
Reviewed On:
April 25, 2017
Color:
Grape
This dress was a LOT of dress! It would have been perfect if I were pregnant, but it was just a lot of material overall. I am a B cup and it did nothing to fit or flatter my figure. Material was fabulous though and will definitely be ordering a dress from Azazie!!!
Was this review helpful to you?
katherine.r.flaherty
Reviewed On:
April 12, 2017
Color:
Grape
So I ordered this for a home try on. The quality of all the dresses I order were wonderful but for me this one did not work because my chest is narrow and my shoulders are small. It looked very boxy on me, also being 5'4 everything feels big on me :)
Was this review helpful to you?
jcaruso521
Reviewed On:
March 20, 2017
Color:
Stormy
This dress was intentionally bought in a larger size due to being pregnant and unsure of my size at the time of the wedding. The dress was big but the amount of material and bulkiness is definitely unflattering and too much. I'm a petite 5'2", 125lbs. prior to being pregnant and I believe that if I bought it in my normal size, it would have still looked frumpy.
Was this review helpful to you?