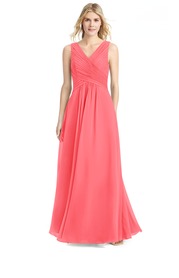 Azazie Flora
Bridesmaid Dress
FABRIC: Chiffon
$129
product info

The chic floor-length bridesmaid dress by Azazie has an A-line/princess cut in a fabulous chiffon. Style Flora features a v neckline, and comes in a full size range (A0-A30). A pleated detail at the front and back of the flowing skirt makes it perfect for the reception or a city hall wedding. Ask a question
meghanncrandall
Reviewed On:
2016-12-20 10:12:14
This dress is even better in person! The color and fit were perfect! I am excited to have this dress as part of my special day!
Christa Smalligan
Reviewed On:
2016-12-05 10:38:51
The dress came in excellent condition, ready to try on. I will be using custom measurements for my dress, but it was nice to know how the size I chose for the sample would fit me (I'm a pear shape- smaller on top than on the bottom - so a size ten was loose on top but perfect on the bottom). I chose two sample styles, and 4/5 friends said I looked best in this one!
Paintgerl
Color:
Royal Blue
Reviewed On:
2017-01-07 13:56:46
I procrastinated opening the box for 2 days. When I finally opened it I was really surprised! My dress was perfect!! I would recommend any bride send her maids to this site to have their dresses made.
allyse.leonard
Reviewed On:
2016-12-29 17:44:55
I ordered this dress with the standard sizing. I fit the dimensions almost exact to the measurements, and liked having the option to return it if I didn't like it, which you can't do with custom sizing. However, the hem is WAY too long for a standard female. I am 5'5" and with my 3" heels, them hem is still 4" too long. The average female is 5'5"-5'7", and a 60" length from hollow to hem is far too long. The color was slightly lighter than online, but will still work for our colors. All in all, I am very happy with this dress but will need some alterations to the length.
Carabeck
Reviewed On:
2016-12-27 06:31:52
I ordered 8 of these Dresses for my Bridesmaids, and they turned out WONDERFUL! I will say i was a little hesitant to order all my bridesmaid dresses from online, but i couldn't ask for better looking dresses, and its Flattering on everyone! I haven't had my wedding yet, but everyone as tried them on and they look amazing!! Also Azazie was wonderful as they emailed and called me to confirm all sizes were correct, Amazing customer service!! Thanks again I will recommend Azazie to everyone!!
s_rahlynn32585
Reviewed On:
2016-12-16 17:47:00
I LOVE this dress!! I am so excited to wear it in my best friends wedding!! And I am 5'9 and normally all dresses are to short but this one is actually to long!! Which is a first for a bridesmaid dress!! So excited!!
lesliecarollancaster
Color:
Daffodil
Reviewed On:
2016-12-16 07:25:23
Highly satisfied! I was nervous about buying from an online site, but went ahead and ordered 5 bridesmaid dresses. Each dress fit true to size and the material was nothing short of excellence. My bridesmaids were truly impressed! The dresses even came with their own hangers and garment bags. I have already told every bride I know about this wonderful company!!!
abigailwelkener4
Reviewed On:
2016-11-25 08:45:11
Custom measurements turned out great. I love the fit and style of the dress. I would recommend this site to anyone!
sophie.p.allen
Color:
Dusk
Reviewed On:
2016-11-11 08:11:57
Great dress, very impressed with quality, packaging etc. Just too small!
ariananicolemiller
Color:
Watermelon
Reviewed On:
2016-11-01 16:29:18
It was a prefect fit and customer service was wonderful because I had to change the color after I ordered it. They did such a great job handling it!
yana.p.paliy
Color:
Dusty Rose
Reviewed On:
2016-10-12 10:08:20
I love the dress, but I think custom sizing should also add a cup size option... The standard is that the bigger the size is the bigger the breasts are. I am a bigger girl, but I do not have big breasts and we had to redo the dress completely...
Rachella.suzanne
Reviewed On:
2016-09-13 10:30:24
The quality of the dress is GREAT! At first, I was not sure if this website is reliable. I decided to order a Flora sample dress. I am beyond more than impressed. I've decided to have Flora as our bridesmaid dress! :) So worth the $10!!