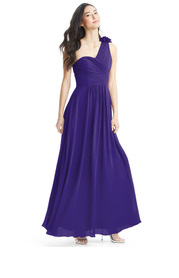 Azazie Erica
Bridesmaid Dress
FABRIC: Chiffon
$119
product info

Fun and flirty, this lux chiffon bridesmaid dress is appropriate for any wedding from the beach to the church. Your bridal party will love this chic floor-length A-line/princess dress with an one neckline. A pleated detail at the front and back of the flowing skirt makes it perfect for the reception or a city hall wedding. Ask a question
amartin759
Reviewed On:
2017-10-10 17:17:34
Customize fit was great decision. It fit like a glove. A little shorter than I would of liked, but overall a beautiful dress and I felt like a million bucks. Keep this site on your top decisions when thinking of ordering online.
kerri.strunk
Reviewed On:
2016-10-07 12:02:29
I ordered this dress for my best friend's wedding. It was the first time I've ordered an important garment online. I admit, I was super nervous at first - but I was pleasantly surprised once it arrived! I did the custom size order, which I highly recommend! IT was perfect and I did not need one alteration made to the dress. It was ready to wear out of the bag. I had read a lot of reviews about it "being too long", even with the custom order. But not mine. It was literally perfect. I wore flats, I'm pretty short too and it was a perfect length already to touch the floor but I wasn't tripping over it all night. I was impressed with the material and make of it! The one strap looked a little concerning in the photos - I wasn't sure how it would stay up on me all night (especially if I happened to slouch), but the way it is made is really nice! There is no way that strap is falling down during the night! It even has little grippies on the inside to hold it in place. In all, I loved this dress, was very happy with the fit, color, make and felt beautiful in it for her big day!
carolyn.holl88
Reviewed On:
2017-08-11 05:21:11
The color was mis-represented online. Royal blue is supposed to be a bright blue and this was a pastel, almost denim looking color. I was disappointed and will not be using Asazie for my dresses.
Sara O'Reilly
Reviewed On:
2017-05-17 08:59:10
Loved this dress. Wore it in Jamaica at my best friend's wedding and even in the heat, it was very comfortable. It's a high quality dress. I used the custom fit option and I did not need to get any alterations. It also had enough support that I did not need to wear a bra, which never happens for me! Fantastic.
Dspadaccini
Reviewed On:
2017-03-27 08:47:30
Color:
Peacock
Fits perfectly- only alteration will be length bridesmaid stands 5'10")
Kelia Caudill
Reviewed On:
2017-02-28 09:39:15
Color:
Steel Grey
I was very happy with the dress I ordered from you. Color was perfect and good quality.
kathryn.brown
Reviewed On:
2017-02-17 05:50:56
This was my least favorite dress of the 3 we have tried so far. I was hesitant to order my first time as it's always scary ordering a dress online but I was pleasantly surprised!! Quality is fantastic, definitely in line with other major bridal retailers. Fabric, stitching, price, everything I was impressed. I only give this 3 stars solely on the style. I found the waistband was cut in a weird spot and kind of made me look like I had a gut.. and the flower really wasn't my thing either, but the style was the Bride's choice. We had such a good experience with Azazie that we did order 2 other styles to try!
Sara O'Reilly
Reviewed On:
2016-11-30 06:29:40
Color:
Pearl Pink
Dress is beautiful and high quality, but I did not properly measure myself as it was too small in some areas. Length absolutely perfect, though. I highly recommend Azazie but I really should have ensured my measurements were correct. I can't blame it on the company because everyone I know has had flawless service from their custom measurements.
nadine.hill
Reviewed On:
2016-02-09 14:02:04
Color:
Spa
This is dress is perfect. I am super satisfied and the color is FANTASTIC. My bridesmaid are going to steal the show. LOVE it!!!
leana11111
Reviewed On:
2015-10-03 11:15:32
Color:
Marigold
measurement was perfect but dress was too long that that to paid extra $$ to get it tailored.
Katrina Byers
Reviewed On:
2015-09-09 20:42:04
Color:
Dusty Rose
OMG! I am so impressed with this company. The dress is spectacular! I was very concerned about purchasing the dress online but I am so glad I did. I did the custom fit option & the dress fits like a charm. The dress also came in a wonderful garment bag which I did not expect. I will be in a wedding and the bride-to-be is so happy with the outcome. I will refer this site to anyone I come in contact with as I thought the entire experience was A+. The prices are economical. The shipping was fast, & the customer service team also addressed any questions I had in a timely manner. Thanks Azazie!
ashanti77987
Reviewed On:
2015-04-03 08:28:11
Color:
Burgundy
Ordered this dress for my maid of honor. It is really beautiful in person and very well made. The color (burgundy) is equivalent to DB's "apple". I'm happy ! Would definitely recommend this dress!
Heidibrannon1
Reviewed On:
2014-12-22 11:29:39
I ordered this dress for my best friend's wedding coming up in June and I have to say it is even prettier in person. Ordering something like this off an online store is always scary so I was pleasantly surprised with the overall quality of the dress and how easy the ordering process was. Seems to fit true to size from other dresses I have ordered as well. Highly recommend!