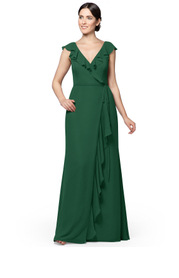 Azazie Emeraude
Bridesmaid Dresses
FABRIC: Chiffon
$89
product info

The charming Floor-Length, Floor-Length bridesmaid dress by azazie has an A-line/Princess cut in an elegant Chiffon. Style Azazie Emeraude features a V-Neck neckline, and comes in a full size range (A0-A30). We love this wrap dress for its universally flattering shape and soft cascading ruffles. 
rckenney15
Reviewed On:
September 22, 2019
I ordered this dress because I will be about 6 weeks postpartum when I wear it in my friend's wedding. It is a true wrap dress, which makes it easily adjustable since my measurements will be a little unpredictable at that time. It also has a small snap at the neckline, so I will be able to breastfeed in it if I need to. I ordered the custom sizing and was very pleased with the fit. I may add another snap at the neckline because the V is a little too deep for my taste. Overall, it is a beautiful dress and I love that it will work for a postpartum/breastfeeding mama!
Was this review helpful to you?
Rnoto94
Reviewed On:
April 19, 2019
Color:
Dusk
Size Ordered:
Custom Size
This dress was the perfect color and overall looks good. It is an actually wrap dress and runs a little big in waist section so I would suggest subtracting an inch or a half from that measurement if doing the custom fit since there is a low risk of it being too small. Also there are enormous breast paddings in the boob area which were not in the spot were my boobs would go at all. I was able to remove them pretty easily, they are attached by thread loosely in the in-seem. The arm holes are also a little snug but that isn't a measurement they ask for. Ordering the different sizes to try on and return may have been a better route than doing custom sizes.
Was this review helpful to you?
charleneturner4
Reviewed On:
August 13, 2020
Color:
Cabernet
Size Ordered:
A18
I am very sad, but I am going to return this dress. I really liked most things about it but... the cups are in a really weird place, no way my boobs could ever reach that height!! I went to get it shortened and have the cups taken out, but it was going to cost almost $150 to get, these two things done! Money wasn't as much the issue, but the seamstress, (the one everyone in town recommend) said it would not lay right without the cups. So I didn't like them in, and she said I wouldn't like them out!
Was this review helpful to you?
myltlfrogs
Reviewed On:
March 15, 2020
Color:
Daffodil
body type:
Hourglass
Size Ordered:
A16
I needed to have the dressed hemmed, and have an additional clasp added at the top due to my chest poking out. Otherwise I received alot of compliments on it.
Was this review helpful to you?
Payton May Werts
Reviewed On:
January 08, 2020
Color:
Stormy
Love the wrap dress! Took a bit to figure out, needs to come with instructions haha. But perfect for breastfeeding! I can't wait to wear this to the upcoming wedding that I am in!
Was this review helpful to you?
rkluberdanz
Reviewed On:
June 04, 2019
Color:
Dusk
I'll admit I must not have read the description completely when I ordered this dress but it is a wrap dress! I chose to do the custom sizing, which I was a little nervous about, but it worked out perfectly. I think even if the waist was slightly off the fact that it's a wrap dress means you can easily cinch the dress in yourself. I'm also large chested and was a little worried about how my cleavage would fair with the deep v but it was perfect. I can easily wear a regular bra and there is a very strong button at the mid-point of the V that seems to hold securely.
Was this review helpful to you?