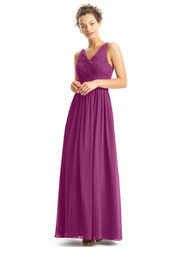 Azazie Elaine
Bridesmaid Dress
FABRIC: Chiffon
$129
product info

Style Elaine by Azazie is a floor-length A-line/princess bridesmaid dress in a gorgeous chiffon. The lovely dress features a v-neck neckline and back zip back style. A pleated detail at the front and back of the flowing skirt makes it perfect for the reception or a city hall wedding. Azazie's Elaine style comes in sizes A0-A30. Ask a question
krausb18
Reviewed On:
2018-06-14 12:43:24
Body Type:
Hourglass
The only thing I can say about this dress is that it was "fine." Nothing special and just looked like a typical plain Jane bridesmaids dress. I felt like the cut didn't do much for my figure (34DDD, 165 lbs, 5'7''). I ended up purchasing the Melinda dress with the Ginger being a close second. This one didn't even compare to the other two.
robnkck
Reviewed On:
2017-12-18 20:05:29
I had the freedom of choosing my own style dress for a friend's wedding this December. I ordered the Elaine style dress in Cabernet after reading reviews and looking at other reviewer's photos. To be honest, I was really skeptical when it came to buying online do to how dresses fit on different people. I did the custom fitting, and it fit AMAZINGLY well for never being measured in person. I used the fitting instructions on the website and gave myself and extra inch on my measurements just to be safe (you can always cut more off, am I right?) The dress shipped sooner than expected, and great fabric for the price. Two of the other bridesmaids ordered their dresses off this site as well, and both were pleased. I would use a azazie again.
June
Reviewed On:
2016-11-03 17:35:42
This was my first time ordering from Azazie and it did not disappoint! The dress is great quality and the shipping was quick. I ordered my regular size and it fit like a glove besides the length! Luckily my mom does alterations but she had to take off a good 6 inches. Regardless I am SO happy with this purchase that I recommended this website for another wedding I'm in. I can't wait to try another dress!
JAYUM
Reviewed On:
2015-12-21 07:45:48
Had to get it hemmed and taken in the bust a bit -- recommend getting custom sizing if you can confirm which dress you want! But Azazie is great if you want to allow bridesmaids to have their own style but in the same color and/or fabric!
colleen.sullivan781
Reviewed On:
2015-08-17 18:12:36
UPDATE: got the dress hemmed and the straps taken it and it fit wonderfully.
kuetersarah77
Reviewed On:
2018-02-28 10:05:24
Color:
Dusty Blue
Body Type:
Hourglass
Size Ordered:
A10
I am usually a 12, but this 10 fit perfectly!
lori
Reviewed On:
2017-08-19 13:52:04
I ordered this dress in the "try it on for $10" section and I am THRILLED I did. I had intended to choose a different color, so also ordered some swatches, which showed all the materials the color was available in. Excellent. The only dress color in my approximate size was Stormy, shown. I fell in LOVE with it and got permission from the bride to wear it (I'm the stepmother of the groom and am 48 and didn't feel comfortable in a matronly dress). It's simple, drapes beautiful, and makes me feel like a princess with the various layers. I ordered it Made to Order as I'm short but sadly stout, so will cover my arms with a silver-gray pashmina shawl off the shoulder, along with silver Tango shoes from dance class. The Tahitian pearls my husband bought for our 15th wedding anniversary will be excellent with this, and I'm a jewelry designer by trade, so I will adorn that with a simple crystal pendant and crystal earrings and bracelet. I haven't received my Custom Made dress yet, but I'm excited!
Heather
Reviewed On:
2017-08-17 19:18:50
Great quality dress. Could be worn without a bra if fitted well. The bodice is nicely structured and provides a moderate amount of coverage. Straps in the back are about a 1/2 inch thick. Dress flows out at the waist, providing coverage in the gut area. I chose to do the custom fit option. When I took my measurements I added a couple of inches to be safe. The dress required some alterations (taken in at the sides and straps shortened), which I should be reimbursed for once I submit my receipt. Dress came at the perfect length and the lavender color is beautiful!
T
Reviewed On:
2017-06-06 18:33:41
Color:
Dusty Blue
The dress arrived earlier than the estimate stated and was exactly as pictured. The quality of the material and stitching was excellent and well worth the price, especially considering that custom sizing was available at no extra cost (they will even reimburse alterations if needed). I am a very petite woman so it is usually hard to find clothes that work for me but this dress fit like a glove. There was an issue with the zipper on my dress where the metal pull was warped and stuck irreparably when I put it on. It was basically impossible to notice without wearing the dress, so I really can't hold it against Azazie QA. Customer service was very prompt in their response and perfectly pleasant to deal with and they solved my zipper issue as quickly and painlessly as possible. I was a little nervous ordering online but after seeing the quality of the dress and how excellent their customer service is I would absolutely order from them again.
Jessica Franchesca Carter
Reviewed On:
2017-03-28 07:35:46
Color:
Blushing Pink
I got is sized to my measurements. the chest area is a little off like the cups are a little too high. Other than that it fits nicely.
SHERRYLMCNEAL
Reviewed On:
2017-03-16 18:55:21
Color:
Gold
dress fits beautiful, flows lovely. right size right length.
karli.hedstrom
Reviewed On:
2016-01-29 18:57:09
I am so satisfied with my purchase. I am thin-athletic build but tend to hold my weight in my stomach. This dress is very flattering. The bust is very structured and slightly padded so no bra necessary underneath and not too revealing. I bent over a little bit and the girls were still well covered. The wrap effect from the waist is very nice. For me, its quite fitted around the slimmest part of my waist and seamlessly flows from there creating a long line. I read the reviews and did custom fitting so submitted measurements that were on the small side for bust and short side for height and hollow to floor ( meaning if the tape landed on a .5 I rounded down instead of up). It came out perfectly (slightly long without heels). I won't be doing any extra tailoring or hemming though.
katiearm.ka
Reviewed On:
2015-11-24 06:48:12
Color:
Ocean Blue
Beautiful and well made dress! I ordered custom sizing as my measurements came up with 3 different sizes, and it fits almost perfectly. The only alterations I'll need to make are to shorten the straps a hair, and maybe hem it a little, but the body measurements are spot on!
colleen.sullivan781
Reviewed On:
2015-07-10 09:48:06
Color:
Red
I was sad to see that this dress does not come as a sample, so I ordered 4 other sample dresses in a size 4, 6, or 8, in order to get a feel for that this dress would be like. I discovered that the waist of a size 8 and the bust of a size 6 was what I needed, and would not be able to order an exact size. I am 5'9, 135lbs, and have a size B cup with a 34in bust. I was a little nervous ordering a custom size, because I couldn't try it on or return it, but the dress actually fits really well! It's made well and the material is very nice. I will have to bring it in to be hemmed, it is about an inch or two too long, but Azazie does pay up to $50 in alterations for this dress. I also can't decide if the shoulder straps are just a bit too long, I may or may not have those shortened 1/4 an inch or so. Overall, I am very happy with the dress and the company. Sample dresses arrived within 10 days of ordering them, returning them was very simple, and my custom dress arrived within 3 weeks of being ordered. In total, with my dress, the sample dresses, and tax, I paid just under $185. Not bad for a dress that I have to buy.