Azazie Dua Jumpsuit Reviews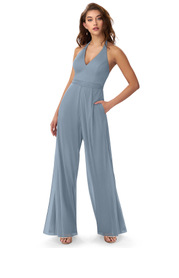 Azazie Dua Jumpsuit
Bridesmaid Dresses
FABRIC: Mesh
$99
product info

Fun and flirty, this lux Mesh bridesmaid dress is appropriate for any wedding from the beach to the church. Your bridal party will love this attractive Floor-Length Pant Suit dress with a V-Neck neckline.  
Photo Reviews (5)
Newest Reviews
Ratings
Helpfulness
alyssa_rouhier
Reviewed On:
April 9, 2022
Color:
Steel Grey
This jumpsuit was awful. The top part is not flattering at all. I was excited to get this but as soon as I put it on I found myself in tears. There is so much fabric in the leg part and the fit is huge. The zipper gets stuck at the seam and I had to get another dress to change into so I could use the bathroom. My friend was nice enough to have it altered for me. The seamstress ended up changing the entire Jumpsuit taking off so much fabric, the alterations cost more than the jumpsuit. I do not recommend this jumpsuit. The first picture is right out of the box and the second is the jumpsuit pinned at alterations. She changed the neckline added straps and took a lot in from the pants.
Lucy
Reviewed On:
September 7, 2020
Color:
Cabernet
I'm hourglass shaped with big hips and so jumpsuits are iffy for me, but I took a chance on this one and LOVE it! The waistline hits me perfectly, the halter is super flattering and holds me in with no bra, my legs look super long, and it is just all around such a fun look. The only thing that is kind of weird is the belt/tie part is soooo long that I have to wrap it around like four times. I usually wear a size 6 or 8 depending upon how fitted things are in the hips - I went with an 8 in this and other than needing a hem it won't need any alterations.
Francis.Kayla05
Reviewed On:
March 15, 2020
The fit was good but I did have to get the neck strap altered. Overall the jumpsuit was very comfortable.
tanzamarie0
Reviewed On:
February 23, 2020
I loved that this was a jump