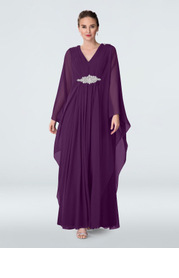 Azazie Drew MBD
Mother of the Bride Dresses
FABRIC: Chiffon
$136
product info

Dress Azazie Drew MBD by azazie is a fabulous Chiffon mother of the bride dress featuring a V-Neck neckline on a Floor-Length A-line/Princess skirt. The back of the gown is finished with Back Zip back style. Available in sizes A0-A30 at azazie. A pleated detail at the front and back of the flowing skirt makes it perfect for the reception or a city hall wedding. 
bronwynminin
Reviewed On:
January 08, 2020
I have NEVER EVER received as many compliments as I did when I wore this dress to my step-sons wedding on 01/03/2020. I had it custom made: it arrived on time, fit perfectly and I felt like a movie star wearing it!
Was this review helpful to you?
8geysers
Reviewed On:
April 30, 2019
Color:
Dusty Blue
STUNNING!!! I can't say enough good about this company!!!!!! Will definatly be buying more from them!
Was this review helpful to you?
kelly
Reviewed On:
November 20, 2020
Color:
Cabernet
Beautiful flowy dress, perfect for a mature woman. I would recommend this dress as well as Azazie.
Was this review helpful to you?
trumankidzoo
Reviewed On:
July 26, 2020
Color:
Royal Blue
Beautiful details and design. It ran quite large on me. If you are a pear shape order to your bust because the skirt has plenty of fullness.
Was this review helpful to you?
ginaguenthardt24
Reviewed On:
July 16, 2020
Color:
Royal Blue
Looked good on. Just too much with the attached sleeves, like wings.
Was this review helpful to you?
LuAnn Hunt
Reviewed On:
March 19, 2020
Color:
Royal Blue
I tried on a bunch of dresses and was getting very disappointed when I put the last one on and it was the " Drew" .. I fell in love with it immediately and I have ordered it for my step daughter's wedding in November in Peacock .. it is simply a gorgeous dress and VERY comfortable !!
Was this review helpful to you?
Babsdarlington
Reviewed On:
March 08, 2019
Color:
Steel Grey
This company is AMAZING!! I ordered 3 sample dresses to try on. The order and return process was very simple. Dresses arrived quickly and they were in pristine condition for me to try on. When I placed the order for my actual dress, I should have ordered one size up from my normal size but I didn't. Totally my fault. The dress was too small so I had to return and order the larger size. The return process was simple and hassle free. I received my credit in a very timely manner. I knew that Azazie had an eight week production/delivery time so I was really cutting it close to the date of my daughter's wedding when I ordered the 2nd dress! After about four weeks, my nerves were getting the best of me so I called Azazie to check on the status. I actually got to speak to a live person and didn't have to punch 100 numbers to get to her!!! Her professionalism, empathy and follow up skills were off the charts! I received both phone calls and emails from her keeping me updated and calm. She was able to move the process along for me so that I will receive my dress in plenty of time for the wedding! I HIGHLY reccommend purchasing from this company! You will NOT regret it!!
Was this review helpful to you?