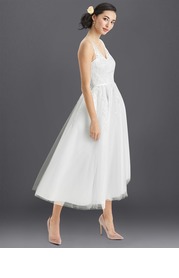 Azazie Dolores BG
Wedding Dress
FABRIC: Satin, Tulle and Lace
$199
product info

Dress Dolores BG by Azazie is a lux satin, tulle and lace bridal gown featuring an illusion neckline on a tea-length A-line skirt. The back of the gown is finished with illusion back style. Available in sizes WD0-WD30 at Azazie. Fine lace covers a fitted bodice above the skirt, this perfect maids frock has a dash of romance. Ask a question
Refine Reviews By:
Sort By:
Ratings (Show High to Low)
Helpfulness (Show High to Low)
Michelle McGrady
Reviewed On:
October 10, 2017
First things first, PAY ATTENTION TO THE PRODUCTION TIME! I made the GIANT mistake of misreading it and I just barely received my dress on time! My wedding was October 7th, my dress was set to be delivered October 5th-12th! I was SO nervous but Azazie's team was there to answer my questions and help every time I messaged them about the status of my dress (which was often). They helped me get my dress two weeks before my wedding (instead of two days!) I was able to have a few alterations done and it was absolutely perfect in every way! I'm plus size, 26/28 so I ordered this dress when they offered it as a sample in WD26. It fit great so I knew what to order when it was time to order it for real. It arrived just right (inside out actually for some reason, so I got a little scared when I opened the bag and didn't see lace!). I could've worn it right out of the bag but I decided to alter a few things since I had time. My chest didn't fill it out at a 38C so I had push up cups added, some boning taken out and the straps shortened a bit. It also came with a small piece of lace lose, so my seamstress just had to tack it down. It was extremely comfortable all day up until about the last hour when some of the boning started digging into my underarm, but that was my only complaint. Everyone was in awe of how beautiful it was, people couldn't stop complimenting it and my choice to go with a short dress. Overall, due to my own mistake, my experience with Azazie was stressful but they did everything they could to help! I couldn't ask for a better dress, especially for the price!
Was this review helpful to you?
kristin.josephson
Reviewed On:
January 12, 2016
This dress nearly became my wedding dress. The two problems I had with it: The straps were too long, so they would have needed significant shortening to fit well, and the waist was too high; with shortened straps it would have been 3 or 4 inches above where I would have wanted it to fall. I wish you could adjust lengths with custom sizing, not just widths.
Was this review helpful to you?
Natalie Collier
Reviewed On:
June 08, 2015
Wearing the Paris wedding dress ! Loved it. Thank you for making a perfect dress for me !
Was this review helpful to you?
Alissa
Reviewed On:
October 29, 2018
Size Ordered:
WD8
This was the first sample dress I ordered from Azazie and I LOVED it! I ordered a WD8 sample (I'm normally a size 4 or 6: 5'5", 140 lbs) and it fit perfectly (see the first two pictures), so I ordered that size for my actual wedding dress (see last picture)! I cannot say enough about Azazie. The process of ordering samples and returning them was super easy. I was also impressed with the turn-around time after purchasing my actual dress; there was exactly a month between ordering and receiving the email that it was on its way to me! As a bride who is not interested in the typical process of picking out a wedding dress, I'm so glad that I found this site! I thought I'd end up with a dress from a department store, but because of Azazie I was able to get (and afford) an actual wedding dress of great quality!
Was this review helpful to you?
karinakimberlee
Reviewed On:
October 16, 2018
Body Type:
Pear
I wanted to love this dress but maybe because of my height, this looked more like a first communion dress on me then a wedding dress. It was very comfortable and soft, although the sizing was a bit off.
Was this review helpful to you?
Jen Steen
Reviewed On:
November 06, 2017
I LOVED my Dolores wedding gown. I did the sample trial and then ordered a custom size. It fit perfectly, and I did not have to have it altered at all. I got so many compliments on the dress, and felt so beautiful all day. The dress was light and comfortable, but very well made with boning, layers, and a sturdy zipper. I wore pink spanx boy shorts and nothing else under the dress...and my 40Cs looked great still. A fun surprise when my husband twirled me during our first dance was how the skirt twirled with me! I couldn't have picked a more perfect dress for my day...it even looked good with rain boots for outdoor pictures in the rain!
Was this review helpful to you?
k8tstanton
Reviewed On:
August 27, 2017
I finally get to write my review (post-wedding)! This is the most well made, beautiful dress I've ever worn! It fit perfectly on my average height (5'4") figure. I'm about 150lbs, 32" waist, and "c" cup. Didn't need to wear a bra with it. The boning in the corset is very hearty. I added a belt. It was also so comfortable! Arrived in a nice garnet bag. Tried a sample before purchasing, which was such an amazing deal! Very impressed with my wedding gown! Felt the most beautiful that I've ever felt in my life!
Was this review helpful to you?
tofu72013
Reviewed On:
March 02, 2017
Tried this as a sample at home and it is absolutely going to be my wedding dress! Just need to order a larger size, but the details are so beautiful and I fell in love with it instantly! Would definitely recommend Azazie to all my friends - the try-at-home worked out amazing and the customer service is wonderful <3
Was this review helpful to you?
jenbargardi
Reviewed On:
February 21, 2017
I tried the sample of this dress and it will be my wedding dress! I wear a street size of a 16, and the 22 sample that was sent to me almost fit, just a bit large in the waist and bust. I have big hips and a larger frame and was afraid this would make me look wide, but it was perfect! Made my waist looked tiny. The illusion neckline is gorgeous. My mother and step-mother could not believe the quality and were shocked to learn that the dress only cost $199! It is beautiful. Heavy enough to feel well-made and quality, but light enough to dance the night away! I also LOVE that I do not need to wear a bra or any crazy tummy-holding-in lingerie with it (I am a 36C). I can't wait to wear this dress in October! I think that if you are worried about the skirt being too full, you could remove a layer of crinoline and it would be fine, but the dress is very well-proportioned as is. I will post pics when I get my custom fit dress.
Was this review helpful to you?
jordankochanski
Reviewed On:
January 01, 2017
The dress was beautiful, the straps were a bit long but everything else was perfect, so glad I was able to wear this very affordable dress for my big day!
Was this review helpful to you?
aburkhart1993
Reviewed On:
August 01, 2016
So impressed with AZAZIE. Ordered my wedding dress and all of my bridesmaid's dresses. Excellent fit (we did the custom measurements which is a great FREE feature), timely delivery, excellent prices, huge color selection, and great quality. Couldn't have been more pleased! Would highly recommend AZAZIE.
Was this review helpful to you?
Kjenne0904
Reviewed On:
June 10, 2016
I could not love this dress more. Custom sizing was perfect and the customer service provided from start to finish by the wonderful people at Azazie was more than I could have asked for all the way down to the handwritten note included with my dress.
Was this review helpful to you?
kmarie613
Reviewed On:
February 02, 2016
Gorgeous dress! the detail is beautiful and it has a nice, solid weight to it. The fabric is beautiful. The built in corset/bra was nice, but i need more shape so I will need to wear a bra underneath. Nice length, too! Im 95% sure this is my dress!!
Was this review helpful to you?