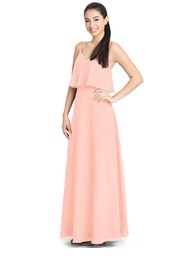 Azazie Desiree
Bridesmaid Dress
FABRIC: Chiffon
$99
product info

Fun and flirty, this concise chiffon bridesmaid dress is appropriate for any wedding from the beach to the church. Your bridal party will love this fantastic floor-length A-line/princess dress with a v-neck neckline. Ask a question
skrms
Reviewed On:
2018-07-13 09:52:16
Body Type:
Hourglass
Size Ordered:
A4
Okay dress. As others have mentioned, the top layer is very see-through and you can see boning from the layer underneath. I also found that the bottom of this dress wrinkled/had small tears very easily. I've bought other dresses from this site before that stood up to basic travel much more easily. The straps are braided in the front, which is a nice detail, but like others, I found them to be too long and my seamstress told me they were uneven/different lengths to begin with.
apveljkovic
Reviewed On:
2018-07-11 07:47:11
Body Type:
Straight
Size Ordered:
A4
The idea of the dress is cute. When I got it, I realized the chest is wired very odd, its very wide in the waist and hip area, and the straps are falling off my shoulders. Also, there are one too many layers. Overall a good dress, but a lot of work will need to be done depending on the look and feel you want.
mojunk93
Reviewed On:
2018-07-02 08:30:32
Color:
Dark Navy
Body Type:
Straight
Size Ordered:
A4
Fit perfect, really nice quality
julieschneider2018
Reviewed On:
2018-06-19 16:20:24
Color:
Lemon
Body Type:
Pear
Size Ordered:
A0
The concept of the dress is cute, and the color looks great on. I love the braided straps. Size 0 is huge, though, compared to other typically 0-sized dresses. The cut is also unflattering, as it goes outward near the hips. I am using a sewing machine to alter it because there are no smaller sizes.
Brett Taber
Reviewed On:
2018-05-21 08:53:30
Color:
Dusty Sage
Body Type:
Hourglass
Size Ordered:
Custom Size
The dress is beautiful and great quality, but I ordered a custom size and it is far to wide through the chest and body. I am planning on getting it altered. Otherwise it is as pictured. I am fairly large chested and don't think I'll need to wear a bra. It would be a challenge anyways since the back is pretty low.
acmaceri
Reviewed On:
2018-05-18 19:59:02
Color:
Wisteria
Size Ordered:
Custom Size
I ordered this dress custom size, and I ended up having to get two inches taken in in the hips. The dress may be better to buy as a regular size if alterations will still be needed. The frill around the top was also altered to give less of a widened appearance. The color is true to the picture. Material is heavier than expected but still feels ok.
tbuske3
Reviewed On:
2018-05-18 07:28:18
Color:
Burgundy
Size Ordered:
Custom Size
Decided to do a custom order and it was a perfect fit! The dress came quickly
Hannah
Reviewed On:
2018-05-16 08:14:48
Color:
Cabernet
Body Type:
Pear
Size Ordered:
A4
Nice quality dress! It fit perfectly except for the straps on the back will have to be shortened.
Erica G.
Reviewed On:
2018-05-13 15:41:23
Color:
Watermelon
Body Type:
Pear
Size Ordered:
Custom Size
When I saw this dress appear online I was excited, after searching for months it fit the color & fabric criteria I was given and I thought this one was the best I'd seen. I chose to do the custom size because I had a tape measure & it seemed like a great way to avoid taking the dress to get altered. When I received the dress I tried it on immediately. I am a 32 B so the bodice top fits appropriately, not too tight & just loose enough that I can eat a bunch at the wedding. The strap length fit well and was braided which is a nice detail. The straps do not have the ability to adjust. The bodice included a ribbon underneath the frilly layer, which I find unnecessary. Also, the structure of the dress in the front along the chest is pretty visible, even under the frilly layer. On the plus side, the structure is sturdy enough that I will not need to wear a bra. In addition to everything else, I also enjoyed that the YKK zipper was sturdy. Not like those 'I can barely grasp this while I'm trying to zip myself in' type zippers which have a toggle the size of a grain of rice. However, I wasn't really happy with the size of the bottom portion of the dress. I am pear-shaped so I wanted balance, but this dress makes me look even more bottom heavy than I am. It makes me look like Squidward when he ate all those Krabby Patties. When I put my measurement into the custom sizing upon order I thought the bottom of the dress would be loose, but not ballooning! I'd suggest taking off 5 inches of your hip measurement if you're thinking of ordering this dress, I wish I had. Overall, I'm happy with the dress. I may take it to get altered, but beside that it's fine. I guess I can eat a lot at the wedding and no one will notice. Here are a few other things people might find helpful: The tag says 'made in China'. The estimated order time was on target. The dress came on a hanger and covered in plastic- great for storage for later. On top of this dress being very affordable for a bridesmaid's dress, I got a student discount- Thank you Azazie!
asya.m.claflin
Reviewed On:
2018-04-25 16:11:14
Color:
Cabernet
Body Type:
Straight
Size Ordered:
A4
Not a fan of the wire in the top, wish that had been advertised. Going to have to get the wires taken out and the straps will have to be let out. Also will need get it hemmed as it is extremely long.
nicolee
Reviewed On:
2018-04-04 08:08:48
Couldn't believe this dress was only $99. Fit great, well-lined, and the straps are super cute. Definitely would recommend to other bridesmaids.