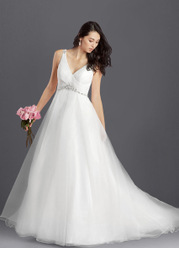 Azazie Delilah BG
Wedding Dress
FABRIC: Organza
$349
product info

Dress Delilah BG by Azazie is a simple organza bridal gown featuring a v-neck neckline on a chapel train ball-gown skirt. The back of the gown is finished with back zip back style. Available in sizes WD0-WD30 at Azazie. A pleated detail at the front and back of the flowing skirt makes it perfect for the reception or a city hall wedding. Ask a question
Azazie Stylist Review
Reviewed On:
2017-10-09 17:41:58
Height: 5'7.5" Body Type: Pear Shaped Size worn: 4 Usual Size worn: 6 This is my favorite, I wanna wear this to the grocery store! It feels really comfortable, I love the straps on this because the straps feel really secure. I love the embellishments and I love how flowy it is. I feel like it's a princess dream dress. I feel it is really high quality and the layers really emphasize the poofiness that I would get from something that costs a million bucks, which this doesn't.
Azazie Team Review
Reviewed On:
2017-10-09 15:59:13
Height: 5'3" Body Type: Round Size worn: 24 Usual Size worn: 22/24 I like this dress but I am not into ball gowns. I love the bust, and bodice. I like the v neckline and I love the organza. I feel really supported, especially with a corset. I feel like the neckline really works for my body type, but it is a lot of dress and a lot of skirt.
Azazie Stylist Review
Reviewed On:
2017-10-05 13:47:02
Bust: 37.5" " Waist: 32" Hips: 42.5" Body Type: Hourglass, more hips Size worn: 12 Usual Size worn: 10/12 Too much cleavage for my personal style especially because of the corset back, it is a lot of skirt. I feel comfortable, not weighed down. I feel it is really nice, I didn't expect it to feel so sturdy, especially without a bra. I don't feel comfortable without a bra.
dcarpino
Reviewed On:
2018-06-22 12:37:48
Body Type:
Apple
Ordered this in the sample program...love it and will be ordering as my wedding dress! The sample size was a little bigger than I will actually need, but since I'm between sizes, I wanted to try something I could get on, even if I had to clip the back to see how it looks. I will order custom sizing, probably at the end of the summer for my wedding in March, since I'm still losing weight. Custom sizing should make the skirt a little less overwhelming, since I'm also short (almost the same height as the dress), and the cups were large but it was 2 sizes bigger than my bust measurement. Also, I was surprised to find that the straps are adjustable...there's 2 rows of hooks in the back to connect them. Nothing wrong with that in general, but they didn't hold great in trying it on, so when I get my dress I'll have a seamstress actually tack them down.
Sashepperd
Reviewed On:
2018-04-10 20:44:54
Body Type:
Pear
The dress was gorgeous. I didn't measure myself before I ordered but the skirt and the bust was a bit big.