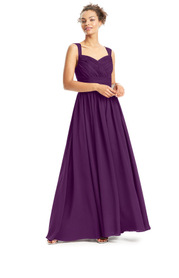 Azazie Dara
Bridesmaid Dresses
FABRIC: Chiffon
$129
product info

Fun and flirty, this simple Chiffon bridesmaid dress is appropriate for any wedding from the beach to the church. Your bridal party will love this charming Floor-Length A-line/Princess dress with a Sweetheart, Illusion neckline. Whether you dress it up with statement jewelry or down with flats and a cardigan, it epitomizes timeless beauty. 
Tmbarry13
Reviewed On:
July 30, 2019
I loved my dress! I did need some alterations for the shoulders and hem, but I'm 5'3 on a good day, so that's the story of my life. I got so many compliments.
Was this review helpful to you?
morleya902
Reviewed On:
September 22, 2017
The dress was pretty great! I ordered it in watermelon and did the custom sizing option. The dress arrived very quickly, it only took 3 weeks from the day I ordered to the day it arrived at my door! The color was exactly as expected; it matched the original color swatch we ordered. The fit was nearly perfect; it was just a tad too long, but that's an easy fix. Just a heads up for others considering this dress, it does have a very high neck line (higher than it appears in the pictures on the model). And, the zipper does tend to get a little stuck when it gets to the ruching, so you have to be very careful. Overall I'm happy with the purchase!
Was this review helpful to you?
laurakay14
Reviewed On:
June 12, 2017
I absolutely loved this dress on my bridesmaids! It was really easy to order sample dresses and swatches to get the perfect color. I originally went with Azazie because I couldn't find the color I wanted anywhere else. I am so glad I went with them! They made it very easy and I custom ordered all of the dresses so they would fit all different body types. Several of my bridesmaids were pregnant so we had to guess on size but the dress was very forgiving and gave extra room for their growing bellies. It was also nice that they reimburse for alterations that are needed on custom dresses to defray the cost. I would definitely recommend this company and this dress because it was gorgeous!!
Was this review helpful to you?
justynaolivia2013
Reviewed On:
May 08, 2017
Color:
Mulberry
The dress was wonderful! I ordered my three bridesmaids dresses from here and they came earlier than expected and in perfect condition! I did a TON on searching for good quality and good priced dresses and Azazie is by far the best option out there! The dress is very high quality, and the fit was very good, a bit big in the chest but if you wear a padded bra it will be fine! We were very happy with out purchase, I would always recommend getting the color swatches before hand though because some of the colors do look a bit different in person than on your computer screen! The mulberry is a lighter wine color, more on the pink side, and the Cabernet is a deep wine color, not red. If you want a deep true red get the burgundy!
Was this review helpful to you?
klouseehew
Reviewed On:
February 03, 2020
Color:
Wisteria
body type:
Straight
Size Ordered:
A6
The dress fits very nearly perfectly and the color is lovely. The only minor issue is the length is a bit too long. Even with heels it will sweep the floor. Having an option to select length would be a good idea. Other than that, it is great!
Was this review helpful to you?
emilybarrettphotography
Reviewed On:
January 08, 2019
Color:
Mist
body type:
Straight
Beautiful dress it was looks a feels like it should cost more then it does.
Was this review helpful to you?
lrplace
Reviewed On:
September 26, 2018
I wanted my girls to wear dresses that didn't cost a fortune and that made them look and feel even more beautiful than they already are! Azazie came through for me and my girls. After a simple process of ordering a few color swatches, I knew that I wanted my girls in dusty blue. I wanted them each to pick out a style that they liked and felt comfortable in and there were so many great choices available. My sister-in-law was pregnant for the wedding and Azazie was very helpful in suggesting a few styles that would accommodate the growing baby bump and offered tips on taking measurements to make sure the dress would fit three months after ordering. The custom sizing option worked out great, the girls that did it had dresses that fit them like gloves. The dresses came in quicker than estimated and were packaged very nicely upon arrival. Overall, the Azazie dresses were beautiful, affordable, comfortable and hands down a great choice! The following are the five styles the girls chose: Ginger, Keyla, Kaitlynn, Melinda and Dara.
Was this review helpful to you?
M
Reviewed On:
August 15, 2018
Color:
Vintage Mauve
Size Ordered:
Custom size
Dress material and look is good but fits really large or they didn't follow my custom size. I ordered by custom size but it came huge. Length was ok, exact what i asked but waist and bust is huge. I measured myself on bare skin, with no bra now dress is still huge with push up bra. I wear 36B. Now I need to alter it. Also custom tax was pretty high too.
Was this review helpful to you?
trishbyrd67
Reviewed On:
August 01, 2018
Color:
Steel Grey
body type:
Hourglass
Love the dress and color. The 10 was a little large in the bust. I had ordered another dress in an 8 and it was a little small I. The bust.... a 9 would be perfect. Great quality! Can't wait to wear.
Was this review helpful to you?
clc5361
Reviewed On:
May 15, 2018
Color:
Sky Blue
body type:
Pear
I loved the fit of the Dara dress, but it looked a bit matronly. While I do have a 34DDD chest, the style of the fabric on the chest made it look even larger than it already is (not sure how that happened!). While it wasn't the dress for me, the quality was great and the fit was superb. I would still definitely recommend to someone else who is looking for a bit more coverage.
Was this review helpful to you?
kalykohler
Reviewed On:
April 22, 2018
Color:
Stormy
body type:
Hourglass
Beautiful dress. I am a bit busty and was nervous about this neckline, but it hit perfectly. It was not too high or low cut. Additionally, my bust measurements placed me 2 sizes larger (A14) than what I ordered (A10), but I went off the rest of my measurements and it fit everywhere perfectly. It was also very well made with nice fabric and shape.
Was this review helpful to you?
lori.lynn.13
Reviewed On:
February 03, 2018
Color:
Black
Size Ordered:
A10
Beautiful. I'm always apprehensive about ordering clothes online. However, the quality is great the dress is gorgeous. Came in on time, fits great!
Was this review helpful to you?
kayla.adcox
Reviewed On:
November 22, 2017
Tried on dress several times, fit great no issues. Day of wedding 3 out of 5 dresses have issues. 2 zippers bust out hours before our lucky lady walks the aisle and 1 strap is half ripped off. Not just a coincidence and took extensive time to find a fix.
Was this review helpful to you?
Elizabeth Kelly
Reviewed On:
October 10, 2017
Color:
Red
I love my dresses every time I order from Azazie. With custom sizing the dresses fit perfectly without having to worry about any alterations. My dress came 3 weeks early and looks great!
Was this review helpful to you?
shannonrklein
Reviewed On:
September 19, 2017
Color:
Dusty Blue
Though my measurements matched those of a standard size, the dress still didn't quite fit right. There was extra material around my ribs that I needed to take in. Also, the neckline comes up higher than it appears in the pictures on the models, so the space for my breasts was a little high--another thing I had to try to get altered. Because I happened to match a standard size, the free alterations promoted on this site did not apply to me.
Was this review helpful to you?
Kristen
Reviewed On:
August 10, 2017
Loved this dress in the pictures listed here. The cut was very strange to me in person. The neck line is very high up making the whole fit of the dress seem off. Tons of fabric layers so it almost looks pleated and matronly. Length was great (I am 5 9). And grape color was very pretty too. Decided to exchange for another dress.
Was this review helpful to you?
Lupita1470
Reviewed On:
June 26, 2017
I love it
Was this review helpful to you?
mh
Reviewed On:
June 22, 2017
Color:
Dark Navy
Even though this dress did not end up working for me from a fit perspective, I can say that this was because of me, not because of the dress itself, which is very well-constructed, beautiful, and clearly well made. My experience returning the dress was fantastic and I would happily order from Azazie again, next time I need something stunning!
Was this review helpful to you?
cpratt
Reviewed On:
June 05, 2017
Color:
Ink Blue
The dress is beautiful although, unless you are 6+ feet tall or wearing stilts, it will definitely need hemmed. The thing that impressed me the most with this company is I was in a desperate situation with timing and they worked VERY hard to make sure I got the dress in plenty of time before the wedding to allow for any alterations that may be needed - but most importantly one less thing for the bride, and me, to worry about. Can't thank you enough for going way above and beyond to get it done!
Was this review helpful to you?
bh90
Reviewed On:
May 29, 2017
If you have any doubts, go with the custom sizing. It may take a bit longer, but if you have the time its 100% worth it. My dress not only arrived a whole month before the expected date, but it fits perfectly. I normally need a bra, but this dress fits so well, and is so supportive in the chest, that I don't need to wear a bra, which is great since it has a sheer back. It's very flattering and I love the details, like the little crystal button on the back. The quality of the dress is really nice too. Since we won't be wearing heels, I subtracted one inch from the length since it's a floor length gown. I'm really glad I did, because I didn't want it to hit the floor. My two main tips for ordering would be 1. Do custom sizing. 2. Order fabric swatches, because the colors are very different in person. Overall, I'm very satisfied with this dress. After the wedding I'll add photos.
Was this review helpful to you?