Azazie Cynthia BG Reviews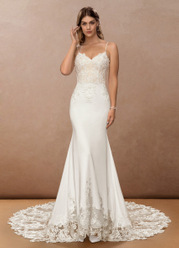 Azazie Cynthia BG
Wedding Dresses
FABRIC: Satin
$449
product info

This Cathedral Train, Trumpet/Mermaid dress by azazie is constructed in a faddish Satin, Tulle, Lace. Azazie Cynthia BG features a Back Zip back style and a Sweetheart neckline. Azazie Cynthia BG by azazie comes in sizes WD0-WD30. Fine lace covers a fitted bodice above the skirt, this perfect maids frock has a dash of romance. 
sarah parkinson
Reviewed On:
August 06, 2020
Color:
Diamond White/champagne
So worth it!! Absolutely love the fit. I have big hips but a skinny waste so I needed to get the top altered. Other than that, it fit very well. A very flattering dress if you have curves. Great material as well. 10/10 recommendation!
Was this review helpful to you?
thecrafter44
Reviewed On:
June 13, 2019
Color:
Diamond White/champagne
The dress is gorgeous, stunning, beautiful, and I just can't say enough about it. The detail on the dress is exquisitely sewn. I love the lace, flowers, and the flowing attached train. The bodice was especially captivating with the beige background and overlay of netting, lace, and designs. The lace train flowed wonderfully behind me as I walked across my bedroom. The fit is odd going by the chart Azazie says to use, I'm only a size 18, but I need a bigger size than that to cover my girls and wide hips. So I got a size 22 which was ample but not too huge. Shipping took a little longer than I thought, but I got the dress and mailed it back and Azazie processed the return eventually, so all is good. I found out the price of this dress is over my budget, so although I loved it, I will not be buying this one. I will find one to purchase if I die trying!!! I love these dresses and I will do the try at home again soon.
Was this review helpful to you?
kr
Reviewed On:
May 31, 2019
Color:
Diamond White/champagne
I tried on this dress through the home try-on program and decided to go with a custom measurement for my actual order (mostly for length!). Azazie totally nailed it!!! I had customer service help me in choosing the garment measurements from my actual body measurements: my advice is to follow their recommendations closely and add in "wiggle room" to your measurements. My dress fits like a glove and is super comfortable! Can't wait to wear this dress at my wedding! Ps: my dress arrived exactly on time!
Was this review helpful to you?
A.tran2088
Reviewed On:
November 10, 2020
Color:
Diamond White
- excellent material quality, colour - incredible customer service - returns are seamless I had bought this dress hoping to avoid the in-person boutique process and to save some money. The dress itself is beautiful, material seems to be high quality (thickness, colour) and exactly as shown in the pictures. Unfortunately I was unlucky to find minor issues. My first purchase the dress had a few snags. Azazie offered multiple options (partial refund, return, exchange). If I had purchased a dress at lower cost I may have kept it and dealt with the small snags however the Cynthia dress is one of the more expensive ones so I requested an exchange. The second dress unfortunately had cup deformity which didn't look like it could be fixed by a seamstress. Through pictures Azazie believes it may have been caused by shipping. Ultimately I returned the dress since this is a large purchase and I didn't want to deal with another wait. Despite the returns I will definitely be back as a customer for bridesmaid dress as I was very impressed with the overall quality and experience.
Was this review helpful to you?
slemley1992
Reviewed On:
November 04, 2020
Color:
Diamond White
The dress is beautiful. The fit on top was perfect. The dress is just very long with a long train.
Was this review helpful to you?
Alexis.Nicoleeee
Reviewed On:
May 11, 2020
The dress was gorgeous, the colors were perfect. The only thing I have to say would be that the train and the dress is super long, but heels will help with the length. The sizing was almost perfect for me, and the dress was so comfortable to wear.
Was this review helpful to you?