Azazie Cornish MBD Reviews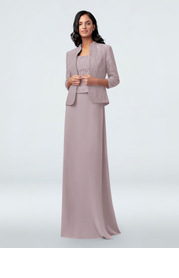 Azazie Cornish MBD
Mother of the Bride Dresses
FABRIC: Chiffon
$143
product info

This Floor-Length, A-line/Princess dress by azazie is constructed in an exquisite Chiffon, Lace. Azazie Cornish MBD features a Back Zip back style and a High Neck neckline. Azazie Cornish MBD by azazie comes in sizes A0-A30. Fine lace covers a fitted bodice above the skirt, this perfect maids frock has a dash of romance. 
jimandsylvia
Reviewed On:
March 06, 2021
Color:
Dusty Sage
Size Ordered:
A12
I chose a different dress to purchase because the skirt on this one did not have the fullness that I prefer. The color was perfect and the top and jacket are what I was looking for.
Was this review helpful to you?
bonjovigirl1172
Reviewed On:
February 26, 2021
Color:
Burgundy
body type:
apple
Size Ordered:
A22
The actual dress is one piece, very pretty but the top is alittle shorter for a plus size.
Was this review helpful to you?
tdvswan
Reviewed On:
February 24, 2021
Color:
Dusty Sage
This is the first time that I have purchased anything from Azazie and I have to say that I was very impressed. I participated in the Try at Home program that they offer which worked out so well. For $10 each I had two different dresses in the color that I was looking for sent to me to try on for a week. During that time I could try on the dresses several times and get other family member's opinions. Finally boiled it down to one of them. The return of the one that I no longer wanted was so easy and then all I had to do was pay for the one I had decided to go with. My dress was a little big in the jacket and very long, but I tackled those alterations myself and now it fits perfectly! My son's wedding isn't until July, but I am already to go thanks to Azazie! I need to add that I was in contact with a representative from Azazie a couple of times with questions and she was very polite, friendly and super helpful. I would definitely purchase from here again and recommend it to all my friends.
Was this review helpful to you?
lisamcclelland65
Reviewed On:
February 20, 2021
Color:
Dusty Blue
True to size Fits perfectly. Only need to alter length Quality fabric Color true to color swatch
Was this review helpful to you?
Mom of bride
Reviewed On:
February 19, 2021
Color:
Dusty Blue
SIZE - True to size but super long. I am 5'7" and rarely have to shorten a dress but I did this one. I guess rather too long than not long enough. STYLE - I really like the jacket for a wedding on a cool day. I like that the skirt has no gathers at the waist and not so full as other dresses. COLOR -the lace bodice and skirt fabric are not a perfect match. If you're picky you'll see they just have a different tone. PRICE - overpriced but I was running out of options so I gave in and still have to pay for alterations. I still plan to wear it to my daughter's wedding next month.
Was this review helpful to you?
Esmer_solano
Reviewed On:
September 26, 2020
Color:
Blushing Pink
Material on skirt section very sheer/thin and see through. I felt I was wearing a nightgown.
Was this review helpful to you?
mccauley.renee
Reviewed On:
August 16, 2020
Color:
Vintage Mauve
This was purchased as a custom fit for the grandmother of the bride. She's a tiny lady and the jacket had to be shortened in the length and arms. Custom fit should allow measurements for jacket size as well. I also had to add shoulder pads
Was this review helpful to you?
Grandmom
Reviewed On:
July 22, 2020
Color:
Dark Navy
After measuring as instructed, I selected the appropriate size. I had a couple of questions about the fabric which were answered quickly on Live Chat. Very pleased that the dress arrived earlier than expected. Love this dress and it perfectly! The only alteration needed will be to shorten the dress, which I was aware of before ordering. I look forward to wearing it to my granddaughter's wedding in a few months.
Was this review helpful to you?