Azazie Cordelia BG Reviews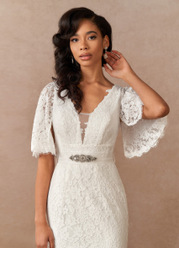 Azazie Cordelia BG
Wedding Dresses
FABRIC: Tulle
$249
product info

This Chapel Train, Trumpet/Mermaid dress by azazie is constructed in a lux Tulle, Lace. Azazie Cordelia BG features a Back Zip, Illusion back style and a V-Neck neckline. Azazie Cordelia BG by azazie comes in sizes WD0-WD30. Whether you dress it up with statement jewelry or down with flats and a cardigan, it epitomizes timeless beauty. 
kraekeller
Reviewed On:
March 22, 2021
Color:
Diamond White
body type:
Hourglass
Size Ordered:
6765
Beautiful dress, fabric is super soft, has a bit of a stretch, light weight and is not itchy. The waist is incredibly fitted and doesn't stretch, though. Super hard to zip up by yourself, so have a friend nearby! I am actually going to have the sleeves taken off, as I'm not a fan of them. I originally bought a different dress through azazie as my wedding dress, but this is going to be the one for sure. This dress is beautiful and is fitted, but not too tight around the back end which I like. This is was a sample try at home dress, size 0, and I am keeping it!
Was this review helpful to you?
Diana
Reviewed On:
April 16, 2019
This dress is exactly what I was looking for for my summer wedding. Its light and it fights just right. In the pictures I attached I'm wearing a different belt than the one the dress came with. I also plan on wearing shapewear underneath. My favorite part is the back! Still cant believe I got such a great deal!
Was this review helpful to you?
shanhani
Reviewed On:
November 13, 2020
Color:
Diamond White
body type:
Hourglass
Size Ordered:
WD4
This dress fit perfectly. It was in my top 2. The sleeves are beautiful, the fit is perfect for brides looking to flaunt their figure! Lots of compliments from my family and friends that watched my virtual dress try-on! If I could have gotten this dress with the sleeves from the Indie dress, it would have been my dream dress.
Was this review helpful to you?
Lisa Catalli Gorman
Reviewed On:
October 21, 2020
Color:
Diamond White
body type:
straight
Size Ordered:
WD12
I love the dress. I'm so happy I get the chance to try before I buy. Still considering buying it in a bigger size. Or even made to order
Was this review helpful to you?
Meghan B
Reviewed On:
October 19, 2020
Color:
Cream
body type:
apple
Size Ordered:
WD14
Let me start with saying that I LOVE THIS DRESS. It's just not my dress. It doesn't work well for my body type. However, I encourage anyone eyeing it to try it on as it is extremely high quality, comfortable, and beautiful. The sleeves are very flattering, as is the neckline. I didn't have proper shape wear when I tried it on, or a slip. Having these would have helped. So maybe a bustle slip and a spanx or something would have made a big difference. This dress is so beautiful though and I really wanted to love it on me because it was perfect just not for me. Try it on!!!! If you value comfort and dream of a romantic lace dress, this may be the one for you.
Was this review helpful to you?
keshiapalmer43
Reviewed On:
September 04, 2019
Color:
Diamond White
My only complaint is that I am a size 14 according to their size charts and they only had a size 10 and 22 available. Needless to say I had to go with the 22. I ended up buying the dress cause I loved it regardless but it would have been nice to have an accurate estimation of what I would look like. I had to pull the fabric back to get the best estimation I could.
Was this review helpful to you?
keshiapalmer43
Reviewed On:
September 04, 2019
Color:
Cream
I ordered this dress with my exact measurements and it fit perfectly! It is light weight and a bit stretchy material so I believe it will work perfect for my day later this month. The great thing is it is all lace on the outside and we are having a destination wedding so I won't have to worry about wrinkles when traveling. It also was delivered in a great dress bag that folds up into essentially a large purse with two straps that snap so it will be easy to carry around. The only thing that I don't like, which I think is a rare thing to be concerned about, is I have large breasts and the dress is a bit low cut for my tastes. Especially since it is a dress best worn without a bra. It has built in pads and (I think) a wire on each side so that you can wear it braless. I'm just not comfortable with that due to my bra size and am adding a bit more lace in the cleavage area to help cover it up a bit more. Otherwise, when I saw this dress I instantly knew it was perfect and it will be a great addition to my special day.
Was this review helpful to you?
abmonkey
Reviewed On:
January 10, 2019
I originally ordered another dress, but got a sample of this one as a backup because I wasn't 100% sure about the one I ordered. I'm so glad I did because this dress fits me perfectly (size 10) and I don't need any sizing alterations. The material is super soft, stretchy, and comfortable. It's perfect for my early summer wedding that's somewhat rustic and casual. There's a little bit of a train, but not too much and it's easy to move around in. The only thing I need to alter is the neckline. I plan on sewing in a bit of lace or other material to make it a little more modest where the fabric is translucent, but other than that it's great. I can't wait to wear this!
Was this review helpful to you?